Femen, the Ukrainian feminist group, have staged another topless attack on Vladimir Putin, as he toured a factory in Hannover this morning. The Russian president was in the company of German chancellor, Angela Merkel at an industrial trade fair in the city, when several women burst out of the press enclosure and exposed their breasts while chanting slogans, Ria Novosti reports.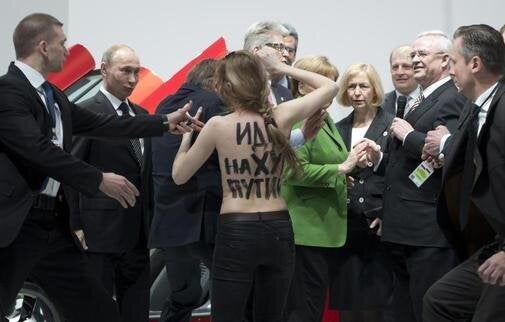 Femen posted a picture of the 'sextremist' attack on the group's Facebook page at 10.00 am GMT. The same post said that activists had been shouting "F*ck you dictator!". The message written- in Russian- across the back of the single topless activist visible, reads: "F*ck off Putin!".
The Kremlin has already issued a response, urging the German government to punish the women:
"This is ordinary hooliganism and unfortunately it happens all over the world, in any city. One needs to punish (them)", said Kremlin spokesman Dmitry Peskov, Reuters India reports.
The two leaders apparently moved quickly to a neighbouring hall as security detained the women. The protest took place as Putin and Merkel were passing Volkswagon's stand at the fair.
Putin is in Germany to help open the Germany's leading industrial trade fair, where Russian business was being heavily promoted. Putin had already been met by several hundred (clothed) demonstrators on Sunday, protesting against a crackdown on non-governmental organisations in Russia.
The Ukrainian group, whose motto is "Our aim is protest, our weapons are our breasts!", have previously tried to reach Putin. They came close in February last year, when topless members tried to steal the ballot box used by the Russian leader to vote in presidential elections just 20 minutes after he had left the building.