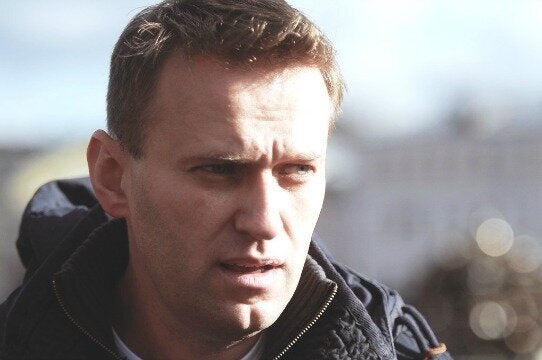 Russian opposition leader, Alexei Navalny. Source: CC
A woman outside a polling station in Moscow told me yesterday, that she didn't think it would matter if Sobayanin won honestly in the city's mayoral elections, whose results were released this morning, because "no one will believe it anyway."
Before the first exit polls last night, the question of how believable the results would be appeared academic, it seemed likely that Kremlin's candidate Sobayanin wouldn't even need to rig the vote, in a contest heavily skewed towards him in terms of access to media and money.
But after a long, drawn out night, it turns out the Kremlin has ended up with a result that now seriously begs this question of Moscow's citizens: do you believe that Sobyanin won with 51.3% of the vote?
It's a question that may well be answered by many tonight at Moscow's central Bolotnaya Square, where Alexei Navalny- who very much does not believe it- has called for a mass meeting to protest the vote and demand a second round. Navalny won 27,24% in a spectacularly high result for a Russian opposition candidate, especially given the huge imbalance in finances, preparation time and media access.
The 37 year-old, who has a potential 5-year prison sentence hanging over him, argues that the Kremlin fixed the vote to claim a deliberately tiny margin of victory for Sobyanin to discredit accusations of rigging, while blocking the possibility of unpredictable and potentially dangerous second round, which Navalny says has been stolen from him.
The difficulty with 1.3% margin, which takes Sobyanin across the 50% threshold need to avoid the second round, is that it gives both sides a solid space to fight on.
There is no doubt that there were voting violations last night- reports from multi-party observers coming throughout the day and continuing work last night attest clearly to this- what is in question now is, how many were there and were they enough to give Sobyanin that 1.5%.
Navalny and his team insist (and were already insisting at 1am last night) that they were. They are focusing particularly on votes made by people from home, the number of which they say was abnormally high this year (8% as opposed to the usual 3-4%). They argue this is the area where the fiddling took place saying that in an "unprecedentedly" large number of at-home-voters voted 80% in favour of Sobyanin.
All is very fishy: votes collected at home are the easiest to falsify (their collection depends heavily on state authorities and are harder to monitor)- moreover, 80% is a huge jump for Sobyanin, who's average results was in the mid 40s.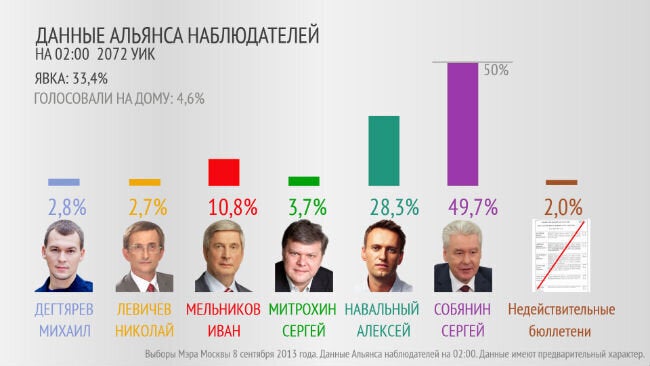 Results according to mutliparty election monitors' rough count at close of polls. Source: Aliyanc Nabludately
It's seems that there is little question that the elections featured fewer violations than in previous years, virtually all observers are saying this- the elections are being described as "relatively clean". The problem is that, there was still a relatively large number of violations and with such a small margin, "relatively clean" leaves too much room for doubt- 1.3%'s worth, perhaps.
"There were not as many violations as sometimes happens, but there were still many. If there had not been the range of violations that we have seen, there would be a second round. These violations have significantly raised the 1- 2% needed by Sobyanin," said Fedor Bogdanovskii of the independent election monitoring group SONAR, which has links to Navalny.
The Russian state electoral service reported no "serious violations" and it's chief, Valentin Gorbunov has accused Navalny of doing "the usual PR", but the questions be raised by Navalny about the home vote and other violations ought to be answered.
Whether these questions are answered (Muscovites force the authorities to answer them) remains to be seen, but Navalny's victory (and it is a victory) is a big development for Russia: it's established the largest base of politically committed and united people the country has seen in more than a decade and it's asked the uncomfortable question loudly- are there any circumstances in which the Kremlin iscapable of unambiguously proving it's legitimacy?
The Kremlin may have got what it wanted, Sobyanin may have even won relatively honestly, who knows - the trouble is, it may be that nobody will believe them if he did.