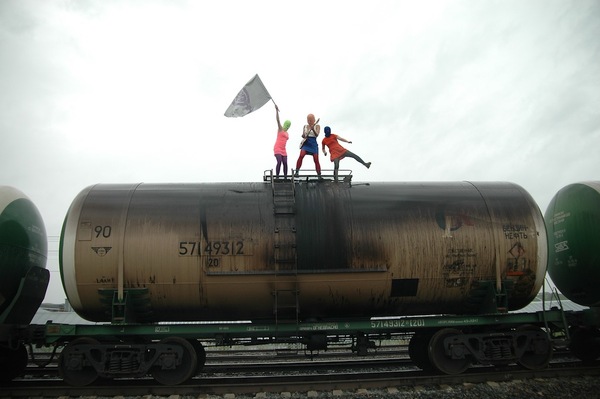 Russian punks Pussy Riot are back- members of the group have staged their first major action since the cathedral "punk-prayer" that got them arrested last year. A music-video released by the group to me today, shows the band running, hopping, jumping, climbing and kicking their way across Russia's oil fields, "seizing back" oil rigs and pipelines.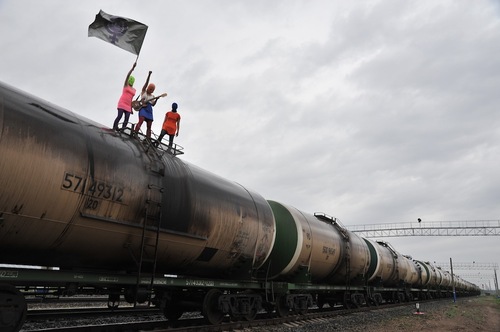 All photos appearing this post credited to Pussy Riot.
It's the first time the band have done an action resembling that which got them jailed since Maria Alekhina, Nadia Tolokonnikova and Ekaterina Samutsevich were arrested in March 2012. The video's high production values are a far cry from the shaky footage which convicted them.
klip 8
par dm_50f85a1dc3114
The music video. Song title: "Like in a Red Factory".
The band's "tour" is sound-tracked with a brand new Pussy Riot song, "Like in a Red Prison", which accuses Putin and his close allies in the Kremlin of taking Russia's $215 billion oil industry for themselves.
"Last year, earning from oil and gas reached 7 trillion rubles, but only Putin and a few of his friends have seen this 7 trillion. So we decided to look into these oil and gas gains ourselves and to sing to oil workers our new song about the red prison," the band wrote on a blog produced for the occasion.
The band accuse Putin and his inner circle of greed and enriching themselves and compare Russia to Qatar and call Putin an ayatollah. On the blog, the band said that they had decided to occupy Russia's oil rigs because "as Marx teaches...the struggle for values begins with the battle for the economic bases."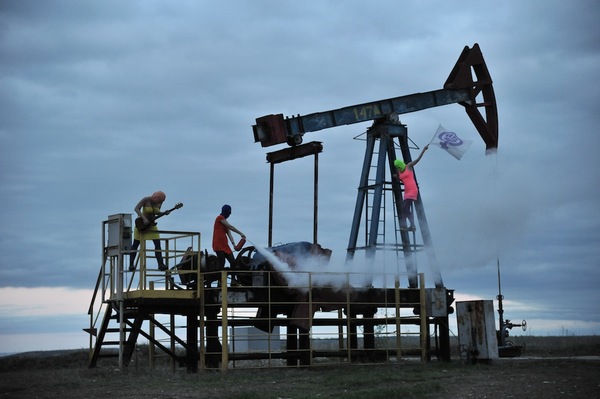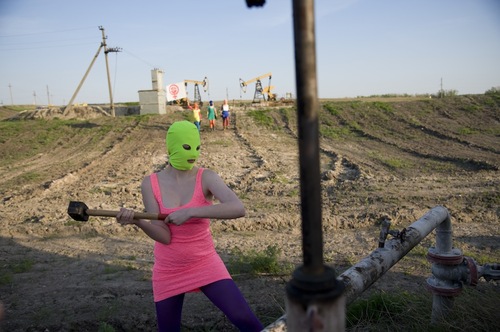 Pussy Riot member, Grelka hits a pipe with a sledge-hammer.
The band's performance, in which they are seen striking valves with hammers and apparently shutting off pipelines, could prompt a harsh response from the Russian authorities, who are already searching for a number of band members. Speaking by email, the band said they'd been detained a couple of times during the tour already but were released quickly.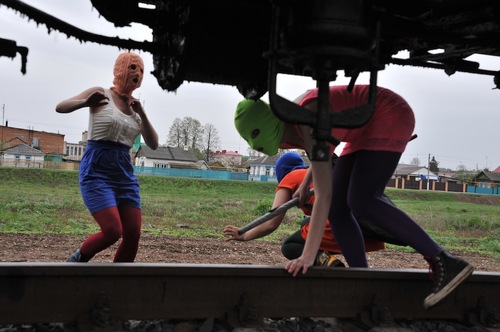 Asked if the band intended to leave Russia following the performance, they answered: "We're in Russia and we're not going anywhere. Let Putin and Sechin get out."
Some of the new song's lyrics were written by Nadia Tolokonnikova (having been committed to memory by activists and smuggled out from her prison). A letter from Tolokonnikova has also be released alongside the video. In it, the 23 year-old laments what she sees as the conformism demanded in modern Russia and warns that loyalty to the status quo leads to spiritual stagnation:
"It's a question of the establishment of a pre-industrial hierarchical system; where comfortable places can be bought with eternal loyalty and unconditional submission, uncritical agreement and unthinking conformism. If you're ready to bend under the the will of the bureaucrats... then, probably, you can count on a quiet life. Probably, they won't take away your business. Maybe they won't throw you in jail. But to, speaking openly, I wouldn't like to bet on it (it's like writing with a pitchfork on water). In the Stalinist way of thinking, as is well known, no-one is indispensable."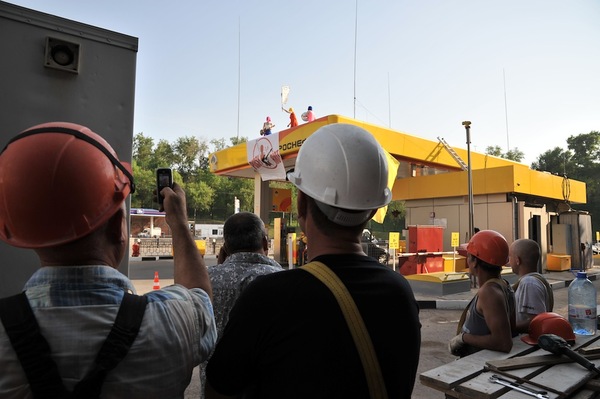 Oil Workers look on as the band perform in central Russia.
During the tour, members of the group attached portraits of members of Putin's inner circle to oil pumps, before hanging feminist flags on the including Igor Sechin, head of RosNeft Russia's largest oil producer. Long-time friend and silovik (strong-man) in-cheif, Igor Sechin comes in for special attack. The Kremlin's energy-tsar, Sechin is widely considered to have presided over the dismantling and seizure of the Yukos oil company and the prosecution of its owner, Mikhail Khordokovsky. The band accuse Sechin of ensuring that Russia's oil wealth go only to president Putin and his close allies.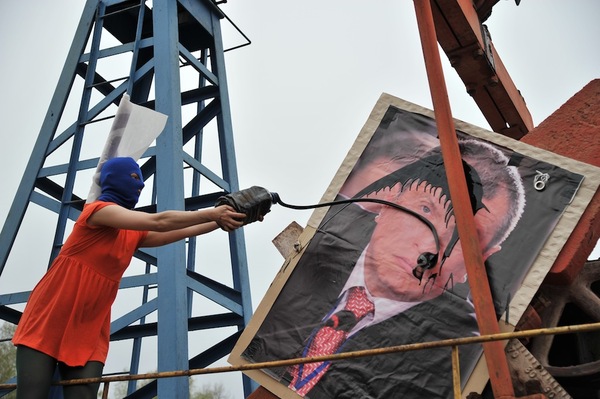 As a KGB officer, Sechin served in Africa for a number of years, prompting the band to include the lyric: "Sechin with the crocodiles".
Another portrait, seen spinning on the pumps, shows Alexander Bastrykhin, head of Russia's ever more powerful Investigative Committee and who has been accused of managing a crackdown on Russia's opposition in the run-up and wake of Vladmir Putin's return to power.
Portrait of Alexander Bastrykhin, Head of Russia's Investigative Committee being hit with oil.
The band criticise Bastrykhin for signing the arrest warrants of their friends and "Like in a Red Prison" refers to Alexei Navalny, the opposition leader and anti-corruption fighter, currently facing corruption charges in what most see a a political trial.
French actor Gerard Depardieu finds himself among this unusual company (as indeed he has since fleeing France's increased taxes), mentioned in an slightly obscure line: "Cut your penis off like Depardieu", referring (apparently) to a film in which Depardieu castrates himself in order to overcome his physical urges.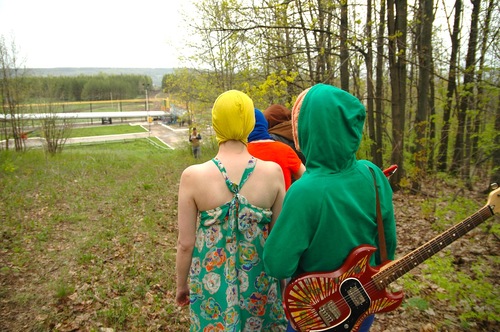 Alekhina and Tolokonnikova remain in remote prison camps, serving two-year sentences for hooliganism. Both have had their appeals turned down in recent months and are not expected to be released before March 2013. Two days ago, Alekhina was mysteriously moved without warning to another prison camp- the reason has yet to be explained.
The Russian state wire service, Interfax apparently tweeted the sinister comment:
"Maria Alekhina lifted from Berezniki. Final destination- hell..."
It seems Pussy Riot may be going loud again.
A translation of the new song's lyrics (supplied by the band) is below:
Gruel-Propaganda, Gruel-Propagandaaaa!

The country has hardly mastered

Mechanized labor.

More and more often when I'm working hard --

I am rude -- don't know if it's appropriate.

Local activists flow down the pipeline,

Filling it with life and calling for destruction!

The country has hardly mastered

Mechanized labor.

Federal Penitentiary Service, Interior Ministry, Emergency Situations Ministry, and Rosnano,

LUKoil, TNK, Rosneft, and Gazprom,

Gruel-Propaganda, Gruel-Propagandaaaa!

Get registration,

Evildoers at the oil towers,

Oil on the tables,

Sechin with crocodiles,

Like in a red prison.

Bathe the worker in the Norwegian fjord,

Cut off your penis like the Depardieu character,

You have a president like Iran's ayatollah,

And your church is like it is in the U.A.E.

Gruel-Propaganda, Gruel-Propagandaaaa!

So, let everything be like it is in Qatar,

Evildoers at the oil towers,

Pumping till its dry,

A physics university teaches theology,

Epaulettes and oil wells,

Navalny in jail,

Hugo Chavez lives,

Like in a red prison.

Gruel-Propaganda, Gruel-Propagandaaaa!

Evil-doing sexist, leave the hole alone!

Homophobic vermin, out from history!

Gruel-Propaganda, Gruel-Propagandaaaa!

Don't fuck with her pussycat,

She spends oil on something else.

In the Mordovian days' quiet,

She makes salads and sometimes eats them.

Gruel-Propaganda, Gruel-Propagandaaaa!