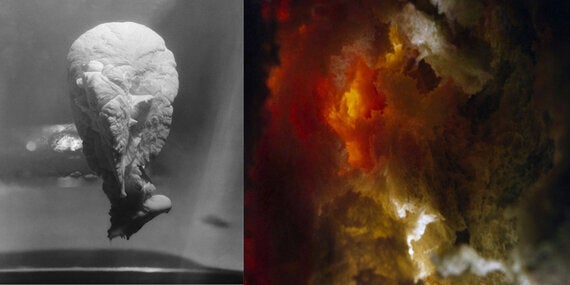 A new exhibition entitled Shadow Optics at Lubomirov Angus-Hughes Gallery in London brings together four artists who deal in layers, atmospheres, and speculative or virtual spaces. Each has an interest in light - whether using reflective surfaces, photographic processes, backlit screens, or manipulating or fabricating lighting effects. Their work is characterised by slippages and uncertainty - inviting the viewer into the gap between a thing and its shadow, reflection, or representation.
Georgie Grace works with video, installation, and text. Her work often questions or tests how our bodies are physically impacted by images, as well as how we struggle mentally to cope with the proliferation of both images and digitally mediated language. Her videos explore the edges of tolerance for flickering light and rapidly changing images or text, and enquire into themes of technological change and machine and human vision.
Reece Jones makes drawings whose initial subject territories may be whimsical, improbable, impossible or theoretically muddled. Cross references, samples, and complete fabrications are accumulated until an image is made manifest whose origins are potentially difficult to define. The process led the works to undergo rigorous, repeated application and removal. The results are atmospheric, and authoritative works, which belie their rudimentary material composition. Ultimately the viewer is invited to assess the legacy of surface, process, documentary, translation, actuality, illusion and doubt.
CJ Mahony's practice considers stability, impermanence, architectural space and scale, often playing on the manipulation of light to explore psychological states of unrest. Her works allude to corridors, geometry, folds, support structures, and backstage spaces, and range from large scale, site responsive constructions through to fragile, speculative sculptures.
Solveig Settemsdal works between drawing, sculpture, and photography. She uses materials that are easily affected by their surroundings to engender sculpture with a certain liquidity; embodying a constant potential for transformation. Inorganic and biological substances are often pitted against each other to initiate a balance between conscious intention and unconscious material process.
LUBOMIROV / ANGUS-HUGHES is a charitable organisation dedicated to contemporary curation. They provide a venue for curators to present group exhibitions and to create a dialogue about or through art. They aim to be a forward-looking place of opportunity and innovation, with an evolving and always different art programme, without bias or preference for trends, style, form or specific artists.
As well as inviting curators to submit curatorial proposals, they accept and encourage enquiries from curators we have not worked with previously, as well as from artists who wish to curate, perhaps for the first time. All proposals are considered entirely on merit and potential.
The gallery provides free space, support, promotion, and installation assistance to successful applicants. As well as facilitation we also provide curatorial consultation as much, or as little as is needed by the curator, who sets the pace and is trusted and given free reign to realise their vision in the space.
They also provide space for education and discussion, through regular talks and critical sessions. They open their doors to organisations or individuals who provide art education and feedback and the general public has free access to talks, screenings, performances and events which shed light on developments and directions in contemporary art.
As a part of the local community, they also work with schools and universities, providing education and work experience to art students at sixth form, degree, or graduate level. Increasingly engaging with local schools to organise exhibition visits, lectures and work experience. They are interested in hearing from local or national schools, youth groups, or other educational organisations about co-developing educational and practical experience opportunities.