The housing crisis affects so many people around the UK, it's one of the pressing social problems of our time. As well as a social issue, it creates real personal problems too.
So, who is looking for answers? At this week's UK Construction Week some of the bright ideas that could help transform community housing are being showcased.
A cohort of passionate and committed individuals with solutions to transform housing have won business support and funding to develop their ideas as part of Building Futures, a programme from UnLtd, the Foundation for Social Entrepreneurs.
Four ground-breaking ideas are now using the crowdfunding platform JustGiving to raise much-needed funds to accelerate their work. Could this be the answer? Using digital crowdfunding channels?
Building Futures social entrepreneurs who are launching their crowdfunding campaigns this week include:
- Sheffield social entrepreneur Jon Johnson, who is transforming shipping containers into sustainable and affordable homes with his social venture Reach Homes
- The Holding Project in Northern Ireland, run by Derv Heaney, which is aiming to build 20 low cost sustainable homes in Northern Ireland
- The Leeds social entrepreneur Peter Richardson, who is planning an innovative co-operative cohousing development in West Yorkshire
- The Birmingham social entrepreneur Mark Peters, who is working on a supported accommodation scheme supporting care leavers and refugees with a staged rent model to encourage and support the transition to employment
These ideas are meeting a pressing need, with government estimates suggesting more than 250,000 new private houses are required to meet the demand of the housing sector - with this demand only set to increase over coming years.
Issues extend to the public sector too, with local authorities facing challenges in prioritising who they home, while Housing Associations deal with the far-reaching implications of Right to Buy.
Mark Norbury, the UnLtd Chief Exec, explained: "The housing crisis is one of the United Kingdom's most complex social problems. UnLtd is convinced that these social entrepreneurs have developed powerful solutions to address this crisis. These ideas have the potential to leave a lasting legacy - we hope people get behind them by supporting them on JustGiving."
The Building Futures Award Winners are excited about making their ideas happen.
Peter Richardson, from Leeds-based Chapeltown Cohousing, said: "Everyone should have a home; a safe, secure place to be themselves. That's why I set up Chapeltown Cohousing -

to help build homes for families living in one of the poorest and most deprived areas of the country. Too often housing is a worry rather than a comfort. Most rented accommodation is short-term and provides no security. Buying a house is out of reach for many people and with house prices so high compared with earnings there seems little chance of this changing. It doesn't have to be like that. I am helping local people take control of their own housing by working together to provide security for themselves and their families. Each household has their own home with everything they need, and in addition they are also part of a co-operative community with shared facilities such as a laundry, play room, communal kitchen and dining room."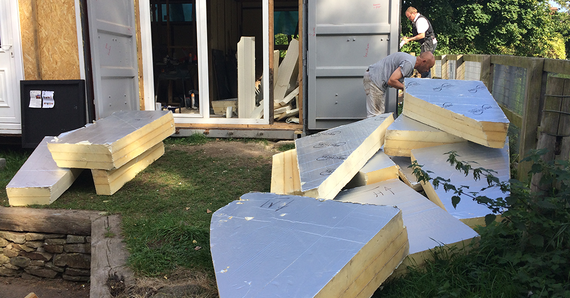 The Holding Project aims to build 20 low cost sustainable homes for young professionals in Northern Ireland who are struggling in the private renting sector. The homes will be compact, eco-friendly and built using local services and materials. The homes are managed by its social enterprise, which allocates homes to young professionals who apply with a personal budget plan.
The social entrepreneur behind this idea, Derv Heaney, said: "We are dedicated to helping people transition through housing, because where you live affects your life so deeply. We see so many people stuck in transition - renting properties and without help it can be simply impossible to move on with your life. This can mean moving on to buy a house, but also it could mean going into education or even saving up for a wedding. The housing crisis makes many of these life stages a distant dream for too many people.So, simply put, our idea is about sustainable micro-homes that are cheap to build, high-quality and super-affordable to rent. The cheap rent allows people to build up a financial buffer, and then move on with the rest of their lives. We "save" 25% of people's rent, which they receive when they leave. Residents also fulfil certain tasks around The Holding Project too. The support we've had for UnLtd has been incredible; from workshops, to expertise - we're now really focused on building our first prototype and we're really excited about launching our idea on JustGiving."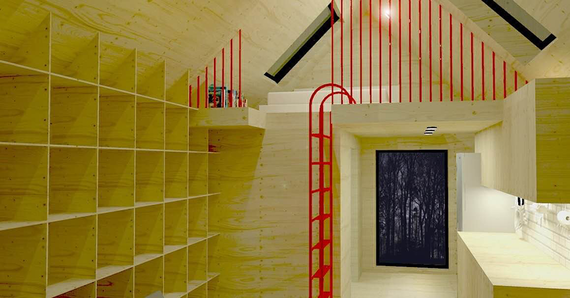 Image c/o The Holding Project
Other Building Futures award winners include the West Midlands social entrepreneur who is innovating with a modular 3D print build and the Wikihouse Foundation who are using the digital revolution to create ground-breaking off-the-shelf modular housing.
To learn more about the Building Futures winners and support these projects visit the JustGiving hub.
Popular in the Community