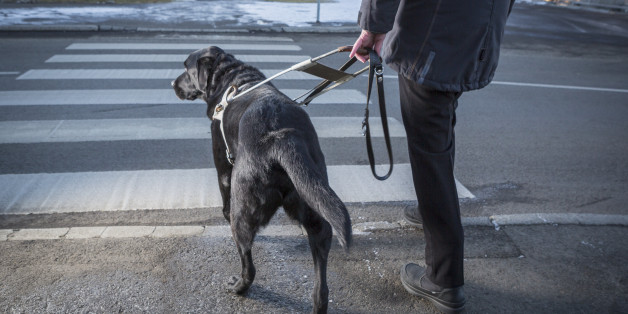 Arctic-Images via Getty Images
Cars parked on pavements are a nuisance for everyone, but for people with disabilities such as sight loss, like me, they are far more than that, they're a real danger.
When I was training with my guide dog Oscar, it was quite a tense time anyway because I desperately wanted the partnership to work. My trainer had to keep changing our routes because there were so many cars parked on the pavement on the streets where I live, about eight in a row in one case.
It means you have no choice but to step onto the road, which I really hate doing because I'm totally blind and I worry not only about keeping myself safe but Oscar too of course. You can hear traffic coming, you don't really know from where, but you're very aware you're walking in the road. It's pretty scary let me tell you.
A recent survey by the charity Guide Dogs shows that most drivers admit to parking on the pavement, and of those that do, a majority are aware that it causes a problem for people with sight loss like me but have parked on the pavement anyway.
I understand why some people sometimes think it's ok to park up on the pavement. They'll only be a minute, and anyone can get through that gap can't they?
But when I'm with Oscar we take up more room, and he is trained not to try and squeeze us through somewhere we won't both fit. And it's not just people with guide dogs. Someone in a wheelchair needs more room to get by, so does a parent with a child in a pushchair. I wouldn't want to think of those vulnerable pedestrians being forced to walk in the road either.
We know drivers are confused. Guide Dogs' survey shows a fifth are unsure whether it's currently legal to park on the pavement in all parts of the UK, more than a third say pavement parking is never acceptable, but a quarter say they don't think it constitutes dangerous driving.
Councils like those in the Wirral where I live have the power to control pavement parking but those powers are rarely used and this just adds to the confusion. We need a clear law on pavement parking.
In London, the blanket rule is that cars can't be parked on pavements unless the local authority has granted an exemption, and this has been the case since the mid-70s. I don't think it would be too difficult to operate this kind of system elsewhere.
There are some streets where some flexibility may be necessary, but with the right powers in place a local council can make sensible provisions for cars and pedestrians to get by.
The Government has promised to look at this and it's time they did. It would give everyone - people with disabilities in particular - the confidence that they can walk the streets safely.