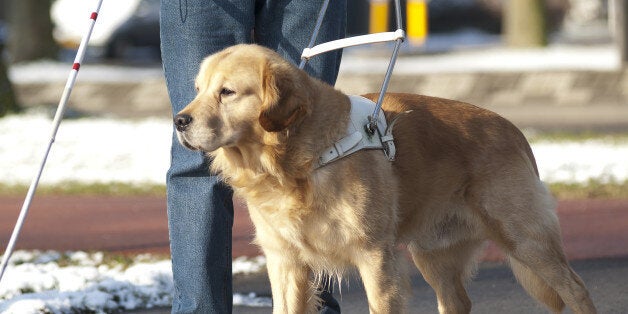 You might see me on TV today. I'm one of the people in a new advert for the charity Guide Dogs. But I know there's very little chance that I'll get recognised in the street because of my new-found fame. In fact, you'd have a difficult time finding me in the street at all, because I haven't left my house on my own for eight long years. I'm one of the 180,000 people with sight loss in the UK who rarely or never leave their home on their own.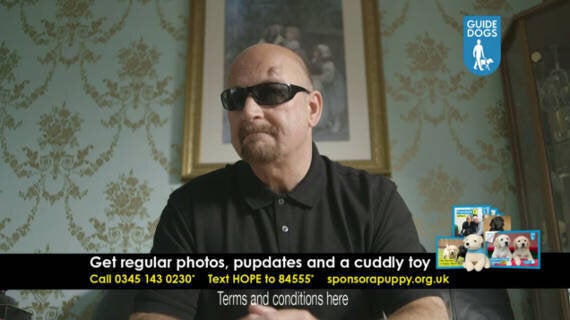 In my case, it's never. Before you ask, it's not because I'm afraid of being outside. I'm out all the time with my wife, Elaine. But I'm completely dependent on her (or one of our four children) to take me anywhere; I simply don't have the confidence to go more than a few steps from our front door on my own.
While I have had sight issues for most of my life, I have certainly never been so reliant on anyone else. When I was three, I fell over and pierced my right eyeball, so I had to have it removed and replaced with a glass eye. Fortunately I was too young to remember the pain, but I do remember the bullying and name calling that followed me for years afterwards. 'Cyclops', 'glass-eye Kingy' and all sorts. Everyone had a nickname back then, so I grew quite a thick skin and didn't let it bother me.
I didn't let it stop me, either. I learned to drive, got married at 18 and had four children with Elaine. In my early 20s I started an antiques shop and removals business, which kept me busy as they steadily grew. Elaine and I had always dreamed of moving from our home in Heswall, in the Wirral, up to the Lake District in Cumbria. So I sold the businesses in 2003 and we moved up to Cartmel. We started a very successful contract cleaning business and as you might imagine, life was all go.
I had hobbies, too. I used to collect cars (I particularly loved my Mercedes). I did taekwondo and played the guitar in local bands. I have faith too, and that's helped me a lot. I've always been busy, making a life for myself.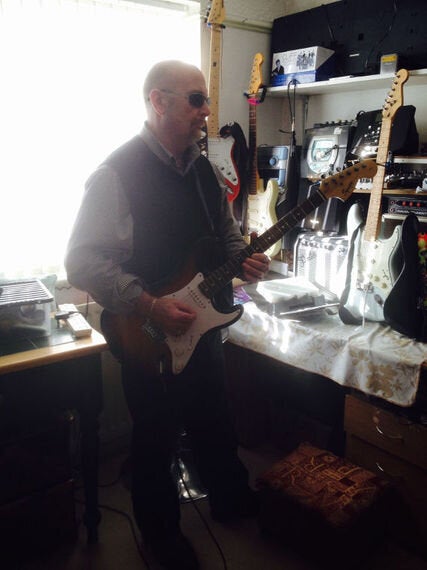 But that's all been stopped for a while now. In 2008, I started noticing lots of those floating, see-through blood vessels, which became stars and snowflakes, in my left eye. I went to the optician and he could see that I had a huge tear in my retina. He sent me straight to hospital, and things quite literally got darker from there. By the end of that year, I couldn't see anything at all, and life changed beyond all recognition.
I've had so many things taken away from me, some almost overnight, others over months and years. Driving was the first thing to go. No more jumping in the car to go wherever I liked, whenever I liked.
I've had to learn to deal with how people treat you. I've been left talking to myself many times, when the other person has left the room or walked away. Things like that are a huge blow to your confidence, and you find yourself shrinking away. Then there's the really important things, like seeing my children and grandchildren grow up. I've never seen my granddaughter Isabella's face.
I just haven't had the confidence to learn how to use a white cane. I hate the clicking sound it makes as you go, and I don't want to draw that attention to myself. Instead, Elaine has learned how to guide me - partly through the internet, partly trial and error. It's made me so dependent on her, and that's not how it used to be when I could see.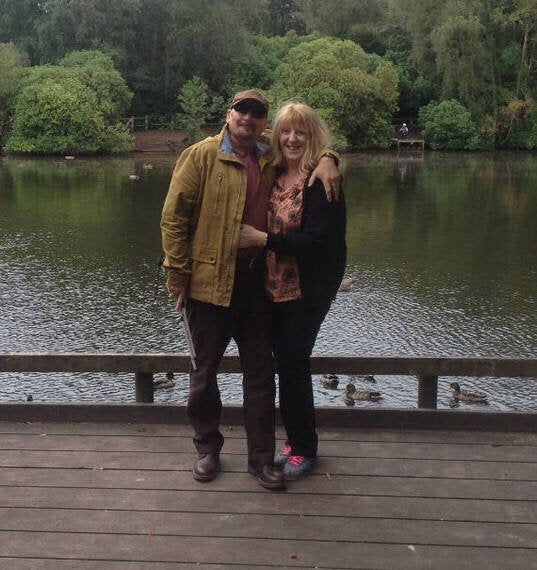 There are no age limits to having a guide dog, and everyone always thinks that you have to be completely blind to have one but this isn't true - you can have some sight and get a guide dog. For some reason, I always thought the opposite - that I was a lost case, because I didn't have any sight at all.
Then one day in November 2015, we found a statue of a guide dog in Wallasey, where the UK's first guide dogs were trained. It made us wonder if I could get one, so we enquired and when I found out I was eligible, I applied right away. But the charity relies on donations, so I've been on the waiting list for the right dog for me ever since.
When I'm matched up, I can't tell you how much I'm looking forward to being able to leave the house and pop down the shops on my own, instead of having my wife do it for me. And that's just the start - who knows what else I'll be able to achieve.