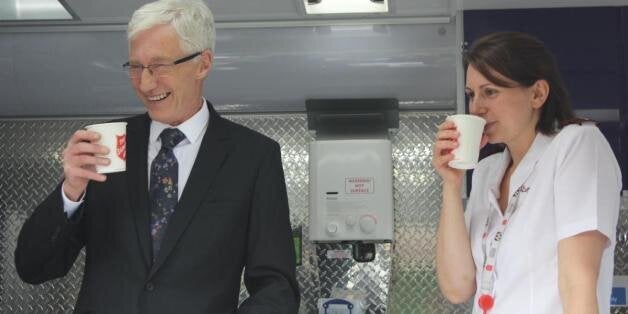 It might seem like an unholy pairing but we go back years, the Sally Army and me. They have always managed to build a bridge to me across my life - from saints to a sinner! They saved kids near my street when I was a boy with their food kitchens, helped me as a care worker and have supported people I know. That's why I have chosen to do a TV show with them.
Everyone remembers the Sally Army, as I used to call them, I'm just not sure everyone quite knows the extent of the work they do. It's their 150th anniversary year so I wanted to take a closer look and get involved.
They work like a real army. They go in, get the job done and leave.... oh and the band! And the uniform, I love the uniform.
My earliest recollection of the Sally Army is when I was a kid. I would be shopping with my mum in Grange Road in Birkenhead and they were outside Woolies. It was always twilight, not quite dark, about 5 o'clock in the evening. The Sally Army would be playing Christmas carols. For me, as a child, Christmas wasn't about the tree or presents funny enough, it was about the Sally Army Band.
I would look at the drum, green with envy, thinking: 'Could I just have a go on the drum?' That's what I wanted to do. So that was my childhood ambition - to play the drum in the Salvation Army. Mind you, I also had an ambition to work in a dry cleaners. I've done neither!
Then, years later, when working as a care worker in Camden, I saw that when AIDS first hit London, the Sally Army were the first people on the wards when others turned away.
I've never forgotten their kindness on the day wards of the old Westminster Hospital. What they did as officers was above and beyond their call of duty. I've seen young officers on wards with young men whose friends had deserted them, whose families would have nothing to do with them because they had AIDS. The Sally Army officers weren't concerned for their own welfare, they would sit there, wash the patients, hold their hands, they counselled families and sadly, they would pay for the funerals.
Among the lasting memories I have from that time is having long conversations with Sally Army officers in the kitchen at three in the morning, mixing up protein drinks for patients. They were so stoic, so resilient and deadly efficient. I can see why they are called an army because they act like an army - they move in, deal with a problem and then move out. They don't wait for congratulations. They just go in and do it quietly. They really are a quiet, efficient machine, the Salvation Army.
Today, I've come across the Sally Army again because homelessness is on the rise once more, so much so that we are making it the main focus of the first part of our TV series.
Across the series, I'm going to look at all of the work that the Sally Army does - from helping ex-gang members to caring for the elderly. And I'll learn something about myself - have I got anything like their strength when it comes to supporting people with addiction and those in the final days of life? I'll be with the Sally Army officers as they deal with poverty in the UK and the refugee crisis abroad, doing what they can for people fleeing war for the safety of mainland Europe.
Paul O'Grady: The Sally Army And Me, begins Sunday 27 March at 6.05pm, BBC One #SallyArmyandMe @BBCOne
Find out more about the Salvation Army, what they do and how you can help or donate, click here.
Popular in the Community