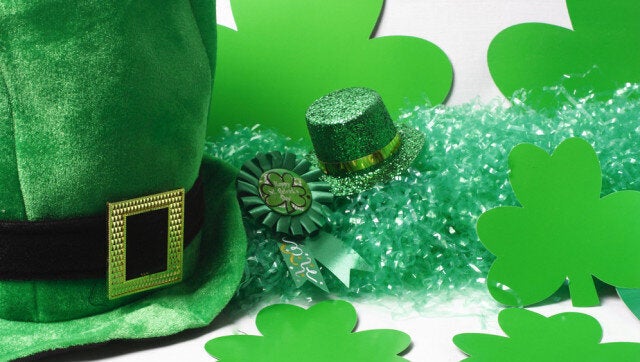 Do you call your mother mammy? What does "sucking diesel" mean? Are you a flame haired warrior princess or prince?
If you know the right answers to these questions you could be more Irish than you think! And now all you St Patrick's Day revellers can find out, just in time for the big day!
I've been working with a local bakery, Irwin's here in Northern Ireland for the past eleven years so, when they contacted me about getting involved in a charity fundraiser I was all for it! You know me I like a bit of laugh and am always up for the banter (as we like to say).
I'm always really busy around St Patrick's Day - It's a great time of year! Everyone wants to get involved with, try and hear about Irish food and drink - whether it's a delicious toasted soda farl smothered in butter or a steaming bowl of Irish stew - and I'm more than happy to represent Ireland and Irish food across the world. We put our heads together and came up with a great way of using the St Patrick's Day buzz for a good cause and have a bit of fun along the way.
I read an article about how Barack Obama had traced his Irish ancestry and it struck a chord with me - so many people across the world have Irish roots and really want to feel Irish - even the President of the United States! So, the team behind Rankin Selection breads came up with the idea of creating a free app for the iPhone which asks a few quirky questions to work out what the user's % Irishness is - what we call your "Paddy Proof!" Everyone across the world wants to be even a little bit Irish on St. Patrick's Day, so an app which taps into this without 'taking the mickey' out of Irishness was what we were looking for.
We want to test how Irish people are by asking them questions like 'What's the Irish solution to all the world's problems?' and 'What would you need the most if you were trapped on a desert island?' The most Irish answers have been checked and double-checked with people the length and breadth of the Emerald Isle and we're happy that real Paddys will score 100%!
We're making a donation of 5p for every iPhone app downloaded to Macmillan Cancer Support, so here's the challenge... we really want everyone to share their 'Paddy Proof' on their Facebook and Twitter profiles to help spread the message to all of their family and friends.
Macmillan is a cause very close to the hearts of so many people who have lost someone to cancer and I'm hoping we can raise a great amount for it. To download the 'Paddy Proof' app for free from the UK app store click here
But if you don't have an iPhone, don't worry! You can join in the St Paddy's Day craic by playing another version of the app on Facebook through your browser (the Facebook app isn't available on Facebook mobile). Just search for the 'Irwin's Bakery' page to play along and get involved. I hope people all across the world will want to join in and help spread the word of both apps!