The heartbreak for the residents and families of Grenfell Tower continues. But as the sheer scale of the disaster emerges, the growing anger is also palpable. That anger was typified when Mayor of London Sadiq Khan was heckled by a young boy: "How many children died? What are you gonna do about it?" The Mayor shook his hand and said he would do all he could to help.
But at least Khan met the residents, which is something Theresa May singularly, unfathomably failed to do yesterday. If Grenfell turns out to be a defining moment in our nation's modern history, the defining political image could well be that grainy, long-lens shot of a Prime Minister talking to emergency services but not to local people. It recalled that photo of Margaret Thatcher visiting the terraces of Hillsborough, surrounded by aides and police, but with not a single football fan nearby.
The contrast with Jeremy Corbyn, who hugged a worried resident, could not have been starker. The very fact that the Labour leader literally embraced the devastated community, and was allowed to do so, speaks volumes for his personal and political integrity. Yes, many of the tenants were Labour supporters, but what the locals appreciated most was someone being prepared to listen to them - after years of being ignored.
The election campaign laid bare just how socially awkward, out-of-touch and robotic May was as a politician. But all the jokes about 'Theresa Maybot' curdled before our eyes yesterday as she failed to show not just human empathy but genuine leadership. Of course there are always security concerns about PM visits, but they are manageable and she could have met a group of residents in a protected area. I'm baffled as to why she didn't announce her public inquiry on site, rather than in the ivory tower of No.10 Downing Street.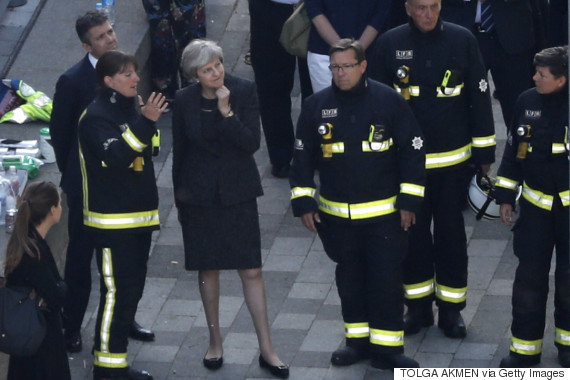 Her allies say she didn't want to distract the emergency services from their job, yet meeting residents wouldn't have been a distraction. Some say her preferred modus operandi is of staging 'private' visits to hospitals for victims of terror and other disasters. There is obviously merit and genuine compassion in some of those trips being away from the cameras, but they don't preclude a leader from stepping up to face real and searching questions from the public. Yes, deeds are more important than words. But words still matter, and being seen to listen, and even get a rough ride, are prerequisites of holding high office. Shorn of her two closest advisers, lacking even a director of communications, the PM looks incapable of making any connection with the country she leads.
Politically, Grenfell may push the Tory party's support even further downwards. May's personal ratings have fallen off a cliff in the week since the general election. Former Tory Cabinet minister Michael Portillo, who told BBC's This Week "she didn't use her humanity", predicts she may be gone as party leader by the autumn conference.
The fear among some Tories is that if they don't act quickly, the long-term impact of the disaster could set them back years. The Conservative pitch has long been 'we're not the Caring Party, we're the Competence Party'. When your leader is not competent, let alone strong, the lack of empathy becomes even more telling. This disaster would have been bad enough for May even if she had a big Commons majority. Without one, it underlines her lack of mandate and how fragile her government really now is.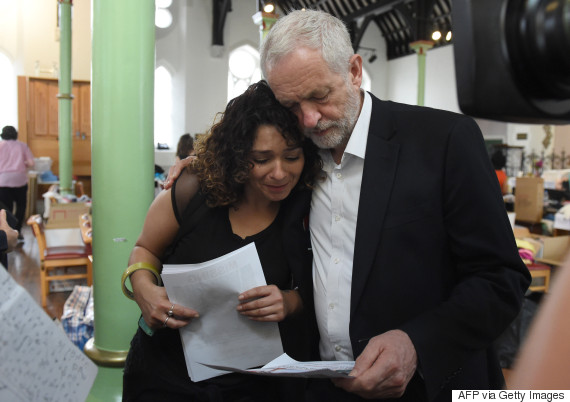 The Queen sent a heartfelt message to the Grenfell residents yesterday. During the Blitz in the Second World War, her mother and father were booed when they visited the East End. Some residents complained about Her Majesty's furs, others pelted rubbish in the Royals' direction. That's precisely why the then Queen later marked the German attacks on Buckingham Palace with the words: "I am glad we have been bombed, it makes me feel we can look the East End in the face"
Author Robert Harris yesterday tweeted: "Imagine Churchill in 1940 refusing to meet the bombed-out victims in the East End". But even Churchill had to face the raw anger of those affected. As he posed for the cameras among the rubble, he uttered his famous phrase "We can take it". According to some accounts, one docker's wife then shouted: "You fucking take it. We're sick of it." For council tenants and others across Britain who have spent years seeing their needs neglected and their views ignored, they're sick of it too.
This blog is adapted from the Friday 16 June edition of The Waugh Zone, which can be read here, and subscribed to here