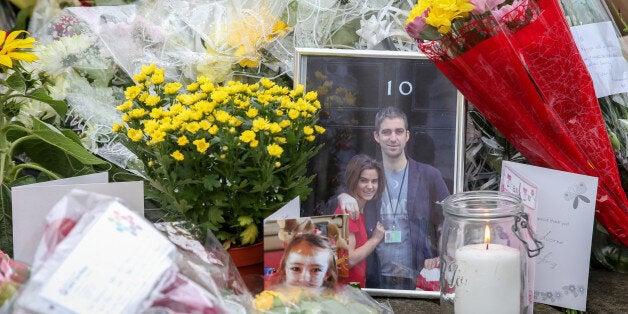 Jo Cox's death has cast a terrible shadow over British public life. Coming exactly a week before the EU referendum, the brutal killing has undeniably had a short-term impact, as both sides in the Brexit debate suspended their campaigns.
Normal party politics, as well as the Europe issue, have rightly been put aside as her family, friends and the nation mourn their loss. But the unspoken question in both Leave and Remain campaigns is this: will it in any way affect the outcome of the referendum next Thursday?
All campaign events were cancelled for Friday, and big set-piece rallies due on Saturday have also been scrapped. Battlebuses will stay in their garages. "Low-level" campaigning will continue, in the form of leafleting and street stalls, but no national messages or media opportunities will take place until Sunday.
BBC Radio 4's Any Questions was due to feature the potentially very lively line-up of Nigel Farage, his old foe Anna Soubry, Lord Owen and Alan Johnson. It was swiftly axed.
Both camps had planned the final Saturday before polling day to be a big deal, both in terms of photo-opportunities and as a way to galvanise the grassroots. 'Vote Leave''s Gisela Stuart and Priti Patel are still expected go ahead with a planned visit to a Mosque, although that won't be a campaign event as such. It will instead be a chance for both women to pay their respects to Jo Cox - as well as explain how they too have faced hate crime as MPs.
The Labour Party, which has obviously felt the loss of one of its own particularly keenly, will not be campaigning in any form until Monday at the earliest. Jeremy Corbyn had been due to pack in a series of speeches and rallies this weekend, but that will no longer happen.
'Britain Stronger In Europe' are making decisions on when to resume full campaigning on a day-by-day basis. Like the Leave camp, planned national events featuring the Prime Minister have had to be ditched for Saturday.
Will Straw, Executive Director of BSIE, said only local leafleting would be allowed on Saturday. And while there will be no street stalls, he added that "we will also be making available tribute books for volunteers and members of the public who wish to mark their respects."
Sunday is the first time when the EU referendum will be allowed to resume, albeit in a much more toned down form. Corbyn is on the Andrew Marr show, as is Michael Gove. A big event for Leave is still set to go ahead on Sunday afternoon, and Cameron faces possibly his biggest TV audience of the campaign when he appears on BBC's Question Time on Sunday evening at 6.45pm.
Yet the recall of Parliament on Monday will again put things on hold. All MPs are expected to be in London for a moment of national unity, and so only small-scale local referendum campaigns will occur. Vote Leave will have a regional business event to highlight small businesses who think the UK is better off out of the EU.
National campaigning will only resume again on Tuesday and on Wednesday the final day is when the main messages of both sides will be heard. Thursday itself will see a massive 'get out the vote' (known as GOTV' to the parties) push.
But will the halt in campaigning affect the undoubted momentum that the Leave campaign has built in recent weeks? It has been buoyed by opinion polls showing a strong swing to its argument, and most have given it a healthy lead of upto seven points.
The sombre mood could affect Leave in two key areas: in reducing the rhetoric on immigration and in checking the mood of "anti-politics" that has grown in recent months in the UK as it has in the US and the rest of Europe.
Brexiteers are acutely aware of the need to be more careful with language, given Jo Cox's long association with helping refugees. And if any strong evidence emerges of her killer being linked to anti-immigrant groups, the narrative could still change. But they believe that Boris Johnson and Michael Gove have been consistently clear that taking control of migration can actually stop the issue from being hijacked by far-right extremists, by winning democratic support for immigration levels. The case for a points-based system will continue to be made.
Migration may not feature as prominently, but the damage to Remain may already have been done by all those leaflets about 80 million Turks "set to" join the EU. And while some will think a renewed focus on the economic issue can only benefit the In camp, a new emphasis on not going on the attack could rob it of its tactic of pointing to scary recessions and spending cuts. At the same time, the focus on MPs' safety and security could fuel a wider sense that now is not the time to take risks - of any kind.
The Leave camp believe that few of the public are linking Jo's killing to the EU issue. And there is an example in history that may be in some minds on both sides. Days before the Swedish referendum on the euro, foreign minister Anna Lindh was tragically stabbed to death while shopping in a department store. Lindh was a vociferous campaigner for a 'Yes' vote, but the Swedes still voted 'No' to joining the single currency.
Given Vote Leave's recent poll lead, even if its momentum is halted, many Brexiters will take that. Their campaign had no big new policy message 'in the locker' for the last few days of the referendum and had always only intended to repeat the cut-through themes already out there.
And in some ways, the lack of attention on the economy in the last 24 hours has perhaps had more impact on the Remain camp. The Bank of England's minutes got little coverage, the Chancellor's Mansion House speech had to be scrapped and the IMF report - expected to add yet another warning of Brexit damage to the economy - has been delayed from 2pm to a midnight embargo.
Yet some campaign strategists, who do not want to be named for obvious reasons, believe that Remain could benefit as the tone of the referendum becomes less angry, less partisan. It's message on the economy will be pitched as a positive one, rather than the perceived Project Fear, by stressing how many new jobs will be created by new free trade deals within the EU single market. And its other key message - that it is has cross-party and non-party, independent expert support - may benefit as normal political knockabout takes a back seat.
Even the final big event of the campaign - the Wembley Arena BBC debate - is now unlikely to feature the anticipated booing and heckling that some in Remain had feared. Instead of attacking opponents, the debate will have to see participants make their own positive case.
Jeremy Corbyn, who has refused to share a platform with Cameron throughout the campaign (fearing a Scotland-style backlash from voters), today appeared alongside the PM in Birstall. The symbolism was powerful and may remind voters that they are actually on the same side in the EU debate too.
The PM, like all those involved in both campaigns, will do nothing that looks like it is linking Jo's death to the referendum. Today he said: "We do have peace, we do have stability, we do have a measure of economic wellbeing better than other countries obviously still to be spread far more widely. And it is all underpinned by tolerance". He didn't need to add that all that peace, stability, and prosperity will be put at risk by Brexit - it was just left hanging in the air by implication.
Every Labour MP would be horrified by the suggestion that anyone will exploit their beloved colleague's death for political gain. But when those deserved tributes are read out in Parliament, the voting public - particularly undecideds - will be told just how passionate she was about both refugees and the European Union.
One significant impact of the tragedy may be to boost turnout, by raising the profile of politics in general, and possibly even a national feeling that it's public duty to take part. This could prove invaluable for Remain, which has worried that Leave voters are more highly motivated.
Yet higher turnout may not be enough to counter the real problem that worries many Tory and Labour MPs in the In camp: a lack of voter ID. Labour MPs say their canvass returns just don't tell them accurately enough who is in which camp, and they don't want to risk inadvertently helping Leave get their vote out.
And there's a fear that in Tory seats, there simply isn't the grassroots network to get out the vote of Tory Remainers - as few Conservative Associations will actually be coordinating 'knocking up' on the day (as they normally would in any election).
It's too early to tell just what medium- or long-term impact Jo's death will have, if any, on the way we conduct our politics. Whether we stay in the EU or leave it, it would be nice to think she will have somehow civilised out public discourse.
Whoever wins next Thursday, all sides will hope that her lasting legacy could be a kinder, more consensual politics. And some Leavers and Remainers alike believe that accepting the result without rancour - agreeing that 'a win is a win' - could help heal the country that she fought so hard to unify.