Over the past 12 months gamers have increasingly been using tablets and other mobile devices to play games. Consumers want to game anywhere and at any time, rather than being tied to consoles at home, meaning mobiles have now become gaming platforms in their own right.
But whether gamers are using mobile platforms instead of, or in addition to consoles, they don't want to compromise on the quality of their overall gaming experience. They still demand as much control as possible to create a seamless and truly immersive gaming experience. In response to this trend, a new range of devices are being developed. Gaming tablets, with all the processing power of gaming PCs, are being developed to ensure there's no compromise on speed.
But it's not just source devices that are being overhauled. Users are also looking for peripheral devices, including mice, keyboards and touchpads, that offer the console-like functionality needed to rapidly detect and process the multiple, fast-paced digital inputs that result from the lightning fast fingers of gamers. For portability and usability these devices also need to be wireless, and to avoid constant charging they need to consume the least power possible.
This is where the latest developments to the Bluetooth standard come into their own. Bluetooth 4.0 or 'Bluetooth Smart' enables wireless devices to consume a fraction of the power of previous standard Bluetooth versions, as it uses very short pulses of radio activity which drastically reduce power consumption. Devices can stay connected, but the radio is off most of the time, rapidly responding when data is available, delivering the longest battery life on the market as well as the level of responsiveness needed for gaming. It provides universal compatibility, so products are game and hardware independent and can be used with any Bluetooth Smart Ready device. It also has a significantly simplified set-up process, so users can get gaming in seconds.
Wireless gaming headsets present the additional challenge of keeping the sound effects that you hear synchronised with the action, as if there's any delay between the audio and the video it can ruin the gaming experience. Even high-quality Bluetooth audio has an inherent delay of more than 150 ms. While this can be compensated for in various ways to ensure that the lips match the speech when watching a movie, gamers carrying out actions on the screen that involve gun shots, bomb blasts and other intermittent and unpredictable sounds, expect an immediate audio response, which cannot be compensated for. In order to achieve action-synchronised sound when gaming, this delay must be less than the 40 ms. One way of achieving this is by incorporating the aptX low latency audio codec which will reduce the delay to just 32ms, meaning users will experience fully synchronised audio and video.
With 58 per cent of US games developers releasing their next games for smartphones and tablets, mobile gaming is only set to grow. Gaming accessory developers, for example Mad Catz, with its GameSmart range, are embracing Bluetooth's new features. Gamers buying wireless mobile accessories with long battery life, truly synchronised audio and console-like functionality and performance should look for the Bluetooth Smart and aptX symbols.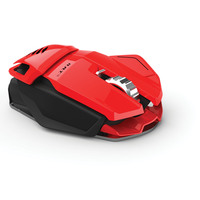 Mad Catz® R.A.T.™ M Wireless Mouse