I love a new handbag. It can be brand new or just new to me, in fact I rather love an old bag too. Nothing excites my senses more than the whiff of leather, soft as a baby's bum and equally as biteable....
You see, for a lot of women, their handbag is more than just a contraption to carry around useful and useless bits of everyday crap. It's a badge. It can say 'Hey I've arrived, look at this beauty'. It can scream 'I'm so fashionable I've got the sold-out bag of the season'. It can be more subtle, telling you the owner loves quality but doesn't want everyone to know what brand it is, no logos yelling out from it's front panel.
Anyway enough about everyone else. Let's talk about me. And my love affair with some of my favourite handbags.
There's my black Caviar leather Chanel Jumbo 2.55. She was a birthday present from myself to myself for rather a big milestone. Reserving her through the Bond Street boutique and traveling up to collect her was like picking up a new puppy. For the first year, she didn't leave my side. She came to the pub, to work, out shopping, on date nights....although she wasn't allowed to go clubbing (neither was I but that's another story).
I felt like my cost per wear was getting to some sort of reasonable level AND I had years of use ahead (Chanel will 'service' these babies in their handbag hospital for life) so I decided to let her start having a few weeks rest now and then.
Then my Louis Vuitton Never Full then came into her own for a while. She's a great companion plus she's so roomy you can practically get inside her. I bought this lady second hand, in mint condition and she's been everywhere too, the perfect shopping partner (shhhhh, don't tell but you can hide most of your booty inside her for uncover entry into the house)....
I do love to have the odd flirtation with a Mulberry Bayswater. I've a few but my favourite is in coral red. Again, another second hand purchase but as in the words of Poppins, 'practically perfect in every way'. This is just a great all round handbag. Classic in looks, practical and sturdy and damn easy to find all your schnizzle. Her brightness is the perfect colour pop when I'm wearing black or navy.
Then came last Summer where I just had to have an Anya Hindmarch Edbury. What can I say? It was the sales, she had a snakeskin strap, our eyes locked, plus some other bint was vying to buy her so she had to be mine. We had an exciting Summer together, skipping around the city. She is palest of grey so can't come out in the rain (constant checking of weather needed) but she's easy to wear and probably too roomy for a bag-hag like myself (yes, I got the large size). She's a keeper but she's gone into hibernation for the Winter. Which is maybe what I should do to stop me buying anymore lovers.... You'll never take me alive....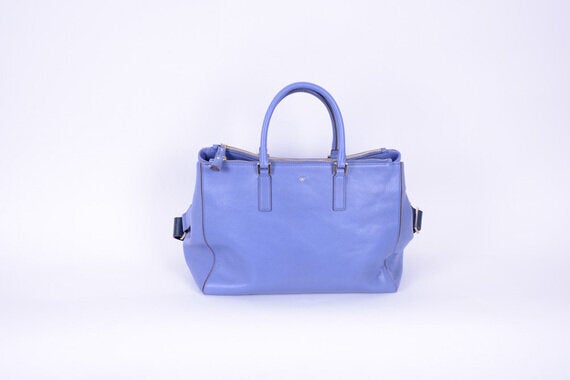 This Ebury is in cornflower blue and available to buy from the Love Is website