Christmas being a time for family, I chose to shoot my forthcoming line for Peacocks - which is full of opulent fabrics and festive sparkle - at the home I share with my husband and three youngest children.
We shot the last year's collection in Hackney Downs and Richmond Park, so when Daisy discovered that we would be dressing inside and avoiding stares from passing dog walkers, she couldn't have been more excited. The whole team poured into the house earlier this month and we began using the space to showcase my Autumn/Winter designs.
When shooting for a Christmas line the feel obviously has to be, well, Christmassy. Despite the rolling hills and the running river at the bottom of our garden, the September sun necessitated us staying inside (and my love of floral wallpaper and lace curtains proved to be the perfect backdrop).
We decided to capture Daisy getting ready and used all of the antique mirrors and vintage dresses from around the home as props. Working with photographer Jason Hetherington, whose dark and haunting images evoke a really powerful atmosphere, Daisy brought all of her beauty and talent to the shoot to create a series of images that perfectly embody the spirit of the collection.
Whilst all this was going on, I asked whether I could also shoot the children's line I've designed for Peacocks to be released next year. The team agreed and brought in an array of nostalgic objects including a candy cane, throne, rocking horse and nutcracker. With the set ready the only thing missing was our model. For that, I told the team, we would have to call upon the services of my four year-old daughter Betty.
Having starred in our catwalk show at this year's Vintage Festival and having shot for children's brand I Love Gorgeous, Betty has already developed a taste for modelling, or as my husband puts it, showing off. Stepping through the door from school that day and seeing Daisy in front of a camera - a team of hair stylists and make-up artists surrounding her - I could see her face about to drop. If I didn't act fast, I knew there would be trouble.
"Betty, would you like to have your photo taken?"
No sooner had the words been said, than she was upstairs rummaging through her wardrobe. She returned moments later in jodpurs, riding boots and helmet and made a bee-line for the mahogany rocking horse in the corner of the room.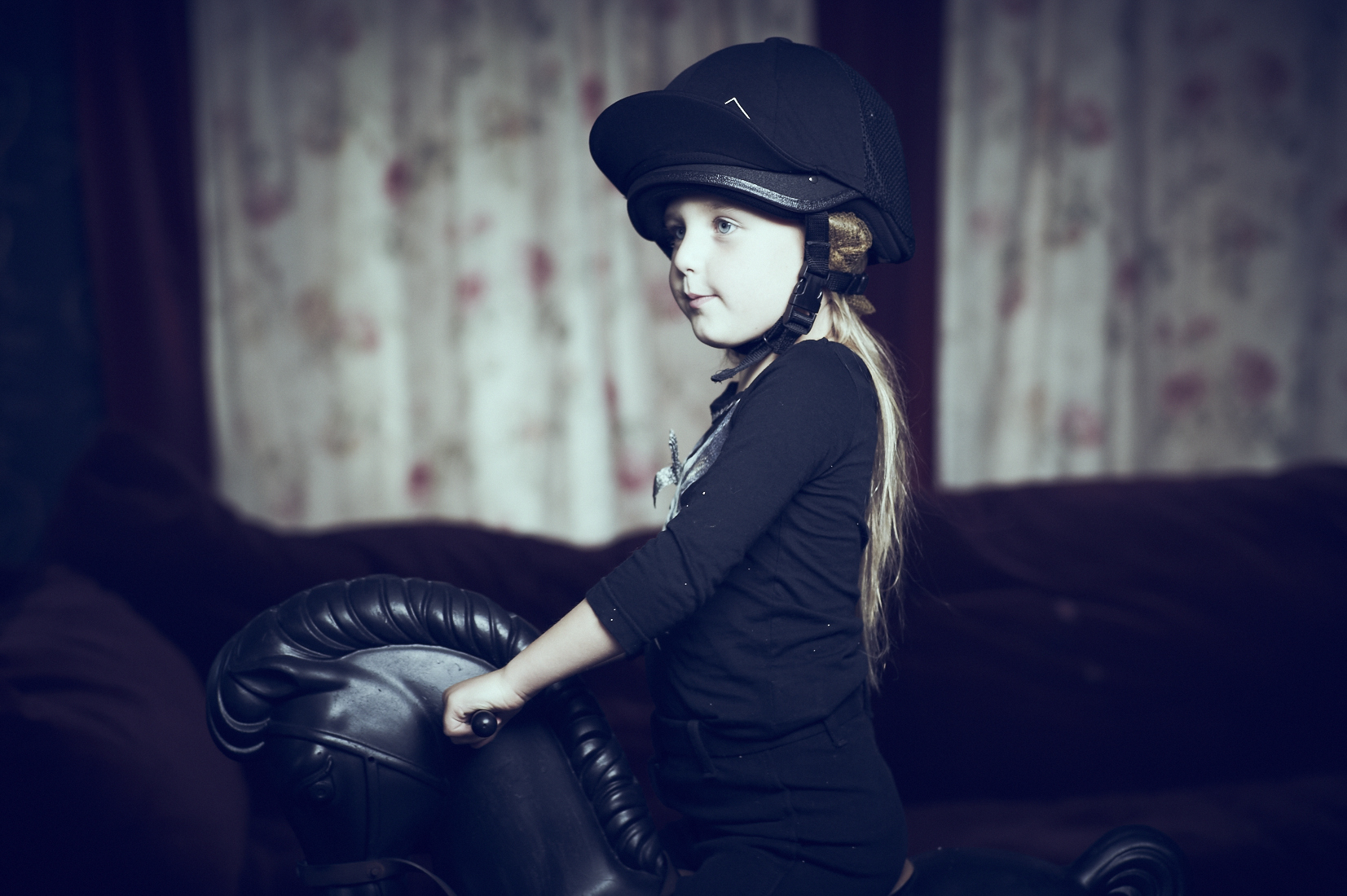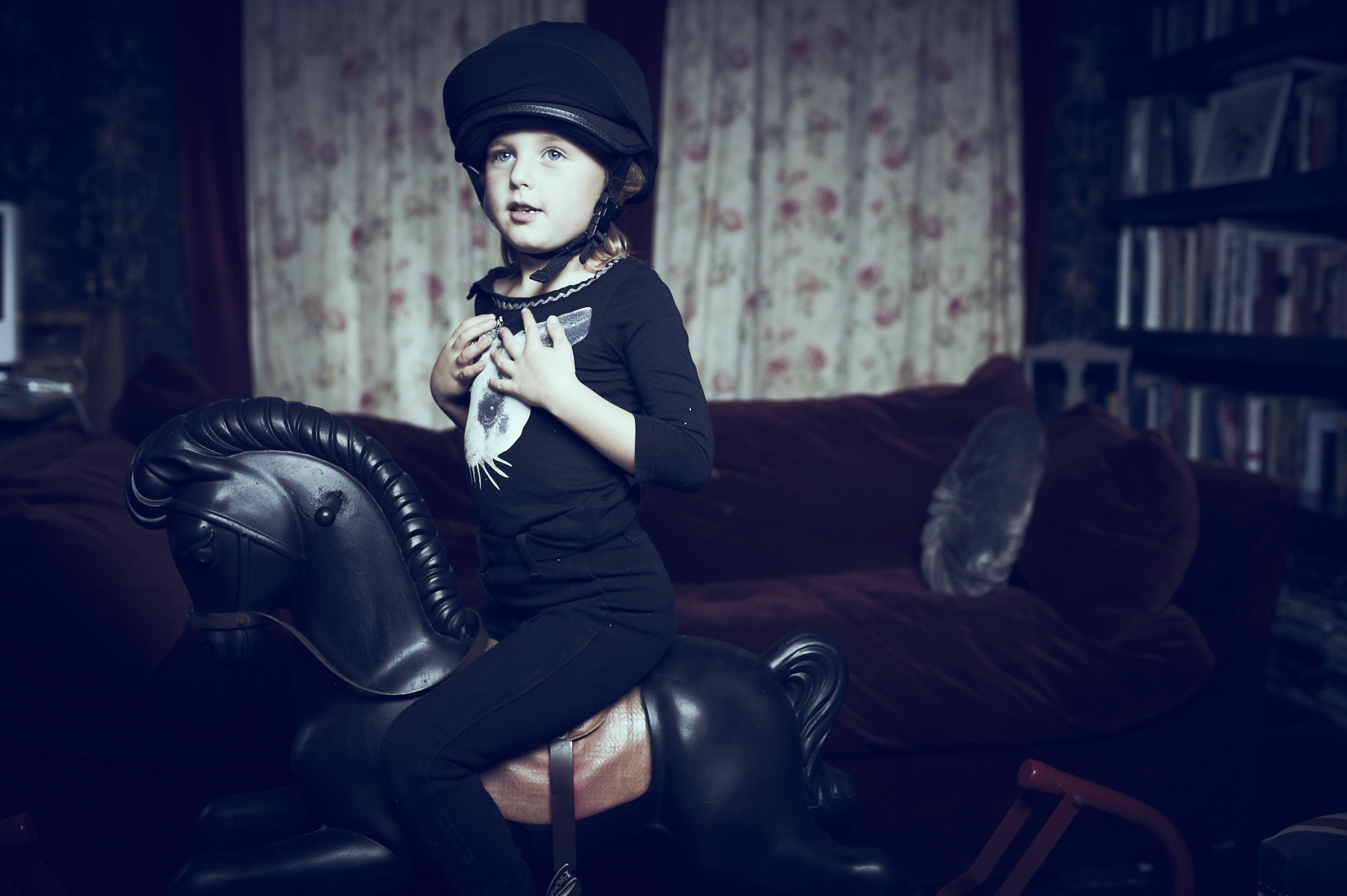 Despite our six month old Labrador Wiz trying to steal her brushes, Lyndell Mansfield proved her credentials as one of the most professional and talented hairdressers around by taming my youngest daughter's unruly hair, while Lee Pycroft indulged her with a little make-up.
Wiz continued to wreak havoc by trying to run off with Jason's gaffer tape and lenses (which he took with a huge amount of grace and patience) as our other two dogs, Maggie and Angie, ran around making friends.
Daisy gave tips to her younger sister whilst the rest of us tried to do what we could between snacking on the delicious spread put on by our local caterer Andrew (although the five day liver detox I was on meant I could only savour the broccoli - most unfair!)
It was mayhem, pandemonium by some people's standards and I would be lying if I said the day wasn't without its stresses. But the professionalism of everyone involved and the great energy that each person brought to the house that day helped us to create a series of pictures that really do justice to this, my favourite of all the Peacocks collections and some of my proudest work.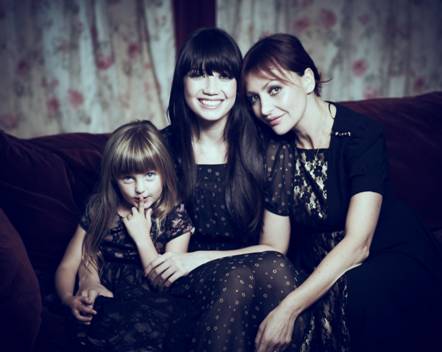 This is Pearl's 8th collection for Peacocks, due out on the 6th of November.