Getting a serious injury is every athlete's biggest fear, and I'm unfortunately no stranger to it. In fact, it's been two long years of recovery for me, going right back to the World Championships in Moscow in 2013.
I had competed well all year, finishing consistently in the top two in the Diamond League races so knew I had a good shot at being the World Champion which was further enhanced when I won my semi-final comfortably. It was time for the final and I was feeling good but at the first hurdle I felt a wobble, something wasn't right. I ended up finishing in seventh position which was a shock to me, and everyone else.
I was put in a wheelchair and flown back to London for a meeting with a surgeon who delivered the news. I had damaged all the ligaments in my knee and torn my PCL (posterior cruciate ligament). Everyone around me kept saying how sorry they were to hear the news but at that time I didn't understand the severity.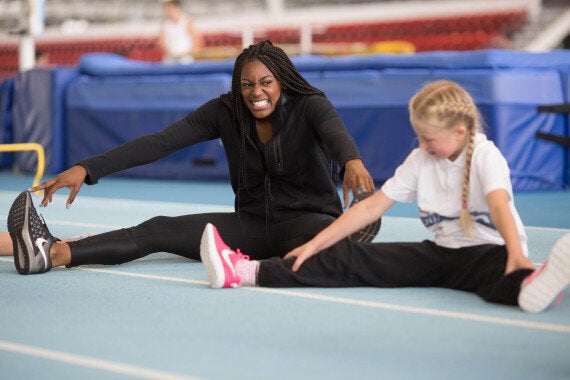 A week later, I had surgery on my cartilage resulting in having to be on crutches for three months, which was just the beginning. What came next was a long road of physio, frustration and hard work. I had to ice my knee and leg three times a day, as well as using machines and weights twice a day to try and build the strength. As a result, I lost a lot of weight and muscle in my leg.
I also had to use a Compex machine - an electric muscle stimulator - twice a day, which fires into the muscles to try and rebuild them. They call that 'electrostimulation'. Through all of this I was on a lot of medication for the pain. Tearing ligaments hurts.
I did become an expert on the crutches though - I was pretty fast (I guess my competitive side never left me!).
When I came off the crutches, I basically had to learn to walk again. The muscles around my knee had to be retrained as I hadn't been able to bend them at all, and was in a brace for a long period. Pool sessions helped to build my fitness, while keeping weight off my leg, and I regularly used a bike in the gym to get the legs moving too. When you're used to doing something as simple as walking and running, you really notice it when it stops, so those first few bike sessions (when I got my legs moving again) brought tears to my eyes.
The rehab process, which thankfully is now coming to an end, was long and hard. At times I wanted to give up. What kept me going though was knowing where I'd been before - I knew I'd just missed out on a medal at the World Championships and wanted to be there again.
The hardest thing was accepting it. I'm an upbeat, positive person, but it's fair to say that for long periods I was in a dark place. It felt like something had been taken away from me and no-one can prepare you for that.
There were a lot of people who I can credit for helping me get through. A text, phone call, meeting up with people (in and away from athletics) - even the little things kept me going. I do have to give a special mention to my coach Chris though. He was with me every step of the way, coming to meetings in Loughborough and all of my scans. I've been training with Chris since I was 13, where he was the coach at my local track. He'd just started coaching then too, so it feels like we've been through this journey together.
The big goal now is obviously Rio 2016, but there's a lot that's going to happen before then too. I'm back to a training schedule of five times per week. Some days are spent on the track and some in the gym. It's a real combination of recovery, treatment, circuits, eating well and training of course. There are also double sessions on certain days, but when you've been away for so long you just appreciate the opportunity to be out there training.
Throughout my recovery, I've been inspired by doing a lot of work with kids. I've been to a few schools and worked with Disney on its Aim High programme, which is all about encouraging kids to find something they love and work hard at it. It's nice to see how responsive they are when I tell them about the work I've had to put in, and how rewarding I find it.
My story started at school (when my teacher recognised my talent and recommended me to join a club) so it's great to be given the opportunity to share some of that inspiration and advice with other kids. I always tell them to just enjoy it, whatever they do - and to explore every sport. I tried everything from long distance running to javelin before I found hurdling, and even that took a while to get into. Even with a talent, its working hard, self-belief and determination that helps you get somewhere.
I'm in a very good place now and it's nice to feel like an athlete again. It feels as though my body was trapped and it's waiting to be released. Now it's just a countdown to competing again. I'm watching my competitors and thinking "I can't wait to race you again!" I'm quietly confident that come Rio 2016, I will be back challenging for the gold medal once again.
Perri Shakes Drayton is a mentor as part of this year's Disney Aim High competition, aiming to inspire kids to be the best they can be. For more information, visit Disney.co.uk/aimhigh
Popular in the Community