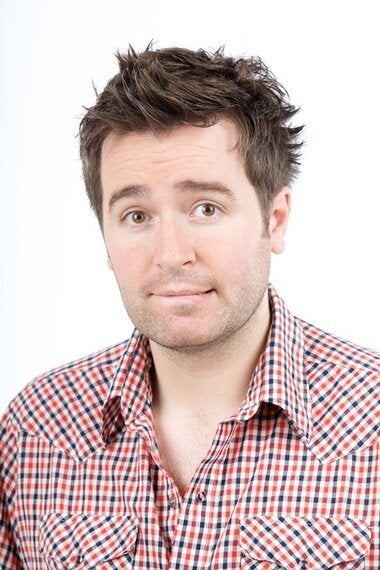 Back when we in University College Dublin together, Jarlath Regan faced a battle. Not a particularly serious battle, mind: he was running to be the auditor (President) of the college debating society. It quickly became clear that this warm, likeable and funny gentleman also had a quiet, steely determination. And he sailed across the line.
The incredible likeable Regan seemed like a somewhat unlikely comedian. He got the bug when hosting comedy shows in college. "I tried to hold down a regular job but the bug had taken hold and I was constantly obsessing over writing jokes while in work," he says. He relocated to London, partially because Ireland's catastrophic economic collapse pushed him, and partly because the UK's capital city is the epicentre of the comedy universe.
It's nice to catch up almost a decade after last we saw one another in UCD. His biggest success, however, has been in creating a podcast called "An Irishman Abroad", where he carries out one-hour interviews with interesting Irish people. It's been a phenomenon, bringing in over one million listeners per episode. Guests have included Graham Linehan (writer of Father Ted, Black Books and The IT Crowd), Irish actor Chris O'Dowd, comedians Dylan Moran and Sharon Horgan who recently had success with the Channel 4 sitcom Catastrophe.
Another interview show. Yawn, right? Not at all: Regan's offering is compelling. It's far from what you might expect of a comedian. His soft radio voice is imbued with gentleness and an empathy that never veers towards condescension. Through his warmth and pathos, Regan's intelligence and ability to relate to people is exceptional.
"There was never a decision or choice of tone to be honest," says Regan. "It organically emerged over time. I tend towards sincerity and reflection which can make comedy hard due to the time constraints and the audience's expectation of a laugh every 30 seconds. In the realm of an hour long conversation in the context of a podcast people have chosen to download and listen to from beginning to end, you can go there. I knew this from being a podcast fan and relished the chance to speak to my heroes in this way. For their part, I think the guests enjoyed getting to speak at length when they rarely get the chance and answering well researched questions when they rarely get those either."
Regan's show is supported by small donations from listeners and is sponsored by CurrencyFair.com, but he insists he would do it for free.
Who are his favourite interviews so far? "Graham Linehan (writer of Father Ted, Black Books and The IT Crowd) in episode one is always going to be special. He's an incredibly generous person and without him I wouldn't have had a show. Chris O'Dowd made me laugh more than anyone we've had on. Dylan Moran was the biggest challenge. Sonia O'Sullivan was incredible. Mick Finnegan described trying to kill himself three times with this unflinching honesty that took my breath away. And most recently Irish drag queen Panti - Rory O'Neill - blew my mind and I think helped a lot of Irish people abroad begin the conversation to convince their parents to vote Yes in the Marriage Equality referendum."
Indeed, the Referendum. It's changed how Irish people feel about ourselves and instilled a sense of national pride that this 34-year-old journalist has never seen in his life. Like a lot of emigrants, Regan, who was not eligible to vote having lived abroad for more than two years and have gay friends and family in Ireland, was worried for a while that it would not pass. But the huge turnout, the droves of eligible emigrants returning home to vote Yes, and support from every sector of society led to a 62 per cent vote in favour, making Ireland the first country in the world to institute marriage equality by popular vote.
It's against this feel-good background that he'll take to the stage in his home country this weekend. "You only appreciate Ireland until you move away including the audiences. I swear, nowhere in the world will you find a group of people in a room to see a standup show where almost 60% of them could easily get on stage and be funny. Interacting with the Irish crowds, particularly at festivals is simply the best."
How different is his stand-up to his podcast? " How close is driving to walking! We're covering a lot of the same ground but it's hard to compare the two. I am 100% myself in both instances. Same voice! But you know, people expect laughs in standup. I never wanted to crowbar in jokes to the interviews because I hate the podcasts made by comedians where they do that. If there is a joke there in the interview, it's hard not to make and probably wrong not to. It's a conversation. The standup is story based too and a lot less free form. I tend to get out of the way in the interviews and let the guest speak but on stage it's all about meeeeee! Wahoo!"
Jarlath Regan headlines the Forbidden Fruit comedy tent at 7.25pm on Sunday.

For more information about Jarlath Regan, see Jigser.com.

Forbidden Fruit at The Royal Hospital, Friday May 29 - Sunday May 31. Weekend tickets are €109.50 while Friday day tickets cost €39.50 and Saturday and Sunday day tickets are €49.50