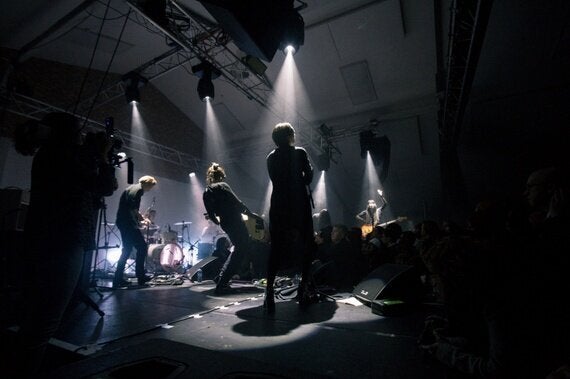 For two of the most visceral, invigorating, and progressive bands in the country - both based in the supposed creative capital that is east London - to be taking inspiration from a movement started a century ago, is perhaps a little jarring. The prelude to Bo Ningen and Savages' performance of Words to the Blind ("a simultaneous sonic poem"), meanwhile, are a pair of sonorous, monochrome short films, conjuring up striking images à la Luis Buñuel and Robert Bresson. Fortunately, however, the terse, sinuous energy brought by this motley troupe makes the evening piercingly present.
The Dadaist theatricality permeated the entire night, as the projection screen soon became a partition revealing ghoulish silhouettes behind it, and eventually plummeting to the ground when all was set in place. Here was the image revealed: hirsute Japanese psych-rioters Bo Ningen lined up, liberal swathes of black hair draping down, opposed with equal attitude by the angular post-punk queens, Savages. White-hot spotlights burnt down on the U-shaped stage, as if poised for holy war.
The result was not a playing out of the irresistible force versus the immovable object: it brought a strange sense of voyeurism, yet immersion. The audience was not the focal point, which allowed a more honest, emotional connection with the performance, while the two bands conjured an organic confluence of sound. Those who came expecting a noise battle were surely disappointed.
The first few minutes consisted of Savages' Jehnny Beth fiercely, yet quietly reading French poetry and Bo Nigen's Taigen Kawabe firing back responses in Japanese. A crescendo was inevitable, however, during this 37-minute piece loosely based around five chapters. There was squealing, explosive dissonance, crunching noise reminiscent of Merzbow, moments of cherubic tranquility, and even a period recalling the beginning scene in 2001: A Space Odyssey, where a group simeons bash bones brutally on the ground. All the time, it was controlled chaos.
Savages guitarist Gemma Thompson was reading a book by Dadaist writer Hugo Ball, who had been so influential in forming Zurich's famous Cabaret Voltaire in 1916, when the idea for this collaboration came about. While Dada was in response to the horrors of World War One, Words to the Blind appears less clear. The success of the evening, then, surely depends on each individual's emotional connection with the performance, but on a night overlooking Bethnal Green's iconic gasworks, it was difficult not to be affected.