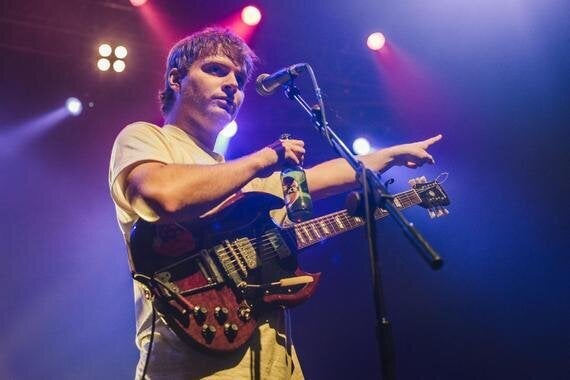 By the end of Mac DeMarco's largest ever London show - at Kentish Town's sold-out, 2,350-capacity venue, The Forum - he is topless, only wearing one shoe, and wildly playing a rendition of Metallica's Enter Sandman, to an ecstatic crowd (though, there were a few bewildered audience members).
The wayward 24-year-old musician from Edmonton, Canada, has by now garnered quite a reputation for lewd behaviour, a slacker philosophy, and regular acts of nudity. DeMarco infamously once stuck a pair of drumsticks in his rear onstage, while just this month he was detained by police after climbing along the ceiling beams at a show in Santa Barbara. It's led The Guardian to call him a "brohemian", while Pitchfork preferred "the goofball prince of indie rock."
At The Forum, the craziest antic we see is session of shoe sniffing. After someone from the crowd throws a Nike onto the stage, DeMarco fills his boots, so to speak, before passing it bassist Pierce McGarry, who has a lungfull himself and then strums the bass with it. It was difficult not to get the impression that DeMarco's rabid, youthful fanbase came expecting some historic event that they could later recount to their friends the next day. If that was the case, this was a relatively tame affair.
What Mac DeMarco and his accompanying three-piece band do offer these days, however, is more mature songwriting, carefree vibes, and an engaging live set. While the gap-toothed, Viceroy-smoking man born Vernor Winfield McBriare Smith IV, who participated in medical experiments for money just three years ago, clearly has a puerile side, he clearly wants his music to be taken more seriously.
The set is filled with what DeMarco calls "jizz-jazz" - his term for the melodic mix of jazz, folk and pop - taking from 2012's 2 and this year's release Salad Days. Feel good, sun-drizzled beats have the loose and lairy crowd bopping, while the band's penchant for classic rock is obvious, as moments evoke Lynyrd Skynyrd, and later Spinal Tap, when the band cover the Top Gun theme tune for what felt like an age.
Despite a very plain light show, the grooves rolled, the loose guitar solos charmed, and 'Blue Boy' warbled along like the best of Connan Mockasin. DeMarco's deep croons punctuated by scream-yelps were followed every step of the way by an adoring crowd, and it's clear that his personality was the main draw. But a version of Bob Marley's 'Jammin' with a lucky reveller felt half-hearted, 'Ode to Viceroy' lacked its usual punch, whereas DeMarco's stage dive near the end was pure box-ticking. The cheers rained down no matter what, but this was still a pleasing performance.