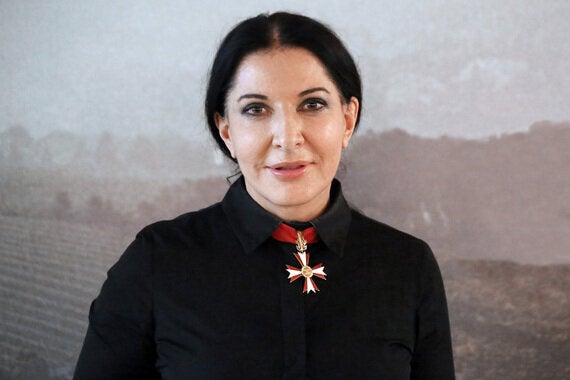 Marina Abramovic © Manfred Werner
For someone who received not far off a million visitors to their retrospective at New York's Museum of Modern Art in 2010, Serbian performance artist Marina Abramović certainly had a banally regimented upbringing. At home, her mother would leave a list of quotidien chores on top of the piano: learn 10 sentences of French, wash your hands x number of times, and of course, practice playing the piano. Love and affection, meanwhile, were tough to come by.
Born in the former Yugoslavia in 1946, Abramović was the daughter of Partisan communist parents who had been heroes of the Yugoslav revolution under Tito. The family lived well as a result, but there was to be no easy life for the future self-titled "grandmother of performance art". Abramović had an enforced curfew of 10pm every night, and for a while she managed to do her performances and return home in time, but aspirations to be an artist eventually forced her to run away from home aged 29. Her parents unknowingly reported their daughter missing, but the police's response was of knowing laughter. Not-so-little Marina had escaped.
It is perhaps this strictly ascetic childhood that has marked Abramović's upcoming exhibition at London's Serpentine Gallery, 512 hours, in which she will spend eight hours a day for 64 days, allowing visitors to interact with her. It is strikingly similar to her MoMA retrospective's main piece The Artist Is Present, except now Abramović will personally open the gallery door each morning and lock it each evening, there will no longer be the psychological protection of a table and two chairs, while the artist has also brought along props to use, refusing to give any details about them.

Marina Abramovic on Rhythm 0 (1974)
Hints may be taken from her infamous piece, Rhythm 0, where she placed 72 objects -- including a candle, honey, a rose, a scalpel, a feather, some pins and a gun - on a table for audience members to use on her as they pleased over six hours. Fights broke out between those wanting to hurt Abramović and those trying to protect her: some simply drew on her, others pierced her skin with thorns, but one loaded the gun, pointed it at her head and pushed her finger onto the trigger to see if there was any resistance. There wasn't. At the end of the performance the six-foot-tall Serbian stood up, after hours of submissiveness, causing viewers to flee in terror.
What sets apart this new exhibition, however, is that on entry all digital accoutrements - cameras, recorders, tablets, smart phones and digital watches - must be stowed in lockers. It is a significant and deliberate move to create a more immersive and experiential event, as witnessed in the successes of Secret Cinema and theatre troupe Punchdrunk. Railing against the desire to needlessly amass, as first outlined by Max Weber in his 1905 The Protestant Ethic and the Spirit of Capitalism, Abramović is putting her weight behind the ephemerality of performance art: living in the moment, rather than through a filtered lens.
"When you come and sit on the chair everything dissolves. You don't see any people, you don't hear the space. You see your face, then you see my eyes and then my eyes disappear. You become all but alone. I am just triggering all emotions in you. It becomes like a mirror", Abramović explained of her work. "Emotion isn't something you can hang on the wall, it is all about feeling. Our life is so busy now, because of all the technology our concentration is a disaster case. Life is short, art should be longer."

The Other: Rest Energy, 1980
Initially, she was a key member of a generation of pioneering performance artists that includes Bruce Nauman, Vito Acconci and Chris Burden, but it is this endurance aspect to her work that has marked Abramović's latter work. One particular person way a huge influence. On 30 November 1976 Amsterdam, her birthday, she met Dutch artist Uwe Laysiepen, known as Ulay, who became both her lover and collaborator, and who also shared the same date of birth.
Their relationship was intense. In the thrilling 1980 piece The Other: Rest Energy, Ulay pointed a bow and arrow at Abramović's heart, she lent back holding the bow, he lent pulling the arrow; it became taut and dangerous. The couple spent a year living with Aborigines in the deserts of Australia, visited India's Tibetan Buddhist monasteries, and had planned a final piece called The Lovers in 1988. Ulay started at the Gobi Desert and Abramović at the Yellow Sea - each side of the Great Wall of China - with a planned 2,500km walk lasting three months, until they met in the middle. The idea was that on meeting they would get married, but in the event, the occasion confirmed their separation, and was a final devastating goodbye.
Abramović went on to far more critical acclaim of the pair, and in 1997 she was awarded the Venice Biennale's Golden Lion for her piece Balkan Baroque. For it, she sat in a stiflingly sultry basement cleaning a pile of bloody cow bones, while at times crying and others singing Balkan folk songs; a reference to her region's bloody past. Now she has become to subject of a documentary, a play, and earlier this year, she was named on Time magazine's list of the 100 most influential people, one of only two artists.
But more testing times lay ahead. Abramović has been described as a "Coca-Cola brand", and was widely criticised for her high-profile collaborations with the likes of Jay Z and Lady Gaga, which supposedly undermined her artistic relevance. Others have accused the artist for failing to acknowledge her obvious influences, with a group of curators from the US writing to Hans Ulrich Obrist, the co-director of the Serpentine. Then there are those who believe performance art is not art at all.
Changing the perception of performance art from an alternative medium, to one of the mainstream is Abramović's stated career goal, and if she can win over the English audience of her new show, who are notably cynical, it will be one of her most challenging victories. The reaction will be fascinating, and will surely reflect on modern British society, and where it is today. Let's just hope the mirror doesn't shatter when we look into it.