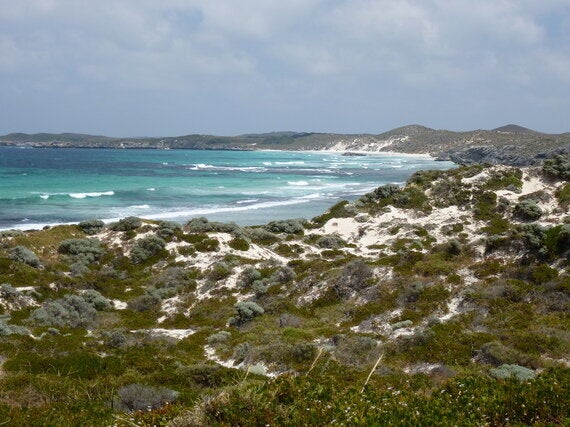 With more hours of sunshine than any other capital city in Australia, it's no wonder that Perth has been voted as one of the world's most liveable cities. However, if you've travelled all the way to Western Australia and let's be honest, it's a long way from anywhere, you won't want to be tied to a city. There are all manner of tours and activities of offer and with all that sunny weather there's no hardship in experiencing the great outdoors, beautiful beaches and awesome scenery that the region is famed for. On a recent visit I set out to sample three of the more popular day trips on offer. For followers of The Petra Trail (my 3 months in South America in the latter part of last year) will know that Western Australia had very big shoes to fill. Could it compete scenically with Argentina and Chile's natural wonders and would there be enough adventure still to wow me ? What Western Australia has that South America lacks is breath-taking beaches that seemingly go on for ever with miles and miles of near deserted white sand. Some of the prettiest beaches I've ever encountered (not to mention the bluest water) can be found at Rottnest Island.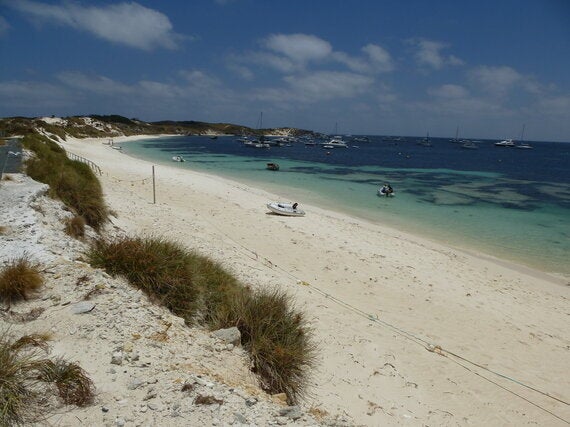 From Freemantle it's a half hour trip to the island. Alternatively Rottnest Express, the largest, fastest and most experienced ferry operator servicing Rottnest Island also begins the journey from the Barrack Street Jetty right in the heart of the city centre, giving you a chance of a more leisurely cruise up the Swan River with views of the city skyline behind you. Instantly the island reminded me of a hotter version of the Scilly Isles, low lying and unspoilt with endless small bays with the whitest sand. Another island it has a lot in common with is Sark in the Channel Islands, mainly due to the fact that like Sark, the island is car free and everybody travels around the island by bike. The ferry was loaded up with bikes, holiday makers on bikes meet friends of the ferry and bikes are readily available for hire as soon as you depart. Rottnest Island Bike and Hire has more than 1500 bikes to hire, so there's no worry about not being able to get one. They also have a small new fleet of electric bikes but distances are not big and there are few hills to worry about. I'd say the main worry would be trying to fit in the classic ride around the island with stops for a swim and a snorkel at the innumerable bays all in a day trip. Each bay is different and just when you think you've found the perfect one, another magical one appears around the corner. I was impressed that the friendly assistant at Bike and Hire looked up wind and weather conditions on his computer to find out which bay and beach would be calmest, with an easily readable map and signposted routes all adding up to a stress free day. To give you an idea of distances Cape Vlamingh at the very West End of the island is 10 km or a 50 minute bike ride from the the main settlement at Thomson Bay. For families, there are plenty of shorter rides, little Salmon Bay and one of the best places for swimming and snorkelling is a mere 5 km, 20 minutes from the ferry drop of. Although exploring the island by bike comes high recommended, families on a day trip need not leave Thomson Bay as there's plenty to do there. The "Just 4 Fun Aqua Park" looked particularly fun as children, slipped, slide and splashed on this inflatable floating water park. It's no surprise that Rottnest Island is Perth's favourite holiday playground and if you're short of time and can only do one tour, then this is the one I'd suggest.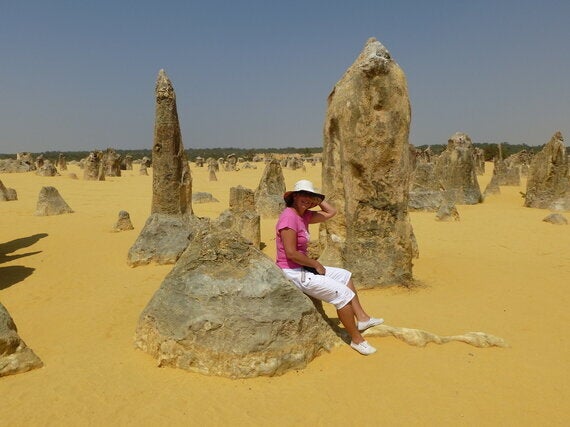 If Rottnest Island is all about beaches, bikes and blue water then arguably Perth's second most popular day trip is all about a natural wonder, the mystical Pinnacles Desert. The desert is a long way from Perth (although not by Australian standards) so the tour is broken up with an initial stop at Caversham Wildlife Park in the Swan Valley. Here there's an opportunity to hand feed kangaroos and get your photo taken with a wombat. Something that wasn't high on my wish list of things to see and do and neither was visiting a live lobster processing plant, the second stop on the tour. However, the latter was fascinating giving you a real insight into the industry including a walk along an overhead walkway through the factory. Standing directly above 20 tones of live rock lobster knowing that you'd get half a bbqd one for lunch was a great way of completing the morning. As natural wonders go, the Pinnacles Desert is definitely a one of and a walk through the iconic spires an eerie experience. The pinnacles are believed to have been created millions of years ago when seashells were broken down into sand and then eroded by water and wind. We were told to stick close to the guide as people have been known to have got lost in the desert, with all the pinnacles looking remarkably similar.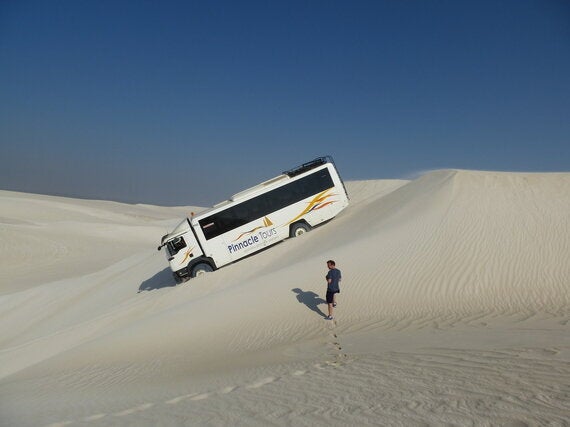 I've done the whole dune buggy, 4 x 4 driving experience in Dubai and climbed on sand dunes from Namibia to Gran Canaria and in the Middle East's Empty Quarter. Large sand dunes are not new to me and I therefore had no big expectations of the sand dunes at Lancelin, the final stop on our tour. However, what was different about this 4 wheel driving experience was that rather than driving over the dunes in a jeep, we remained in the large tour bus (more equivalent to the size of a coach) with the driver giving us a roller coaster ride up and down the dunes. It was thrilling and there's no doubt about it different. In the front of the bus with the driver I had a front row seat and view of the gauge on the dashboard to see the angle we were tipping when driving down. Hair-raising stuff and as much as I tried to photograph it, it was just not possible as I was propelled forward the screams from the passengers in the back ringing in my ears. If this wasn't enough thrills, there was also an opportunity to have a go at sand boarding (basically sledging down the steepest dune). Tip here is to sit perfectly straight, the moment you shift your weight even slightly to one side you fall of, not altogether pleasant at speed and in the sand. Once everybody had mastered and braved their first slide, there were races to be had and a great bonding experience for the whole tour bus of different nationalities. The language of speed and fun is a universal one.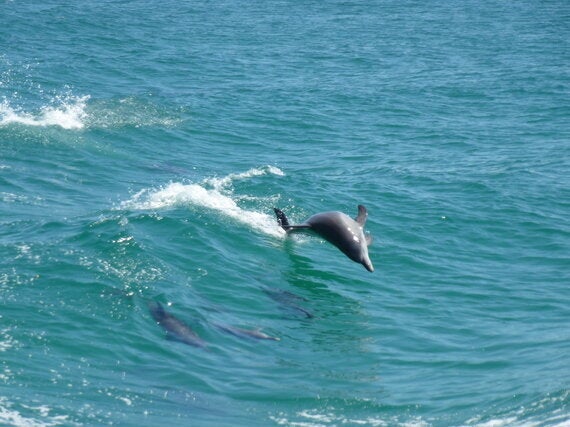 During my 20 years at The Travel Channel, we regularly produced phone in programmes with viewers ringing in with their travel queries, questions and comments. The most asked question was where one could swim with dolphins and it's top of most people's bucket list of things to do before you die. I'm in danger of appearing smug but I've also swum with dolphins before, however in an enclosure in Eilat. My final day trip from Perth however was to swim with wild dolphins. Rockingham Wild Encounters, just a 40 minute drive from Perth was set up by Terry Howson who grew up surfing, sailing and swimming the waters of Rockingham and in 1989 set out to pursue his dream of swimming with the local wild dolphins. Over 25 years he has built up a friendship and trust with the local bottle nose dolphins offering a unique experience to swim with them in their natural environment. With a population of over 200, it usually doesn't take long to find some dolphins to play with . Having said that, it's all very environmentally friendly the dolphins don't do tricks and they're not fed. You're put in teams with a belt attached to your wetsuit, grabbing hold of the belt of the person in front, rather than actual swimming it's a more gentle experience as you remain still, snorkelling at the surface of the water and observing the dolphins below. Tony believes that learning to fit into a dolphins ways of life rather than making them conform to ours is the best way to to truly present a wild dolphin experience. It's not a theme park experience in which you touch dolphins or ride on their tail fins but a much more authentic way of interacting with the dolphins. No-one was disappointed, photos were taken with underwater cameras and video footage shot as a record of this once in a lifetime experience.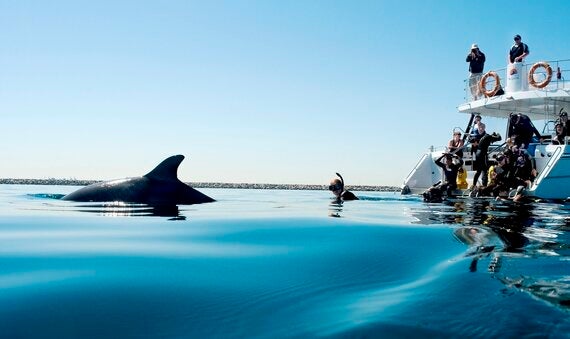 At one point we were joined by at least 6 dolphins but on some trips there can be as many as twenty. For those wanting a little more activity at the end of the trip, the boat anchors up and there's a chance to swim and snorkel and have a go with the sea scooters, all good fun. So 3 entirely different and unique trips giving just a taste of what Western Australia (Australia's largest state) has to offer. They all come highly recommended but again if I had to choose one it would be a visit to Rottnest Island. Standing in the shallows, delighting in the incredible palette of brilliant blues stretching before me and knowing that I've left the British winter behind is a good feeling to have.
To find out more about destinations in Western Australia, visit the state's tourism website.
Related