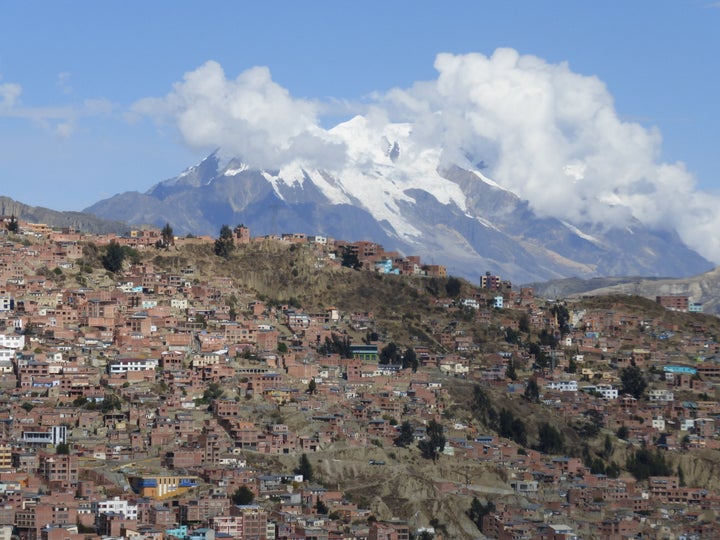 Bolivia is big on "The Gringo Trail" with back packers wanting the adrenaline rush of cycling down the world's most dangerous road along with the surreal experience of a tour through the salt flats of Uyuni. However, for the older more sophisticated traveller (I'm including myself here) it's also possible to discover Bolivia's more cultural side along with a taste of adventure.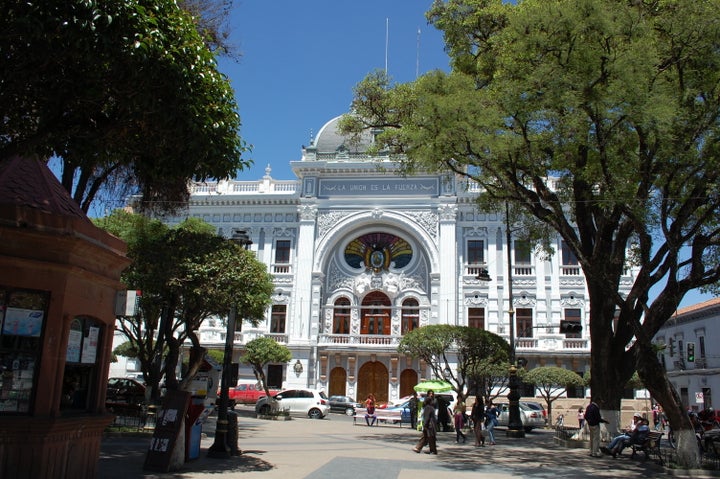 After the brown box like houses and suicidal taxi drivers of Bolivia's capital Laz Paz, it's hard to imagine that Bolivia is also home to an astonishingly beautiful and peaceful city of white washed buildings. Sucre, declared a Unesco World Heritage site in 1991 is more reminiscent of a genteel Spanish city, with leafy shady squares and a glorious climate. The citie's main plaza Plaza 25 de Mayo also has a similarity to Trafalgar Square complete with children playing on lion statues and plenty of pigeons, I felt very at home.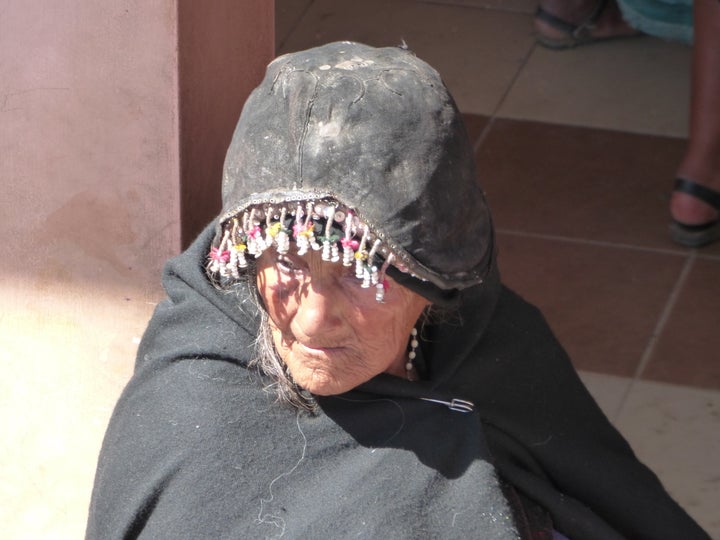 Followers of The Petra Trail will by now know of my love of indigenous cultures, their traditional clothing and markets. Tarabuco, 64 km southeast of Sucre has a Sunday market that ticks all my boxes. I seem to have developed an interest in local hats and the people of Tarabuco wear a particularly interesting one, resembling the helmets worn by the Spanish conquistadors. It was sad to see the helmets replaced by baseball hats and mobiles glued to ears amongst the younger men but they still wore the requisite stripy poncho. The market had a real day out feel to it for the country people, drop the donkey of, get the shopping done and then settle down for an ice-cream (normally of some multi coloured hue) and a gossip. I'm going to miss these colourful markets as I head for Chile and Argentina but still good to end on such a memorable and atmospheric one.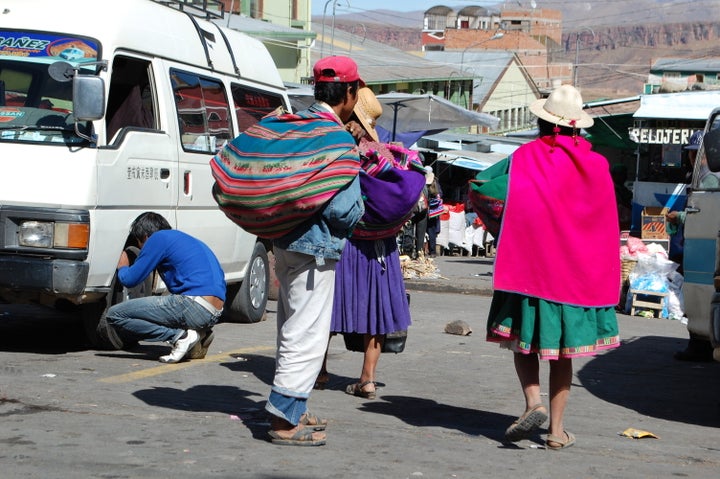 I'm also going to miss the "Andean back packs" in other words the multi-coloured shawls strapped to backs of both men and women carrying everything from babies to what would appear to be all ones possessions. They've been ever present on the trail since Cusco.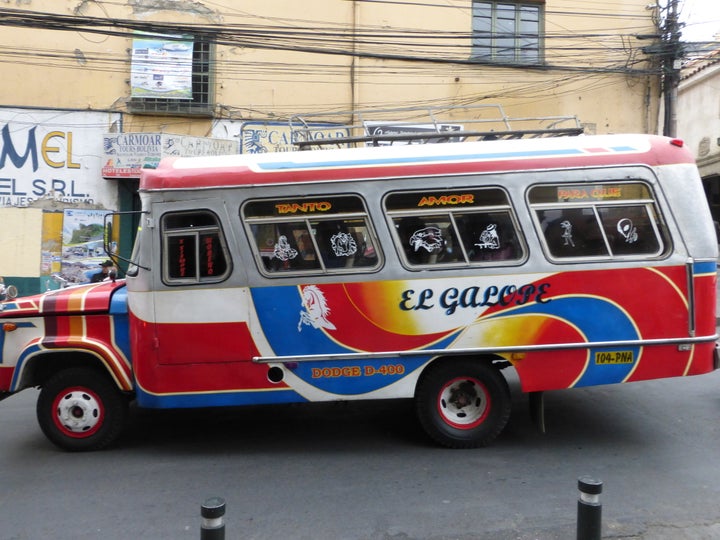 Guidebooks and guides will point out buildings and attractions not realising what else might appear just as interesting or more unusual to a traveller's eye. In Bolivia I've been bemused by the buses, vintage dodge buses, many of which probably once transported American school children or buses with Chinese characters on the side (obviously these ones were imported from China), by a puppy market (the puppies thankfully being sold as pets) and rows and rows of table football machines out in the open for mostly young people to play on, a lot more healthy and social than being glued to a video game. Cornwall has it's pasties, South America in general has empanadas, whilst Bolivia specifically has saltenas, a meat or chilcken filled pastry eaten as a mid morning snack, the best of which can be found in Potosei. It's hard to imagine that a relatively short 3 hour drive from Sucre's magestic city you're in a moon like environment in the highest city in the word. However, like Sucre Potosei also has it's cultural charms including the Convento de San Francisco. A tour of the latter includes an opportunity to get on the roof tops and experience a grand view of the city. Most people however visit Potosei to do a mine tour. 10 minutes underground was enough for me, it's didn't look too safe and I joined the miners in offering Tio (meaning uncle or the god of the mine) a statue of which can be found in each mine, some cocoa leaves as an offering for my safety. The miners in the hope of further pleasing Tio and hoping that he would guide them to riches had stuffed his mouth with cigarettes !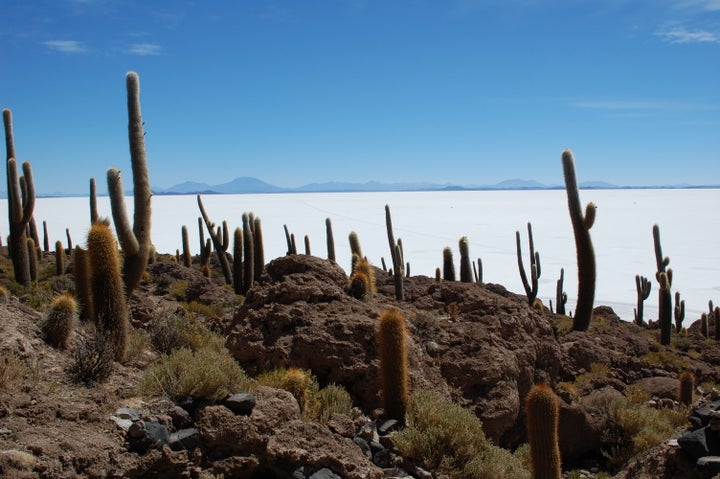 The Salar de Uyuni is the world's largest and highest salt flat. It's like someone's taken a lake the size of Switzerland and tippexed it over. Against the electric blue sky it's the purest white imaginable, a huge great expanse of nothingness. However, there's still plenty to do and see, visits to small villages on the edge of the lake, hours spent taking surreal photos of yourself distorted by the light as the sky and ground merge and a visit to one of the islands in the centre of the lake, your mode of transport a 4 x 4 as opposed to a boat. Isla Incahuasi is an island covered in cactuses with spectacular views of the surrounding salt flats. Seeing cars parked, people picnicking and playing football on the white expanse looks like a scene from a Victorian frost fair.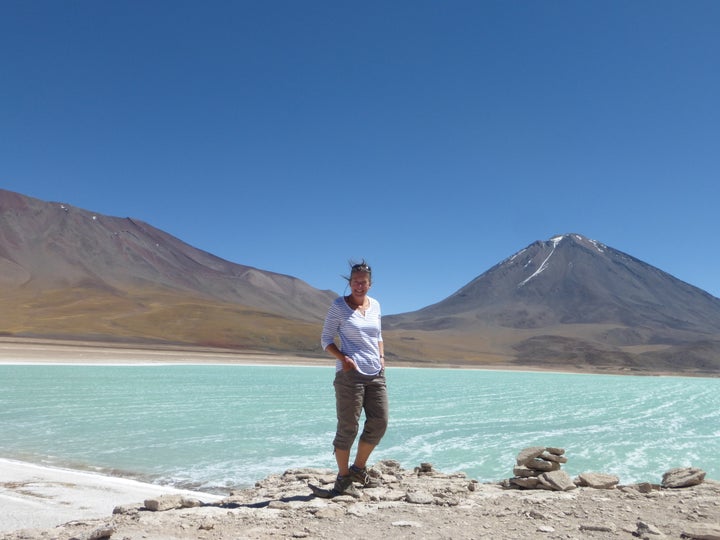 A classic tour of the salt flats will also include a visit to the lagoons in the far South West on the Chilean border. Minerals here have coloured the lagoons brilliant shades of red, green and blue. This part of the tour takes on a safari like feel as you wonder at the literally hundreds of flamingoes (there are 3 types), flocks of lama, inquisitive Andean foxes and rabbit like visachas. The treeless, desert like scenery, punctuated with volcanoes and bubbling geysers is again breathtaking, partly for it's beauty but you're also now extremely high (5000 metres at one point). Crossing the sparkling white salt flats is a reason in itself to visit to Bolivia. It was certainly one of the most unique and out of this world experiences I have ever encountered.
High Lives Holidays book tailor made experiences to Bolivia. To book, call + 44 (0) 208 144 2629 or visit their website