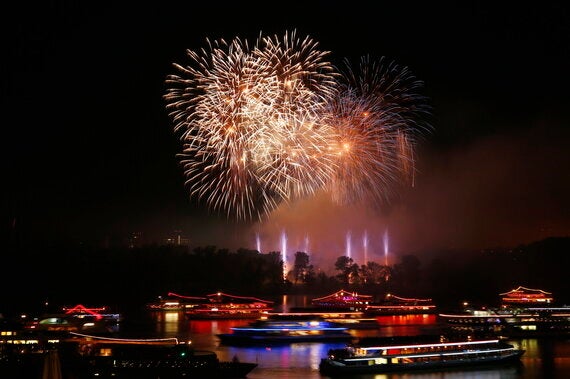 The Rhine in Flames is a fireworks spectacular that takes place along the most scenic stretches of the Rhine (Germany's longest river) every year between May and September. Bonn's Rheinaue Park is the venue for the biggest single Rhine in Flames event, a festival that draws some 300,000 visitors on the first Saturday in May. In my youth, fireworks were seen once a year on bonfire night. However, these days every New Year, big celebration, conference I go to seems to end with a firework display, the oohs and ahhs dare I say it, replaced with a little bit of indifference, lets get the display over with and start the drinking again. However, with the Rhine in Flames festival I was to join a flotilla of illuminated river boats and was promised a great view (no watching from the banks of the river with hordes of others, desperate to grab a view, as I've done in the past along the Thames for New Year). To be honest, the whole event was a little bit of a mystery which only added to the excitement of the dazzling display at the end.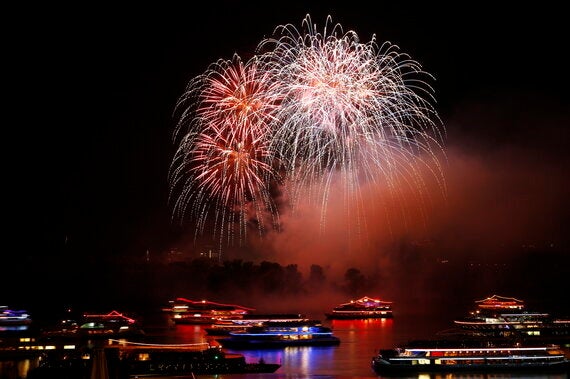 It's a hard one to describe this festival but basically river cruise ships leave Bonn at dusk for Linz, where they turn around and head back to Bonn as a serious of small firework displays take place from various towns along the way. Medieval buildings are lit up and small fires illuminate the riverbank. There's a 3 course meal on board, musicians, a DJ playing on the deck, all creating a party like atmosphere for what ends up being a truly dazzling finale. This is one pyrotechnic display you're not going to forget, over 20 minutes of the some of the most sparkly, original and altogether funky fireworks I'd ever seen. The only disappointment was the film and show tune music accompanying them, I'd have thought that in Beethoven's birth place, his 5th symphony might have been more in keeping with the wonders above but I guess a bit too obvious.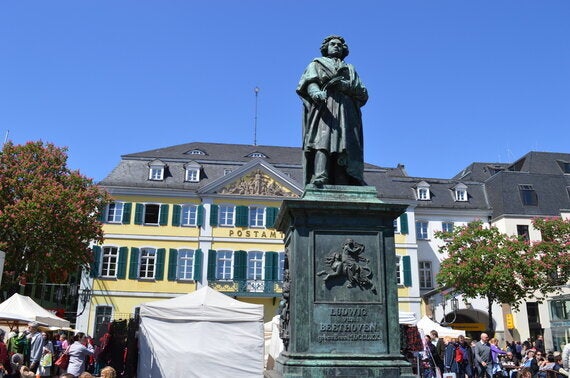 The world-famous composer saw the light of day in the garret of the garden house of No.20 Bonngasse in 1770. Ludwig's birthplace is now a museum containing the largest Beethoven collection in the world.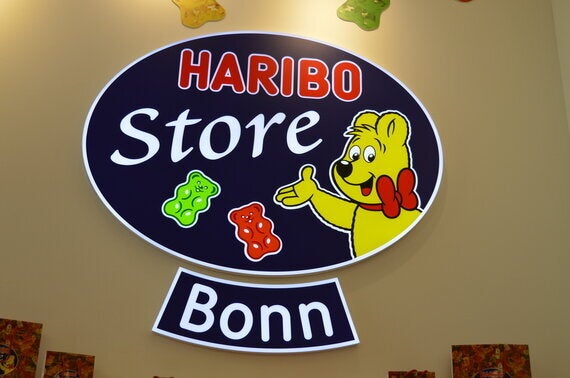 Beethovem might be Bonn's most famous son but the sweet toothed amongst us might like to know, the city is also home to Haribo, the German confectionery company founded in 1920 by Johannes ("Hans") Riegel, sr (the name is an acronym for Hans Riegel, Bonn. There were plenty of adults and children getting a sugar rush and gobbling up the gummy bears (look out for the recently added blue ones) and e numbers in the Haribo store. Haribo's German marketing slogan Haribo macht Kinder froh - und Erwarchsene ebenso translates as "Haribo makes children happy - and adults as well" The shop's a sort of mini version of Leicester Square's M and M's World and it's not just Starmix and Tangfastics, you'll also find all manor of interesting flavours, colours and shapes, pandas, matadors, famous German buildings and even a Brazilian range for the World Cup.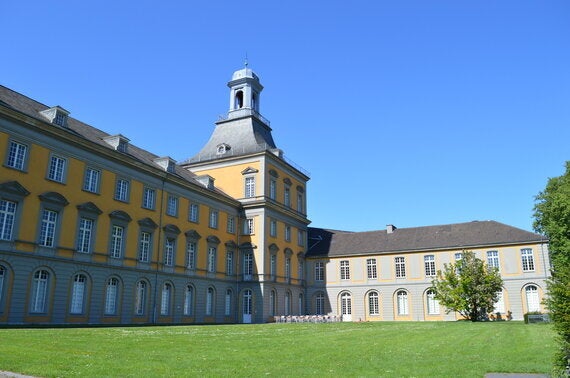 As city's go Bonn is small and it's difficult to imagine that it was once Germany's capital. However, there's the Rhine of course that can easily be biked along, all the way to Holland in one direction or Switzerland the other, however you'd have to have several days to spare.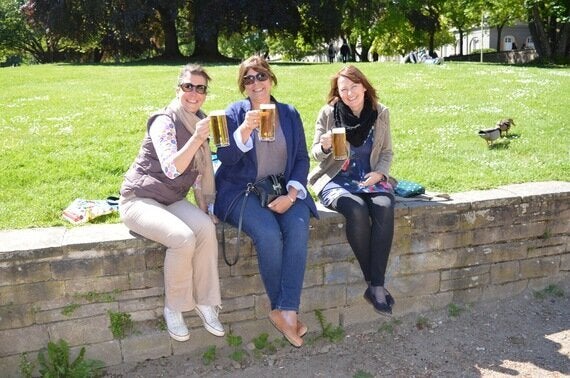 If not, bicycles can be hired at the train station for a gentle spin with stops on the way for refreshments at the numerous beer gardens that line the river before putting the bike on the train back to Bonn. There are train stations a plenty, minutes from the bike path. For the less active, the city is easily walk able with plenty of old churches, a particularly impressive university building and a lovely market with fairy tale like surprises.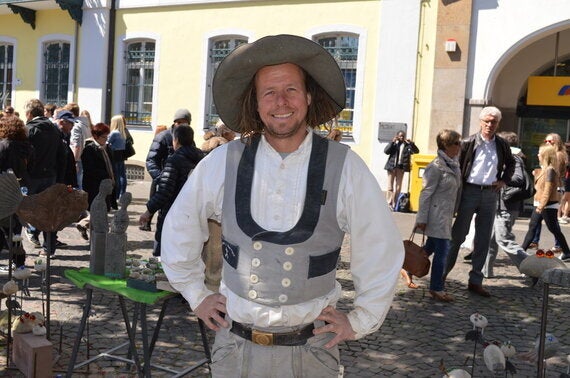 Not an eccentrically dressed young man but a journeyman. Some carpenters in Germany have retained the tradition of travelling journeymen, in other words moving from town to town gaining experience in different workshops. It's all part of the training and a sort of alternative gap year. The tradition dates back to medieval times as it would appear does the uniform. A hat with a broad brim, bell bottomed trousers and a waistcoat. Unexpected and charming and a delightful end to an altogether different May bank holiday weekend.