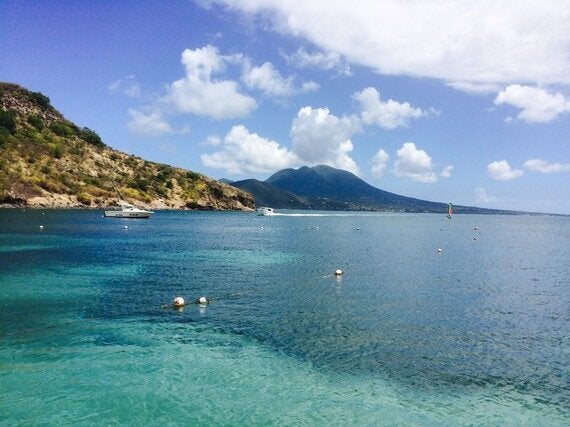 I was out of my depth in more ways than one! I was swimming from the Caribbean island of Nevis to nearby St Kitts on Easter Sunday, a day when typically I'd expect to be gorging on chocolate eggs and not trying out an altogether different kind of island hopping. The 4 km stretch of water between the two islands known as the "narrows" or not narrow enough as far as I was concerned is home to an annual swimming race and my main reason for visiting the islands. The 13th Annual Bente Weber Memorial Swim to give it it's official name welcomed 166 open water swimmers from all round the world, from neighbouring Caribbean islands to as far afield as China, along with a complete novice, yours truly. The idea was always to complete as opposed to compete but I hadn't envisaged the currents, waves and having a ton of seaweed chucked in your face every few minutes. However, it was worth it, for the sense of achievement and the finishing post so to speak, idyllic Cockleshell Beach on St Kitts.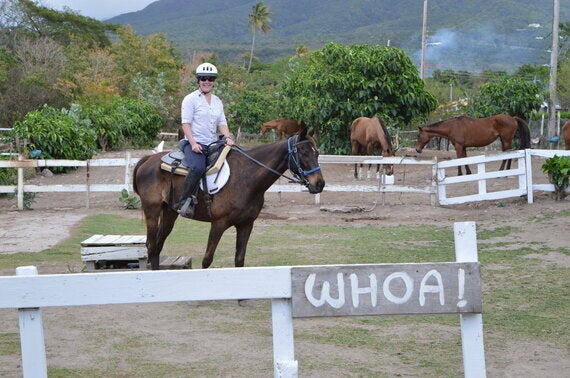 The two islands are particularly appealing to sports enthusiasts and active travellers. One of the best hiking activities to do in Nevis is climb the 985m Nevis Peak through dense rainforest. Local guides fill you in on all the local fauna and flora and you'll probably spot a few vervet monkeys on the way. I opted to view the peak from the comfort of a saddle instead having had enough arduous activity for one day with the swim. It was a gentle way of spending a couple of hours, riding along the beach and up into the hills beyond, seeing life away from the one main road that circles the island and hearing more about the history of the island.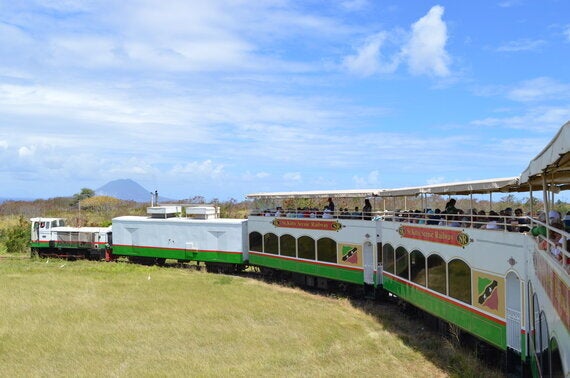 History is what the two islands of St Kitts and Nevis have in spades. It was on Nevis that Nelson met and married Fanny Nisbet, there's a Nelson Museum, whilst Nisbet Plantation (Fanny's former home) and Montpelier Plantation (where the marriage took place) are now luxury hotels. St Kitts famous 'Sugar Train' is the Caribbean's only scenic passenger railway, using tracks originally built to transport sugar. The tour takes approximately 2 1/2 hours to circle the island along the coastline and offers a unique perspective on the islands culture, people, views and history. We were serenaded along the way with folkloric tunes by a choir in traditional dress and offered sugar cakes and to complete the sugar rush, complimentary pina coladas.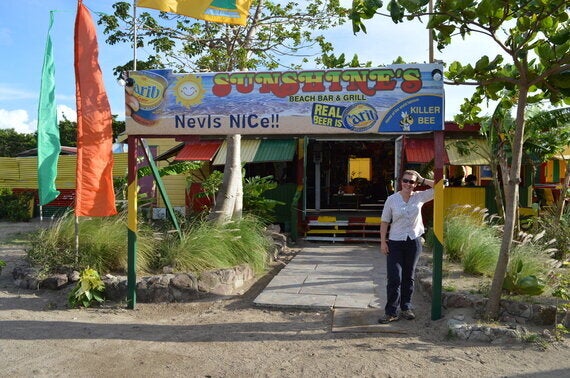 However, the most synonymous or infamous drink associated with St Kitts and Nevis has got to be the "killer bee". Even if you've never heard of Nevis, you probably have heard of its most popular beach bar, Sunshines, home to the tastiest rum punch around, The Killer Bee and the legend who is Sunshine. Having forgotten my staple holiday reading, a copy of Hello and OK Magazine, I needn't have worried as hours can be spent instead looking at the dozens of photographs plastered on every available wall space of Sunshine and his eminent friends. Celebrity guests from Michael Douglas to Fergie, Sarah Jessica Parker to countless sports stars have all dropped in to Sunshines (mostly from their visiting boats) for a chat and to discover the secret of the Killer Bee. All I can say, it's got an awful lot of rum in it!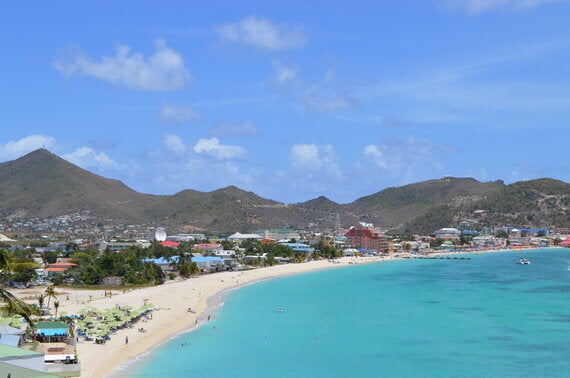 My final island hop was more sensibly by plane and not under my own steam. On my mission to visit at least two new countries every year, I stopped off in St Maarten on my way home to tick of another one but got a BOGOF (buy one, get one free for those not familiar with the acronym ) instead. I flew into Dutch St Maarten with its fabulous beaches and then drove to neighbouring French Saint Martin for a spot of shopping. Swimming, riding, hiking, biking, who said the Caribbean was just for relaxing.
To find out more about Nevis
Related