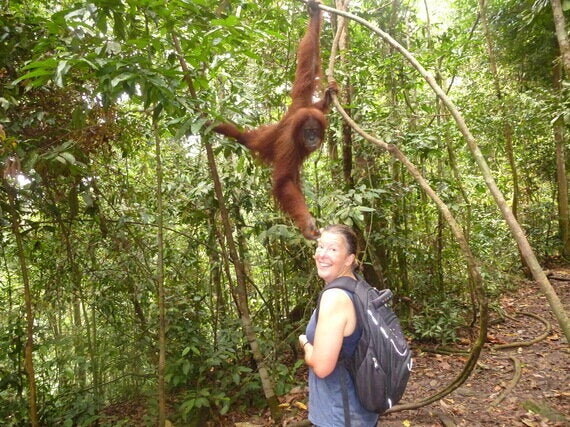 Swimming with dolphins tick, witnessing the Serengeti's great migration tick, both ultimate travel bucket list things to do and I can now add another one, swinging with the apes. Not literally, but trekking deep into the Sumatran jungle to see orang-utangs in the wild and as King Louie sang in The Jungle Book, they really are king of the swingers. I have to be honest, I'm not much of an animal lover, people are much more my thing and I'd swap getting up early to go on safari to getting up early to visit a local market any day. However, the first time you spot our ginger friends and considering their size, they're not difficult to spot swinging or more like crashing through the trees you can't help but raise a smile. I was in Bukit Lawang in North Sumatra, one of the few places you can see orang-utangs in their natural habitat. Tourists flock to Bali and Java for beaches and temples but North Sumatra remains relatively undiscovered. However, there's a set route of major highlights that cant easily be done in a week. From Medan the capital, it's a short hop to Bukit auwang, then magical Lake Toba and Samosir Island following by a spot of volcano climbing in Berastagi.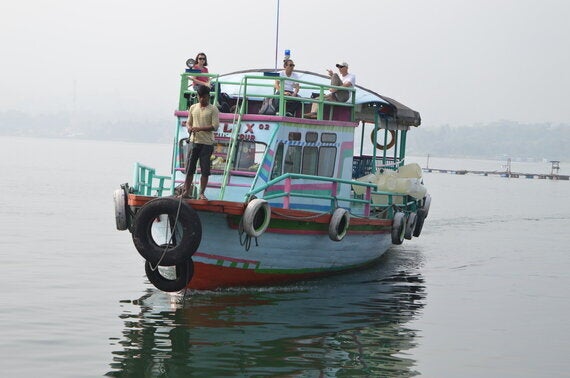 If there was a downside to my recent visit (in early October) it was the weather. Unbeknownst to me, the region suffers annual bouts of smog caused by slash and burn farming, this year it's been particularly bad, the sun hidden now for weeks on end and what should have been magnificent views and scenery were totally obscured. I'd avoid this time of year but the people and culture more than made up for seeing everything through a cloudy haze.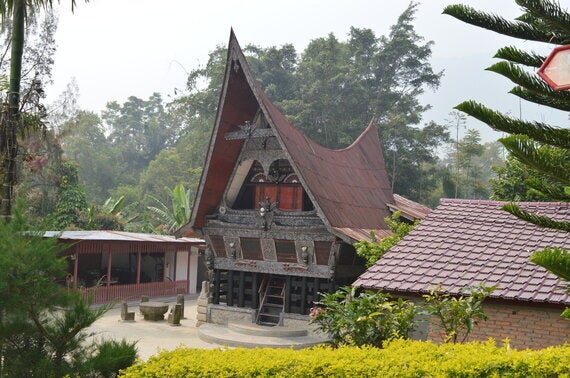 Samosir Island easily explored by bicycle on Lake Toba has a large number of Batak villages with fine examples of their traditional houses with their saddle shaped roofs. The term Batak was first used by Malay settlers to describe any non-Muslim in this part of Sumatra and although they have many traditions, the Batak are probably best known for the richness of their architecture. The bale ("meeting hall"), rumah ("house") where groups of families live communally, and sopo ("rice barn") are the three main buildings.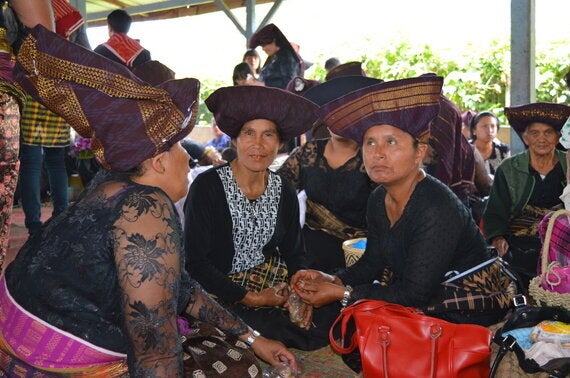 Now readers of The Petra Trail (my blog throughout South America) will know not only of my love of indigenous cultures but also their hats. The Batak Karo (one of the sub-groups of Batak) didn't disappoint. As we approach Halloween and with Macbeth currently on at the cinema thoughts of witches might spring to mind on first glancing the photo above but the trio were in fact in traditional dress with their pointed rimless hats. I experienced one of those moments when travelling that you can't possibly plan but when it happens you feel as though all your Christmas's have come at once. Driving along, you hear music and see a large gathering of people celebrating. Instantly, I thought it was a wedding but embarrassingly on closer inspection, well the coffin was rather a give-away, the event was actually a funeral but one of the most joyous occasions I've ever attended. I was warmly welcomed to join in the meal and my gifts of postcards of London gratefully received.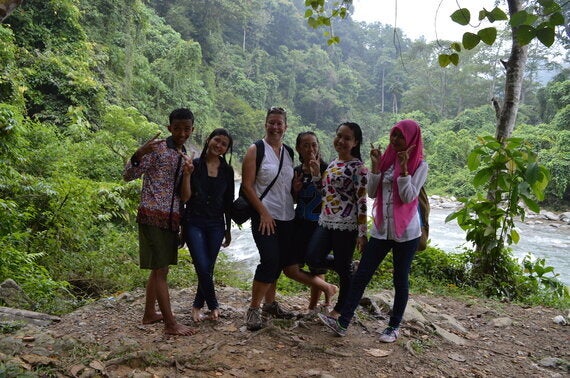 Sumatra is also a great place for a cheap detox for both the body and the soul at the same time. Having a day to kill in Bukit Lawang before my jungle trek I decided to explore the small ramshackle village and walk along the banks of the river. Being surrounded by rainforest, you sweat buckets and I mean buckets but can then cool of in the fresh, clear river water, the whirlpools and fast rapids making for an alternative jacuzzi. The current is so strong you can even exercise swimming against it. The predominance of taking selfies also takes on a whole new meaning throughout Sumatra, I was constantly stopped by gangs of young students anxious to practice their English and have their photo taken with me. The problem is that once you've said yes to one, you need to do everybody (we're talking dozens here) the disappointment etched on the shy ones faces, too timid to ask and then the joy on their faces when I beckoned them to come forward did wonders for the sole. I now know how Tom Cruise feels when he does one of his selfie pre film premiere walkabouts and I have to say it feels pretty good.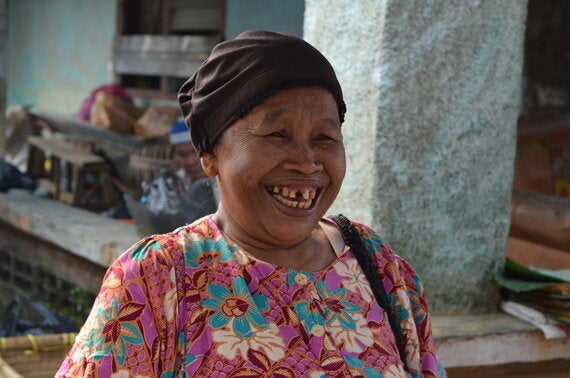 So to sum up, even if I didn't get to see that much I left Sumatra with one lasting impression that the people were always smiling, even if they might be in need of some dentistry work!