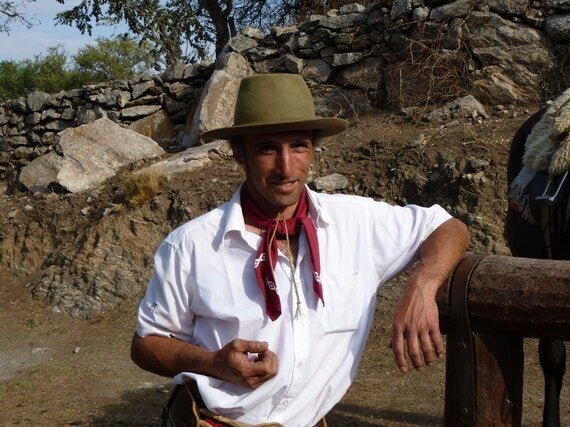 The Petra Trail followers will now know of my love of indigenous cultures and particularly their dress and hats. After a brief stop in Chile, (where I'll be heading to again later in the month), Argentina was my next port of call. I needn't have worried that the country would be too European and the people all a little bit too familiar, as my love of the Andean people and culture has now on the trail been replaced by the glorious gaucho. With their berets, boots and belts, a cigarette permanetly wedged between their lips, the Argentinian gauchos are quite the dandy cowboys and not shy of showing of their incredible riding skills and posing for the camera.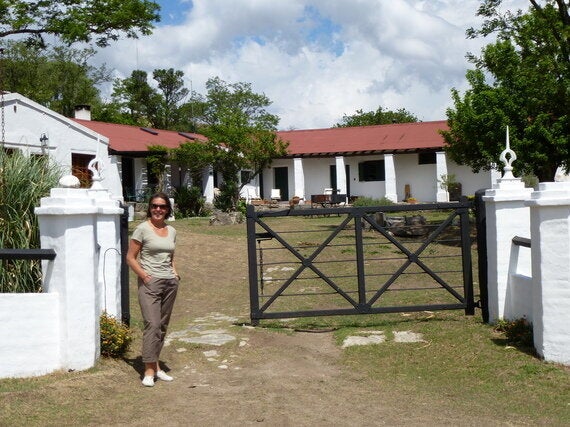 My first introduction to the gaucho and their way of life was at ESTANCIA LOS PROTEROS a 6,000 acre working cattle farm that has remained in the same Anglo-Argentine family for 4 generations, currently run by the very friendly and welcoming Kevin and Lou Begg. The estancia is located on the top of the "Sierra Chicas" the oldest mountain range in South America, between the pampas and the Andes in the heart of the region of Cordoba. It appears to be a millions miles from anywhere but that's half its charm as you rattle a long a dirt track never knowing when you're actually going to arrive. The internet is discouraged and there's no quickly popping out for a packet of cigarettes. You're here to ride and soak up the views and hospitality.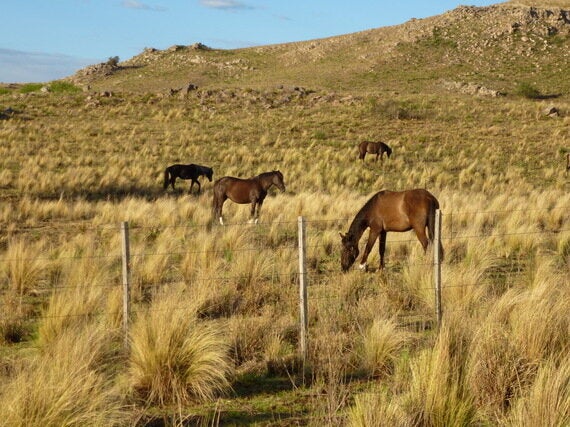 Estancia Los Proteros is paradise if you love horses but if like me you're a nervous rider its also the perfect place to boost your confidence. There's a 3 hour ride every morning at 10 am and another slightly shorter sundowner one at 5 pm. All the horses, either Crillos or Paso Peruanos with some crossbreeds are bred on the estate. You're instructed to ride as the gauchos do with the reins in one hand. My question of what to do if the horse bolted raised a smile from Lou, a sure sign that I had only experienced English horses as there was no question of these horses being anything but well mannered. There's a vast area to explore with the gauchos's leading you expertly along steep rocky paths and actively encouraging cantering across the Sierras, this is not trail riding walking one behind the other but exhilarating and social as you chat away on your ride to the guides, gauchos and other guests. If you want to ride like a cowboy or in Argentina's case a gaucho, helping to round up the cattle or bringing in the young foals for the evening, this is the place to do it. The Paso Peruanos are unique and unlike any other horse. A rising trot is alien to the gaucho, "why trot if you can canter" and the Paso Peruanos different gait, bizarre as it sounds takes you to a canter speed whilst still walking. Once you get used to the odd jigging from side to side movement and wishing that you'd brought a sports bra on your travels, it's actually extremely comfortable and what with being firmly enclosed within an English military saddle, I for one will find it very difficult to ride another breed of horse again.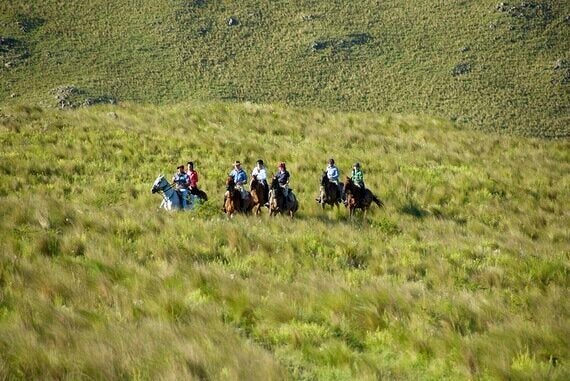 Estancia Los Proteros encourages a house party atmosphere and with horse prints on every wall, wood burning stoves, comfy sofas, endless dogs and book cases filled with English books it's rather like being in a country house in Gloucestershire, they even serve tea on the terrace at 5 pm but with Argentinian hospitality. Empanadas for lunch, delicious homemade alfajores (an Argentinian treat, dulce de leche between homemade shortbread biscuits) and if you're lucky an asada. Asadas or BBQ are an integral part of life in Argentina and it's steak all the way. Argentinian beef is not cut in the same way as the rest of the world and the meat is well done and can be a bit fatty but other than that, you'll never experience steak again like it. The gauchos at Estancia Los Proteros are there to help with the cattle and horses and to guide guests on the daily rides and offer a real insight into rural Argentinian life.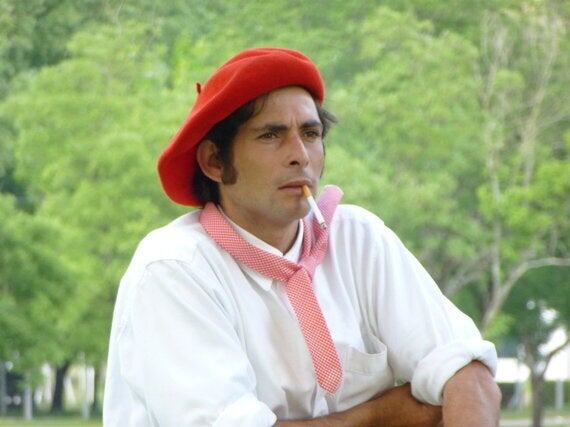 However, to see gauchos on mass and to further understand their traditions I headed for SAN ANTONIO DE ARECO home to the biggest gaucho celebration in Argentina Fiesta de la Tradicion, held annually on 10th November. Sadly, it was just my luck that this year due to heavy rains the parade was postponed by a week. Still the little town was heaving with visitors and the local gaucho's did their best to still put on a display of their remarkable horse riding skills for the snap happy crowds. On the banks of the Areco River, two hours from Buenos Aires in the middle of the humid Pampas San Antonio de Areco is one of the oldest and most authentic towns in Argentina. With gauchos seemingly on every corner, either at a bar or on horseback, their bombacha trousers (loose pleated trousers with button ankles) tucked into shiny boots the whole town feels a world away from cosmopolitan Buenos Aires.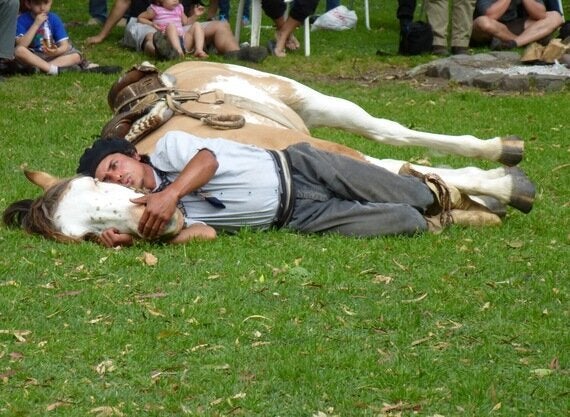 To be a gaucho is very macho and there are no cowgirls or gaucho girls, the gauchos talk to their horses as if a lover, whistling and blowing kisses to them, all actually commands and none more impressive than the display from one gaucho showing how he gets a horse to lie down and then curl up with him. Faster and livelier displays included rounding up dozens of horses, separating horses, lassoing cattle, riding a bucking horse rodeo style and most traditional of all gaucho games. One game, the ring race dates back to the 17th century and involves riding very fast and catching a small ring hanging from the end of a string. Hats and berets flew of as the gauchos, galloped towards the ring, and astonishingly more often than not managed to dislodge it.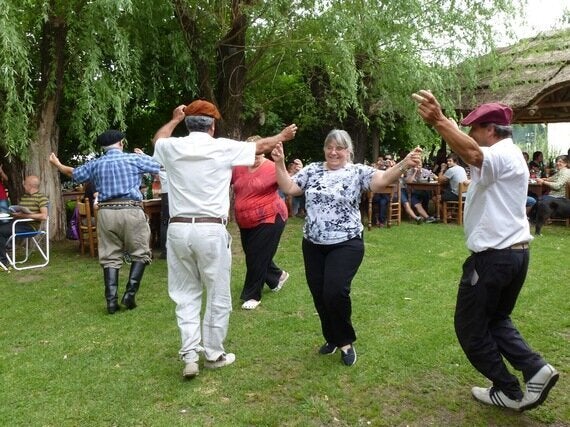 All this machismo doesn't stop with horse riding in San Antonio de Areco as gauchos, locals and visitors alike feast on asados and dance traditional dances, hands held aloft and from the men an extraordinary feet movement with their feet seemingly becoming double jointed, flicking from side to side. It was remarkable that everybody adults and children alike seemed to know the dances, although the al fresco dance floor would clear pretty quickly when a more complicated dance or a dance that only the older generation knew came up. There's even a gaucho museum in honour of Ricardo Guiraldes, the writer whose best known book Don Segundo Sambra celebrates the gaucho. Picturesque San Antonio de Areco really does give you a flavour of Argentina's gaucho culture, sadly now diminishing and for the girls amongst us, the rough, tough, fast riding gauchos themselves with their deep brown eyes a lot to swoon over !