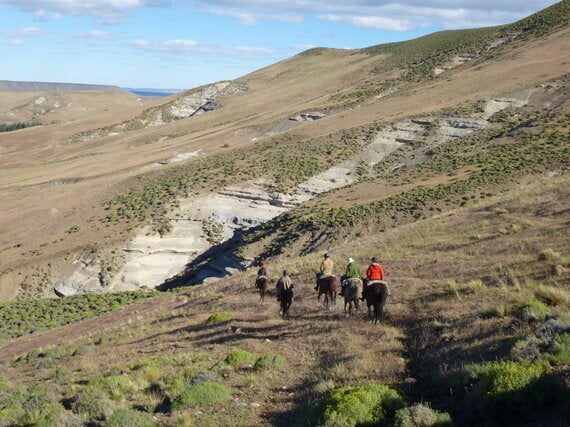 Patagonia is in the bottom half of Argentina but in my mind it's a fabled land at the end of the earth synonymous with wildness, wind and adventure. Having seen horses galore from the Gaucho Festival in San Antonio de Areco, to polo ponies in Pilar and incalculable numbers throughout the pampas it was time for a spot more riding and where better to do it than in the rugged and beautiful landscape of Northern Patagonia. My home for 2 days was ESTANCIA HUECHAHUE, a 15,000 acre working cattle ranch where Jane Wood Williams has been welcoming horse riding and fly fishing enthusiasts since 1990.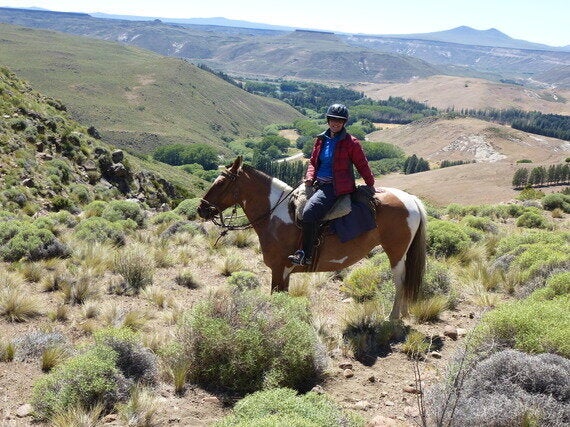 Horses are matched to experience and the horses I rode with the easily remembered names of Patagonia and Argentina were thankfully two of the more gentle on offer. The rides were long, one a full day and even the morning ride lasting for 5 hours but in between long canters and gallops, looking at the wildlife (wild boar scampering across the hills with their piglets trotting behind, deer standing majestically on top of the mountains, birds of prey soaring overhead), picking cherries straight from the tree and being overwhelmed by the sheer scale and beauty of the surrounding countryside, there's no time to get bored. Huechahu is a place for serious riders who are prepared to muck in, helping with the horses and learning how to adjust their saddles. You ride with a gaucho saddle, a centuries old design of layers of rugs and sheepskin, held together with a leather strap in the middle. They're extremely comfortable to ride on but in need of constant adjustment as all the going up and down hills means the blankets slip, and there's therefore a lot of girth tightening and adjustment involved. Also for Clint Eastwood wannabes and to really feel the part, you're given ponchos to wear. These are vital against the harsh Patagonian wind, make a useful blanket for the post picnic lunch asiesta and when not used are rolled up and strapped behind the saddle.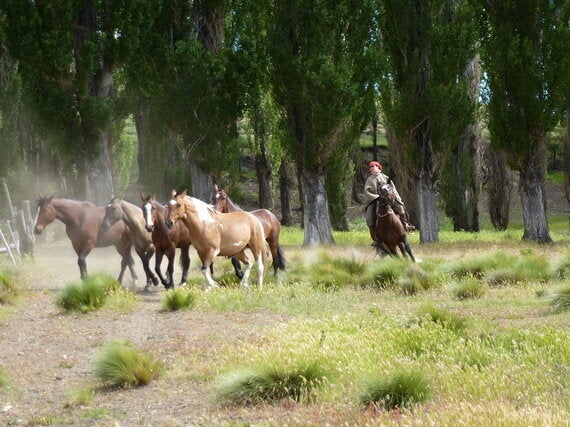 In the Colca Canyon in Peru, I'd stood on the roadside with hundreds of others, all who had travelled from far and wide, cameras, zoom lenses and binoculars pointed skywards to see condors that the canyon is famous for. After several hours we all left disappointed. At Huechachu it was a different story, a twitcher in the UK would have give their eye teeth for the views of condors soaring above us After the no shows at Cruz del Condor, I was beginning to think these birds were going the way of the Dodo and entirely mythical. It was jaw dropping to see them so easily and frequently in flight in the huge skys above Huecahce. Jane told us of also spotting them flightless on the road, having devoured some kind of road kill, their bellies so full and their bodies so large that they were unable to take of. In Patagonia, it's all about lamb and after a hard days riding, our evening's asado was a bbqd capon, no elegant butterfly of lamb but a full stretched carcus of meat being slowly and expertly cooked by the gauchos over the burning ashes. You wouldn't want to be a vegetarian here or for that matter on a diet. Much of what you eat at Huechachu is from the farm or home made - home made bread and muesli for breakfast, salami and smoked venison, even home made crisps. All in all Huechahue offers a classic Patagonian estancia experience, one that is raw and real and is a wonderful way of exploring the vastness and remoteness of the surrounding landscape and what better way to do it than as the locals do on horseback.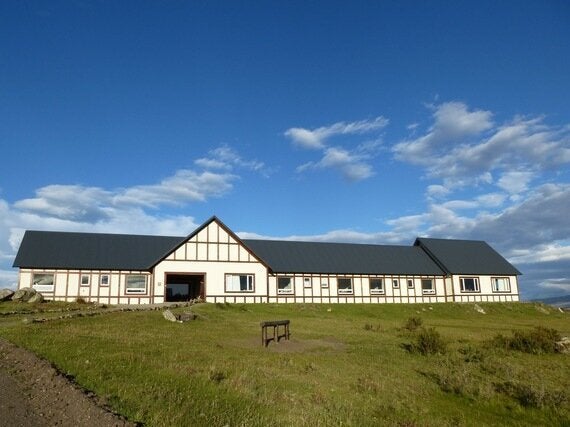 Like the endless skys, Patagonia seems to go on for ever, 30 hours on a bus certainly feels like a lifetime ! but as I headed further and further south the reward at the end was worth it, El Calafate and the Perito Moreno Glacier and a stay at EOLO the ultimate in rustic pampering. However much you think you are getting away from it all there are still places in Patagonia offering total luxury and Eolo, a Relais and Chateaux no less ranch of 10,00 acres just 25 minutes from El Calafate is one such place. The lodge has 17 rooms all with stunning views either of the Patagonian steppe, the Andes, the turquoise waters of glacial Lake Argentino and even the iconic "horns" and "towers" of nearby Torres del Paine, the national park in neighbouring Chile. There's no need to choose a specific room as all the views from floor to ceiling windows are spectacular and if you get bored of the view from your room, there are two living-rooms, a library, a TV Room, bar and restaurant giving you different equally awesome vistas. Rooms are named after Patagonian birds or animals, for example sheep, condor, armadillo, lapland goose (using their more romantic Spanish and scientific names). I rather liked the fact that I was in Zorro (fox) and thankfully not in the skunk room. The rooms are full of antiques from estancia auctions and in keeping with the area, there's a big emphasis on wool.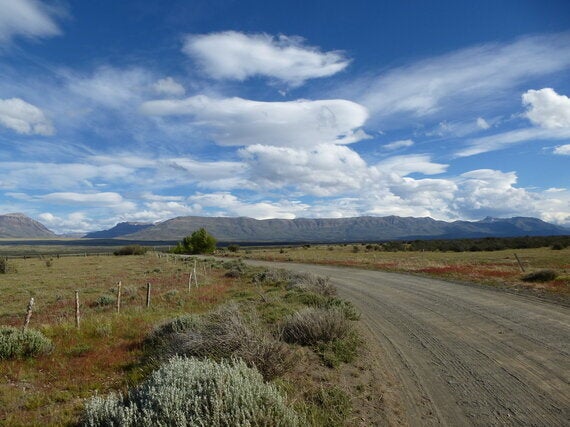 Everywhere the big sky dominates the landscape and it's tempting to sit in the calming warmth of the ranch, appreciating the views from inside whilst having a traditional afternoon tea and home made pastries. China is from England (so I felt very at home) and quirkily mixed and matched, I think intentional rather than a few too many smashes. There's even an Eolo tea, a black tea with apple, vanilla and cinnamon, especially created by a tea blender from Buenos Aires. However, Eolo also offers plenty of opportunities of getting out and about and appreciating what an unbeatable location you're in. There's horseback riding, trekking up nearby Mount Frias, mountain biking and bird watching. Again, I was privileged to see condors in flight, along with the very noisy southern lapwings and black faced ibis, the latter sound like a claxon, oyster catchers and flamingoes.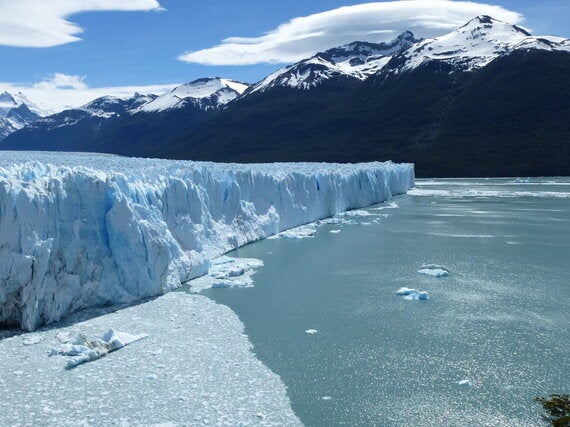 The number one excursion though has to be a day at Los Glaciares National Park, a few miles west of Eolo and at 1,500,000 acres the largest national park in Argentina. The park was declared a world heritage site by UNESCO in 1981 and forms the most extensive ice cap on the planet outside the Polar Regions. There are a total of 250 major glaciers in the park but the grand dame of them all is the easily accessible Perito Moreno Glacier with 2 miles of catwalks to view the glacier from . For the more adventurous and much more fun is an activity known as min-trekking, run by HIELO Y AVENTURA. The tour includes a boat ride getting up close and personal with the south wall of the glacier and then a half hours trek using crampons over the glacier surface, ending with a welcome shot of whiskey, naturally on ice. It was rather like a frozen Iguazzu experience, the same boardwalks, a boat ride in which you're guaranteed to get wet and a natural wonder that surpassed all expectations. It's nature's very own ice show as blocks of ice fall of the glacier to the accompaniment of a crashing roar.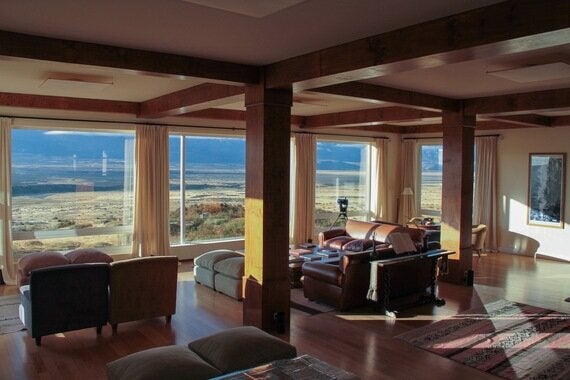 Back at Eolo, there's an oak wood bar (taken from an English pub in Buenos Aires), again they're making every effort to make me feel at home in which to while away a few hours before the sunsets (in the Southern Hemisphere summer, the evenings are long with the sun not setting unto 10:30pm) but when it does finally get dark, you're rewarded with a sky lit up by stars. Patagonia has been extreme, the skies, the wind, the glaciers, the sheer size of it that everywhere else on The Petra Trail has been dwarfed in comparison.