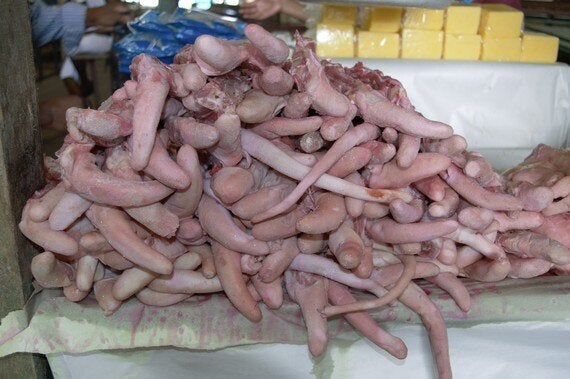 Possibly not the most appealing photo to illustrate a culinary tour of Trinidad and Tobago and what on earth are they? At first glance I did a double take, were they fingers? Or some other part of the anatomy! These flesh like claws were in fact pig's tails and are much in demand in the markets of Tobago.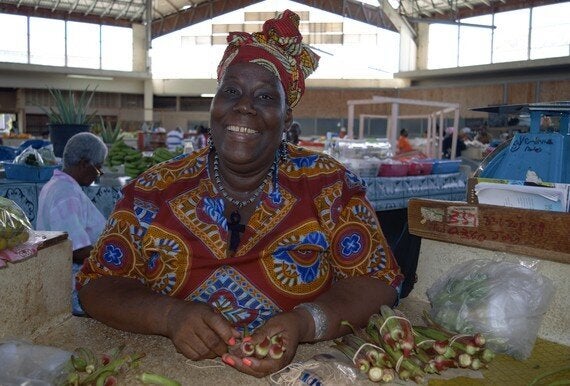 The market in Tobago's capital Scarborough was a great introduction to some of the local fruits and vegetables. Keeping on the finger theme, Miss V and her "ladies fingers" or okra and teeny, tiny, finger like bananas (confusingly called figs) were familiar but there were plenty more unusual offerings.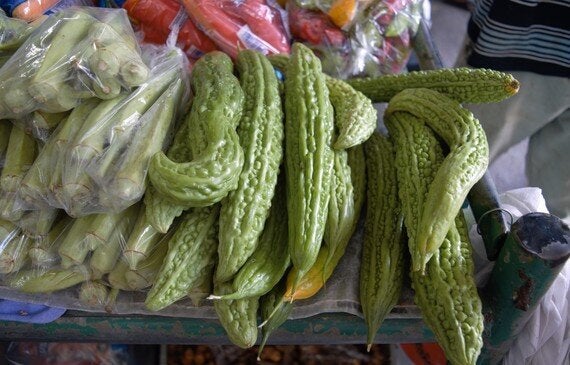 Caralies known as bitter melons looked more like knobbly cucumbers to me.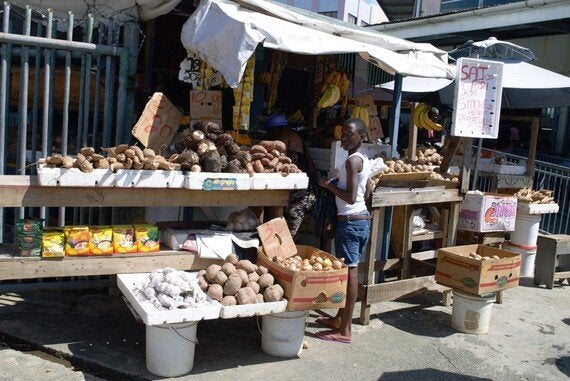 The most frequent vegetables seen on the Creole dinner plate are boiled root vegetables, known as blue food or ground provision such as yam and dasheen and it was the latter that was my main reason for visiting the tiny Caribbean island.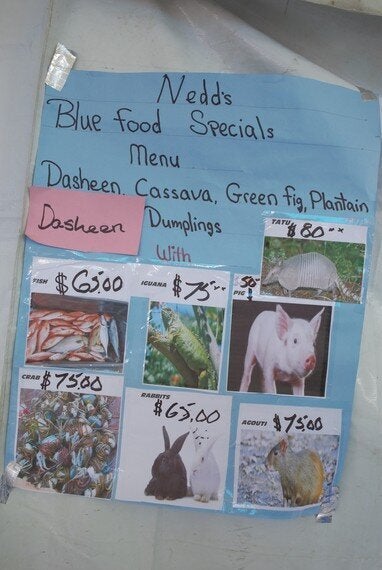 The coastal village of Bloody Bay attracts epicureans in their thousands who attend the annual Tobago Blue Food Festival, a twist on the traditional culinary event with a focus on dasheen. When cooked dasheen goes a pale shade of blue, hence the name, but the festival is really just an excuse for locals to get creative with a number of innovative dishes to be judged by the wonderfully named Ms Allana Applewhite and Chef Candy Manswell-Lewis. It would appear that dasheen dumplings are a little boring, so to accompany them, I was offered a choice of iguana or armadillo. I had rather hoped that I had misheard but there was no disguising the exotic delicacies on offer from the photos on the stall's homemade poster. Needless to say I opted for the more familiar fish offering. There was also dasheen pie, fudge, sponge cake, pizza, ice-cream, ketchup, even wine.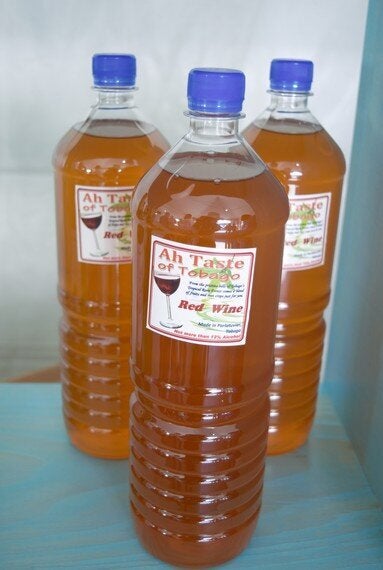 Now I've had some dodgy red wines in the past and suffered the next day as a result but the "Ah Taste of Tobago" red wine didn't look that tasty or red for that matter. Wine is a generic name for what are essentially fruit wines. You've really got to be adventurous at this festival with the likes of sorrell, garlic, dandi-root, aloes and peas-husk (yes, me neither) all ready to be snapped up by the thirsty festival goers.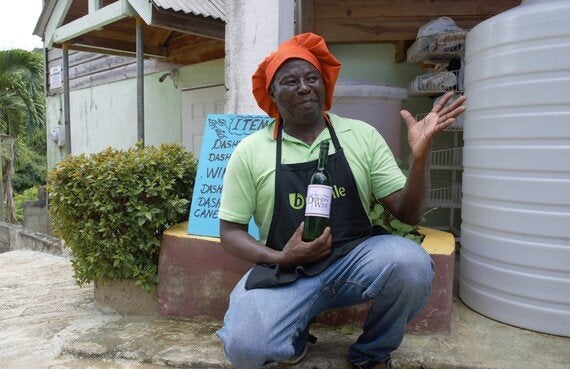 To add to the party atmosphere, there's also live music and finally special mention must go to Mr Carlton T Campbell who makes a mean dasheen baileys and whose award winning wine was at least in a glass bottle.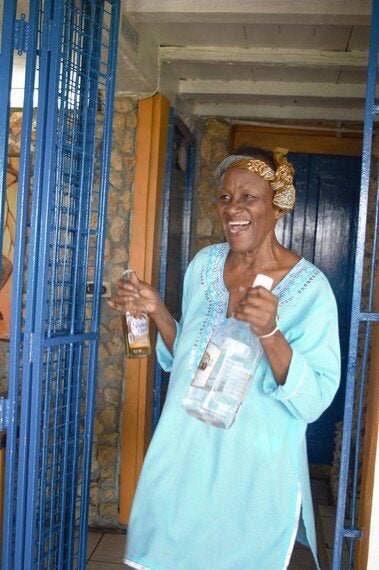 Tobago is all about the characters you meet, none more so than the effervescent and talkative Mrs Alison Sardinha and her equally warm and welcoming husband Kenneth. Kenneth and Alison (who sound like a couple from East Sheen but couldn't be further from) run The Blue Crab Restaurant in Scarborough. Alison can talk for 20 minutes without drawing breath, the main gist "You can have a PHD, you can have a masters but it's useless when it comes to looking after your West Indian man, you need to see to their stomach" she says laughing, hugging her stomach and gyrating all at the same time. For entertainment value along with good, healthy, subtly-flavoured Tobagonian food + crab of course, The Blue Crab is highly recommended.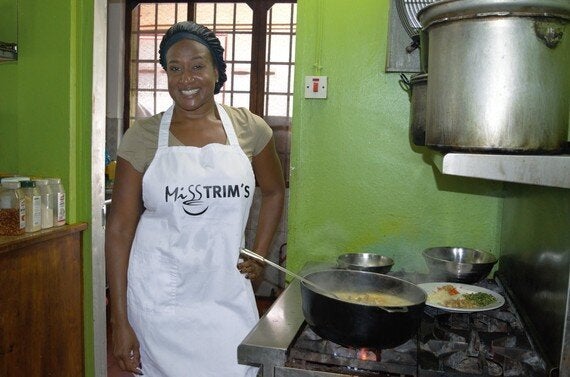 The sweet flavour of crab is even more delicious when prepared in a zesty curried sauce with a hearty helping of dumplings made Tobago-style. Banish the cutlery, curried crab and dumplings is a finger licking Tobagon tradition. A row of huts including Miss Alma's, Miss Jean's and Miss Trims facing Store Bay Beach in the North of the island offer this inexpensive, tasty treat.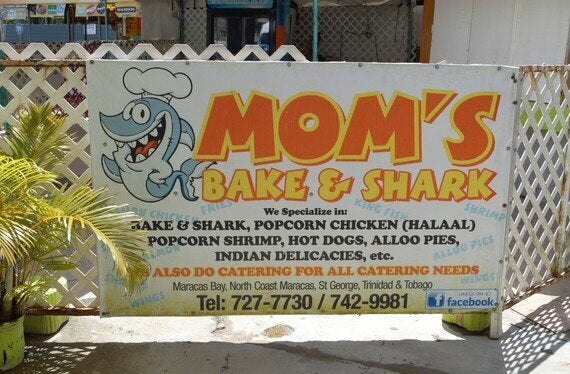 Liming or 'hanging out', chatting, drinking and generally socialising is part of island life. One of the best liming experience happens at Tobago's Sunday School where locals and visitors sip rum, dance and listen to impromptu jamming sessions. While Tripsters (Trinidad hipsters) head to Trinidad's Ariapita Avenue in the capital Port of Spain for a liming experience. However, if there's one Trinidad culinary experience that's an absolute must do, then it's a shark and bake on Maracas Beach.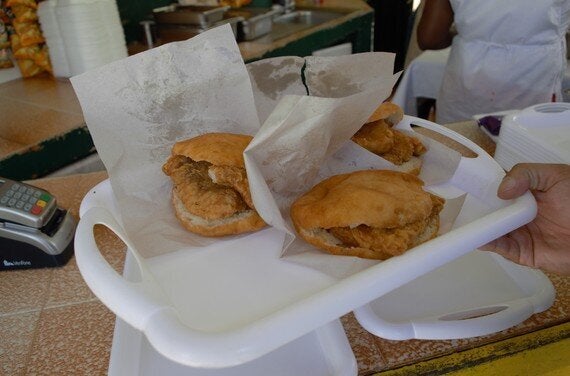 This substantial fried shark (Lion Fish) snack is served in a highly calorific split baked roll (like a fried doughnut) then topped with salad and sauces of tamarind, chadon beni, garlic and hot pepper.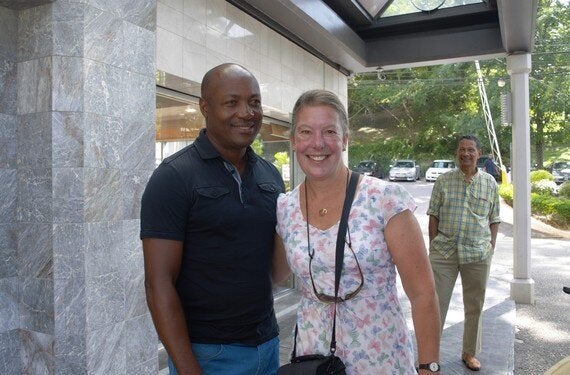 It's apparently a favourite of cricketing legend Brian Lara legend who just happened to be breakfasting at my hotel. Having changed hands more than 30 times, Trinidad and Tobago's food culture is one of the most diverse of the Caribbean, featuring an melting pot of influences, with Caribbean, African, Spanish, Portuguese, British and Indian flavours all present and as I discovered some pretty delicious and unusual taste sensations..
All photos taken by Petra Shepherd