It's 1 July 1977: the Jacksons are Number 1 in the UK charts; a pint of beer costs 40 pence, milk per pint is 11p; Elvis has just given what will be his final concert; Virginia Wade becomes the last British player to win the women's singles tennis championship at Wimbledon.
It's 4 July 1936; a pint of milk costs 2d; it'll be another 16 years until someone invents the 'hit parade'; you can buy a newspaper for 1d. Summer headlines in those papers include Edward VIII's relationship with Mrs Simpson, test flights of the Spitfire, and Fred Perry--the last British player to win the men's singles championship at Wimbledon.
In recent years it's become a feature of the British summer season. Whether or not tennis is your game, for two weeks in June/July a nation dares to hope. We've been getting closer--first, with Come on Tim! Henman and now Andy Murray. Today the collective sentiment is more expectation than flight of fantasy, though the reality remains elusive. It hasn't always been so. Winners' boards at Wimbledon were once generously populated with the names of British players. Indeed, Fred Perry's victory in July 1936 completed a remarkable hat-trick of men's singles titles from 1934.
In the Oxford Dictionary of National Biography we've the stories of 11 one-time British Wimbledon champions--who together scooped 44 singles titles between 1886 and 1937--as well as many others who came close: among them Bunny Austin, the last British men's singles finalist (in 1938) until Andy Murray's appearance in 2012.
Viewed across 77 fallow years, Fred Perry's Wimbledon achievements can appear quasi miraculous. But they're less extraordinary when seen in the context of some other leading British and empire players of the late-nineteenth and early twentieth century. Between 1910 and 1913 the New Zealand born, Cambridge educated Anthony Wilding went one better than Perry, securing four successive men's singles victories. More remarkable was that he did so while pursuing a high-flying legal career, having been appointed solicitor to the New Zealand supreme court in 1909. But Wilding's achievement still falls short of that of the Doherty brothers, Reggie and Laurie. Together they shared the men's singles title nine times between 1897 and 1906--Reggie consecutively from 1897 to 1900 before (after a year's interlude) handing over to Laurie (1902-6). The brothers differed in their approach to the game and were dubbed 'Big Do and Little Do' for their distinctive physiques. Tall, thin Reggie covered the court with languid ease while the more diminutive Laurie brought guile and intelligence. What they shared was the ability to win.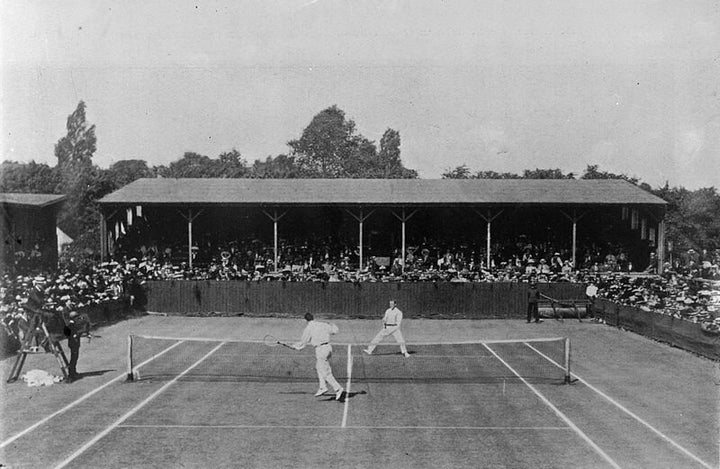 Anthony Wilding and Beals Wright, Wimbledon 1910. Image by London : Methuen, 1912 [Public domain], via Wikimedia Commons
In the women's game, Wimbledon's greatest British player (on singles titles alone) is Dorothea Lambert Chambers who won the title seven times between 1903 and 1914--victories five, six, and seven coming after the birth of her two children. Though she added no further titles post-war, Chambers continued to play at Wimbledon until 1927 when, aged 49, she notched up her 161st competitive match in SW19. Though the post-war era brought younger challengers and new styles, Chambers remained unmoved. One match report from 1919 noted that her only concession 'to the passing of time since 1903 was that her long-sleeved blouse was open at the neck and her long skirt just a trifle longer'.
By contrast, Chambers' nearest rival Charlotte Sterry proved more open to innovation, being one of the few women to serve overhead before the style was widely adopted in ladies' tennis from the late 1910s. A five-times Wimbledon champion, Sterry won her final title (a memorable victory over Chambers) in 1908, and this after a seven-year interval to bring up her children. Blanche Hillyard's span of victories was longer still, with fourteen years dividing her first title (in 1886) and her fifth and last (1900) in a Wimbledon career of nearly three decades. Finally there's Lottie Dod, the supreme British sportswoman of the late nineteenth and early twentieth century, whose dominance (five Wimbledon singles championships, 1887-93) ended only because she declared herself 'bored' with tennis and went off to try other sports. These included racing cycling, golf, archery, skiing, tobogganing, mountaineering, hockey, and archery. Where most people really do 'try' a new sport, Dod excelled. Post-Wimbledon she won golf championships, played hockey for England, and secured an archery Silver at the London Olympics of 1906.
It's not just about the number of titles won, of course. Some of Britain's tennis greats owe their place in the Oxford DNB to the timing of a victory or indeed sometimes to the nature of a defeat. In July 1934 Dorothy Round won her first Wimbledon singles title, as did Fred Perry in the men's competition. Celebrated as the first British double victory for 25 years, it's likely to remain the last for (shall we say) the foreseeable future. Round also reached the final a year earlier when she faced (and was defeated by) the great American player Helen Wills Moody. The match swung on a controversial line-call that was initially declared for Round, who graciously asked that the decision be overturned in her opponent's favour.
Talk of former British champions, seemingly winning at will, shouldn't get out of hand. If by Week Two things aren't going to plan, take heart by adopting an alternative perspective. Defeats too can be memorable: those suffered by Dorothy Round in 1933 or by Kay Stammers in the 1938 final remain among Wimbledon's most celebrated and era-defining matches. Nor, despite the numerous successes of a Doherty, Chambers or Hillyard, was the modern 'waiting game' unknown to tennis fans of the early twentieth century. Fred Perry and Bunny Austin's victory in the 1933 Davis Cup, for instance, followed 21 years in the wilderness. Likewise Perry's win at the US Open in 1930, was the first by a Briton for 30 years. Dorothy Round and Kitty Godfree meanwhile were the only British women to win at Wimbledon between the wars, a period otherwise dominated by France's Suzanne Lenglen and the Americans, Wills Moody and Helen Jacobs. As we learn at school, history, including tennis history, is continuity as well as change.