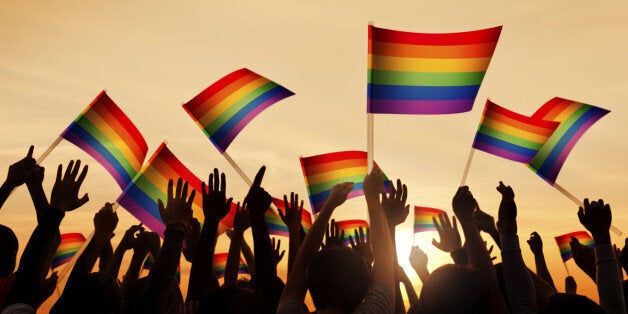 On Friday 2nd June, to mark the beginning of Pride month, Ivanka Trump tweeted: "I am proud to support my LGBTQ friends and the LGBTQ Americans who have made immense contributions to our society and economy."
It is exactly the kind of statement we have come to expect from Ivanka; bland and inoffensive on the surface, but worrisome the moment you actually think about it. What is she saying here? That an LGBTQ American is only worthy if they are contributing to the economy? That the disproportionate number of LGBTQ Americans who are homeless, or living in poverty, don't warrant support?
I can imagine the kind of message Ivanka was trying to convey. As the daughter of the most notorious capitalist on the planet, she probably thought that praising the LGBTQ community's economic contributions is akin to waving a rainbow flag and singing "I Am What I Am." (It is not.)
What's ironic is that while LGBTQ people may indeed be contributing to the United States economy, Ivanka, with her nebulous position in the White House, is complicit in actually holding queer people back from thriving and further boosting the country's economic growth.
I'm not talking about the mythical "pink pound" here, but basic common sense. In a study of 39 developed and developing countries, the Williams Institute found a positive correlation between increased rights for LGBTQ people and increased GDP. And while there are all sorts of factors at play here, there's logic to this.
A nation's position on the rights of LGBT people has a direct impact on their economic potential. It determines where they live, where they work, their access to education and healthcare, and whether or not they are protected by the law from persecution. This means that a nation's position on LGBT people also has a direct impact on their academic performance, employment prospects, earning potential, and even life expectancy -- all of which are essential to a citizen's ability to function within a society and contribute to the economy.
Discrimination at school or in the workplace has a very real cost; it amounts to failed exams and lost labour hours, both of which are a waste of human capital. Which means that protecting the rights of LGBT people is not just a human rights issue, but an economic one.
When a trans citizen is unable to use the bathroom at school or at work, they are essentially excluded from participating in civic life. Every time somebody is fired from their job for their sexuality, as is still legal in over half of the United States, it equates to heat loss in the nation's economy.
If there's one nation which can't afford to lose any more heat, economically speaking, it's the United Kingdom. Right now, our Conservative government looks to be set on a course towards a coalition with the DUP, notorious for its regressive policies regarding LGBTQ and women's rights. This alliance, we are told, will strengthen Britain's chances of getting a good deal in Brexit, bolstering our economy. What the Tories are apparently failing to consider is that jumping into bed with a party which makes no secret of its climate change denial, homophobia, transphobia, or pre-war views on abortion, could lead to an economic and social death by a thousand cuts.
And this is all without even getting into the argument that businesses who discriminate are more likely to face boycotts from the woke millennial consumer. According to research from Cone Communications and Ebiquity, 90 per cent of people are wiling to boycott a brand if they don't feel it embodies the values that are important to them.
Conversely, 88 per cent of consumers will be more loyal to a brand which actively supports progressive social issues, and stats from the Economist Intelligence Unit suggest that businesses which embrace LGBTQ inclusion can be up to 30 per cent more productive.
There's some scepticism right now in the LGBTQ community towards the corporations who choose to participate in Pride. Do the banks and supermarkets adorning their logos with rainbow colours truly support their LGBTQ customers and employees, or are they simply, cynically, after an easy PR win? Who knows.
What we do know is that the businesses who hire and serve queer people stand to make more money than those who don't. And this open, inclusive, equal approach to commerce will benefit the LGBTQ community more than a written-by-committee tweet from Ivanka Trump.