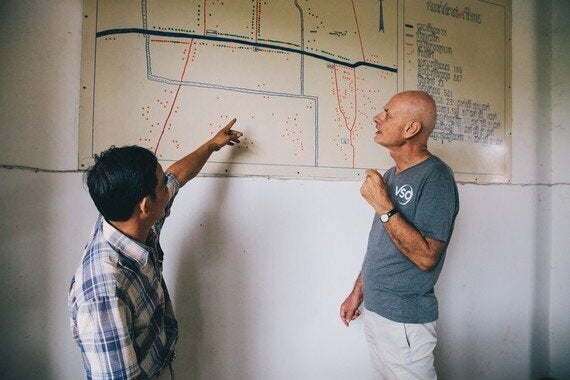 @VSO Dutch volunteer Wim Lancsweert in Kep, Cambodia
In a world of increased polarisation between cultures, anything that lowers barriers is important. I joined VSO as chief executive in March of this year and in that time I have seen enough to convince me that there has never been a more important time to encourage people to volunteer internationally.
On each of my programme visits this year to Cambodia, Malawi, Nepal and Tanzania I met passionate, inspirational people working hard and making human connections. Our volunteers are from Uganda, the Philippines, the UK, Ireland, Zimbabwe, India, the Netherlands and Kenya, to name a few. They are aged anything from 18 to 65 and their skills span everything from IT to neurosurgery. What unites them is they are all working directly with people.
Spending time living in another culture fosters understanding of what makes us different and at the same time equal. Our experience, borne out in the "Valuing Volunteering" research we launched earlier this year, is that over time volunteers become "trusted insiders" helping break down a suspicion of outsiders and brokering relationships that are help the community. In Nigeria, a volunteer a few years ago set up the first ever youth group bringing together Christian and Muslim young people in one community and this is still going today. In Pakistan, young volunteers have been travelling to different regions to build peace and community spirit in areas of conflict through a series of Peace Forums with great effect.
So with increasing evidence that volunteers can and do have a positive impact when they are doing the right thing in the right way, what about the appetite from the public to go on volunteering placements? Do people want to do it?
Our research tells us the answer is still yes. In a recent VSO-commissioned Gorkana Poll conducted amongst 3000 British workers aged between 18 and 65+, the majority indicated that they would consider taking up an opportunity to volunteer and use their skills overseas. A barrier for them was having the support of their employer to take up the volunteering opportunity and to have a job to come back to. Not unreasonable.
The good news is that this is now possible. A new initiative, the Knowledge Exchange launched earlier this year is a UK government seed-funded initiative that offers skilled employees in the private sector a way to volunteer to help change the lives of people in some of the world's poorest places. VSO is managing this because it has the experience and partners in place to make sure it is done right with the best all round benefits.
There are lots of examples of companies all over the world engaging in volunteering schemes and there is equally plenty of evidence of the benefits it brings to both the volunteer and the people they get to work with. IBM have offered the opportunity to its staff years and it is essentially like invaluable pro bono consultancy for fledgling businesses in Africa and Asia.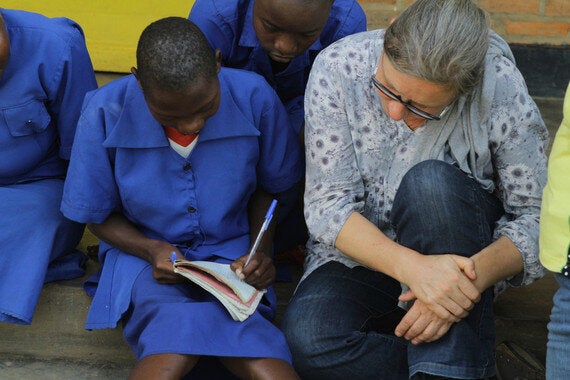 Jo Doyne is volunteering with VSO at Ngwino Nawe village to support Physically Disabled and Learning Impaired children
Another initiative that really does the cross-cultural, intergenerational thing brilliantly is the International Citizen Service or ICS programme. ICS is a three month placement for 18-25 year olds that offers young people a genuine immersive cultural and impactful experience by matching UK volunteers with local counterparts. They live and work side by side, learning from one another. On their return to their home, ICS volunteers often continue to do some really amazing local initiatives to foster greater cultural understanding. I think there is room and desire for much more of this.
In short, there has never been a better time for people to consider sharing their skills as international volunteers. Be they Ugandan, British, Dutch or Filipino it doesn't matter, there are plenty of opportunities if we can match the skills with the needs. It will help our understanding of the world, it leads to lasting development, not quick fix solutions, it changes the volunteer and the community they live in for the better and it helps us to make sense of the world.
December 5th is International Volunteer Day, a UN day that celebrates all that volunteers do the world over every day. To find out more about what its like to volunteer overseas visit here.