Ghosts of Girlfriends Past. Failure to Launch. The Wedding Planner. These are not films you'd expect to find on the resume of one of Hollywood's finest. And yet there they are on the CV of Matthew McConaughey, inviting critics to poke fun, to cast the first cinematic stone, to dismiss the Texan actor as a lightweight.
Certainly, such film choices are lamentable. But it's not like McConaughey has ever lacked the talent to hold his own with some of the finest performers of the past 20 years. Just look at his work opposite Samuel Jackson and Donald Sutherland in the adaptation of John Grisham's A Time to Kill and his strong showing alongside Morgan Freeman, Anthony Hopkins and Djimon Hounsou in Amistad. But it's only in the past couple of years that the standup paddleboarding-loving, Austin-dwelling actor has started to shed the label of Chick Flick Land's favourite shirtless love interest.
First came The Lincoln Lawyer, in which McConaughey takes down the smug rich kid gone bad Ryan Phillipe. Good things always seem to happen when he plays an attorney. That same year (2011) he shone as a morally ambiguous hitman in Killer Joe. Then, after taking another brief shirtless detour with Magic Mike, McConaughey put in one of his grittiest performances before meeting a nasty end in The Paperboy.
But it's in Mud that we see the full extent of what McConaughey is capable of. He plays a man on the run who's discovered by two boys hiding out on an island in the Mississippi River. His character, whose name is the same as the movie's, persuades the youngsters to take messages to his girlfriend (played by an unusually bedraggled, yet winning Reese Witherspoon) and to help him re-build a boat that he wants to escape down the river in.
One of the lads, Ellis - played with uncanny vulnerability by Tye Sheridan - comes to see Mud as a father figure, someone he can place his hopes in when his family life starts unraveling around him. But is the drifter someone he can count on, or just another adult who's going to let him down? Meanwhile, Mud's own father figure who, again, is not his real Dad, refuses to assist the fugitive until it's almost too late.
If you've seen director Jeff Nichols' Take Shelter, you'll know how the director likes to build tension not through action, but rather through a creeping menace conveyed by a sparse soundtrack and natural imagery - such as a flock of birds suddenly taking flight noisily from a treetop. Nichols employs the star of Take Shelter, Michael Shannon, to great effect as the uncle of Ellis's friend, Neckbone, cast into the dubious role of the boy's guardian and trailer-mate even as he "entertains" female companions while wearing a wetsuit (yep, it's weird).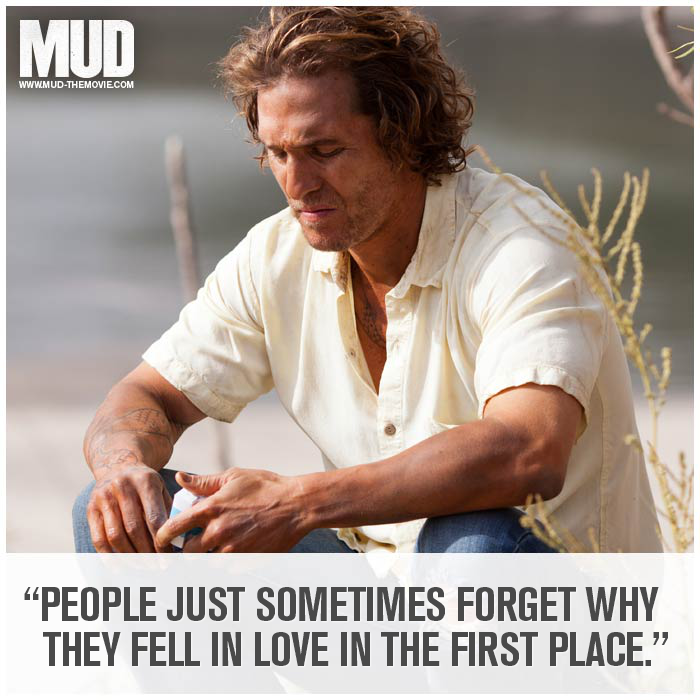 McConaughey's Mud is a superstitious chap who has sewn a wolf's eye into the sleeve of his only shirt and lights a fire to ward off evil and bad luck. Though he doesn't claim to be a role model, he takes a shine to Ellis and, when danger comes in several forms late in the movie, risks his life to save the boy. It's in this role, more than any other, that McConaughey shows his ability for restraint, for quietness - characteristics that perfectly match the contemplative pace of the film as it winds along like the river it's set on, occasionally bursting its banks with a jarring scene to keep you on edge.
In a way, this is a movie about searching: Mud is searching for his girl, Juniper, and an escape route. Ellis is searching for a model of a functional relationship that the troubled twosome can never live up to. Ellis's real father is searching for a way to connect with his son. It's also a meditation on fatherhood and how hard it can be for dads and sons to communicate, even though they truly love and care for each other. Finally, it's a necessary counterweight to this summer's thrill-a-minute adrenaline-fueled blockbusters - step forward Fast & Furious 6 - that will fill up the movie studios' bank accounts but ultimately leave you feeling empty. Here's hoping there are many more thoughtful, well-cast films like this in McConaughey's future. Because - sorry ladies - he's wasted on romantic comedies.