My introduction to historical fiction came when the father of a friend lent me a copy of Robert Harris's Fatherland. Harris's disturbing alternative reality - with the premise that Germany won World War II - was like a gateway drug to the genre that has become my go-to for reading for escapist reading when I'm between writing books. I'd may never have discovered Alan Furst, Joseph Kanon or David Downing had it not been for Harris, nor recognized that historical fiction can often teach far more effectively than dry academic tomes.
Which is why I've been so frustrated with him in the past few years. As I eagerly awaited the conclusion of Harris's Cicero trilogy, he penned a financial crisis thriller (The Fear Index) and a re-interpretation of the Dreyfus Affair (An Officer and a Spy). It was starting to look like he'd abandoned the Roman senator's story. And then, just as I was about to give up hope, a pre-order page popped up for Dictator a few months ago. At last!
For those unfamiliar with the first two volumes, Imperium and Conspirata, Harris's three-parter tells the story of the great Roman advocate and orator Cicero, whose speaking skills were so convincing that he became only the second man who was neither a military commander or nobleman to win the consulship. Harris weaves his tale through the eyes of Cicero's trusty servant Tiro, who invented shorthand to keep up with his master's never-ceasing torrent of words.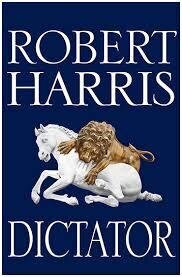 In Imperium and Conspirata, we watched Cicero's unlikely rise to the highest office in the land. And now it's time for the fall. In Dictator, Harris chronicles some of the most turbulent times in the history of the Roman Empire - most notably the transformation of Caesar from a philandering, ambitious young man into the most formidable Emperor to ever rule the Republic.
One of Harris's greatest strengths is his ability to zoom in and out between the micro-level details of Cicero's personal life and the macro-level convulsions shaking Rome to its foundations. He presents Cicero not as some idealized paragon of virtue - an image Caesar seems to behold when he looks in the mirror - but rather as a flawed, fully human man struggling to keep his family and country together at the twilight of his career. Harris's Cicero can be impossibly vain, frustratingly stubborn, and vexingly indecisive at all the wrong moments, which is precisely why he is so appealing.
Though Cicero has great faith in his own ability to wheel and deal, pacify and motivate in the corridors of power, the events of Dictator demonstrate that all too often, statesmen are powerless to shape the events around them. Without explicitly saying so, Harris also illustrates that even the greatest state can crumble if it discards its foundational principles and fails to limit the power of ambitious leaders.
In addition to giving further insight into Cicero's complex personality, Harris also paints striking portraits of the titans of the age, chief among them Caesar, the narcissistic military commander Pompey and the scheming Mark Antony. Their lust for glory and control eventually trump Cicero's Rome-first outlook, showing that conviction-based leaders cannot always carry the day.
Having said that, perhaps Caesar could have been stopped if Cicero's fellow Senators had listened to his Churchillian warnings earlier. Just as Churchill continually sounded the alarm bells about Hitler in the 1930s, so too did Cicero warn his peers about the dangers of Caesar's megalomania and then the folly of leaving a power vacuum after he's killed.
But to no avail. As Cicero laments, "We control neither the city nor the Senate. The crucial mistakes were made not after the assassination but before - a child should have foreseen seen the consequences of simply leaving it at that. And now we have the Dictator's will to contend with."
As compelling as the protagonist is, the person who continues to be the moral heart of the trilogy until its final pages is the narrator, Tiro. This noble servant has the chance to leave his master and claim the freedom he has longed for, only to spurn it and remain by Cicero's side as his world and Roman democracy turn to ashes.
While Caesar fashions himself in the image of a man-god bent on world domination, Tiro longs for nothing more than a quiet life on a farm with his love, Agathe. The fact that he endures to his hundredth year while the striving, self-serving, glory-seeking power brokers around him fall is perhaps the greatest takeaway from the powerful conclusion to Harris's career-defining trilogy. Power, prestige, renown, wealth. All are fleeting.
Related