FS 2013, the St Andrews Charity Fashion Show, has, for the first time, broadened its horizons beyond the Scottish border. On Friday, February 22nd, FS 2013 will arrive in Covent Garden to provide guests at Circus, including many St Andrews and FS alumni, with performances, an auction and, naturally, the fashion show.
FS 2013 is proud to support the St Andrews Wardlaw Scholarship; part of the University's campaign to celebrate its 600th anniversary. The scholarship was established in 2004 to provide financial assistance for academically gifted students who would otherwise struggle with the cost of studying at the University of St Andrews. Working towards such a worthwhile cause, one that allows us students to give back to our university, has been an extremely positive experience. After all, we've all benefitted from the possibilities this historic town and prestigious university have offered us. The prospect of giving, not to a remote cause, but to individuals who we have the power to help in the fulfillment of their potential is a truly enriching aspect of the FS experience.
This is where FS London plays its part; uniting current students, alumni and friends in a bid to give others the chance to live, work and play in this truly great seat of learning which we have been so fortunate to have experienced.
Last Saturday, FS St Andrews showcased an impressive list of designers, including brands such as Issa London, 21st Century Kilts and Joseph Abboud. The catwalk also played host to the collections of the five finalists of the Alfa Romeo Young Designer Award, the winner of which was announced prior to the show. The womenswear designing duo, Luke Archer and milliner George Jenkins, wowed the judges with their innovative interpretation of car design and deservedly won the title of Alfa Romeo Young Designer of the year. Yet again this emphasises the concept of students supporting students, this time extending our reach into the competitive domain of the graduate fashion world. FS London will be a smaller variant of this same show, more of a 'highlights' edition. Not that guests will be disappointed; with an intimate dinner included, they will also be treated to a mix of electrifying performances, from dancers to fire eaters.
While St Andrews is somewhat outside of the traditional orbit of the fashion editorial, FS London provides the opportunity to take our cobbled catwalk off campus and into the real world.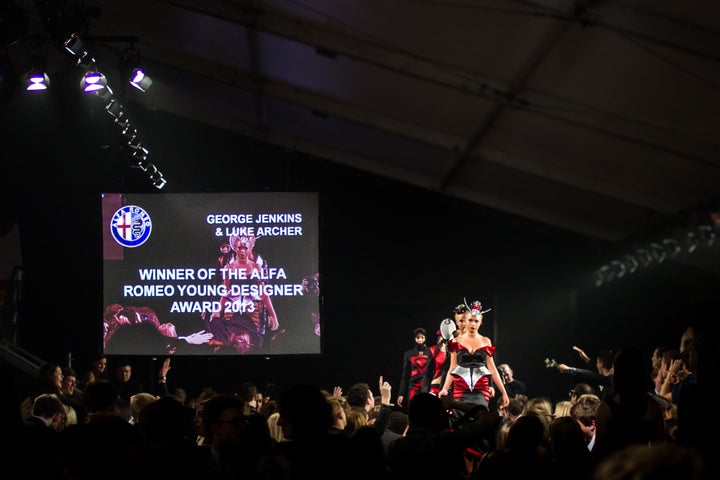 Image ©Jessica Biggs, http://lightboxcreative.me/