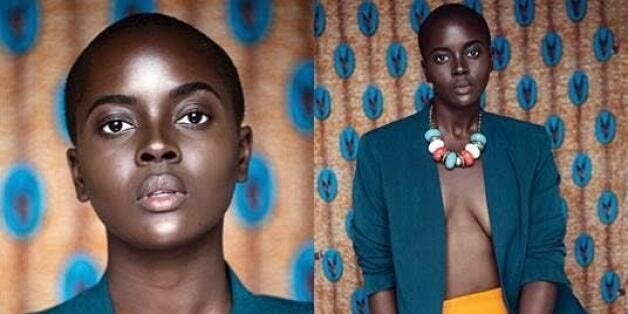 I still remember the disappointment to this very day. Before I went to boarding school I had never read a fashion magazine. I grew up on a council estate in London and fashion magazines were a luxury item that weren't even on my mind. The closest I got to a fashion magazine was my cousin's Top of the Pops magazines, where we would learn the lyrics to every song and put posters on our walls. Then I went to boarding school and I was exposed to a very different crowd - one of affluence.
Anyway, in my very first year I shared a dorm space with another girl who would get weekly packages from her mother. And in those packages were a few magazines. I particularly remember Sugar. And every week they would have make up tutorials... How to do the latest looks ... On pale skin, olive skin and dark skin... But the dark skinned woman was Alesha Dixon at best. Fast forward 15 years later, and we're still in the same place.
Maybe I want to try the latest cat eye, or eyeshadow trend? Maybe I want to learn how to strobe and highlight and do whatever else the Kardashians throw at us.
It's not enough. Magazines don't go far enough to be inclusive, and have at least have one model representing every major skin tone. South Asian? East Asian? Mixed Race? Pale? I don't know how, but it would be nice to see more diversity all round. The page could easily be dived to fit even ten girls, showcasing how each beauty trend, looks on each skin tone, and the right shades to use.
All I'm saying is, thank God for YouTube. Thanks to YouTube, we have a wealth of information available to us, with fantastic bloggers such as Jennie Jenkins and Chanel Boateng; both incredible Brits who translate the latest trends onto darker skin tones. When I watch these videos, I somewhat feel like my black is beautiful... at least amongst my peers. That is, until I pop into the local corner shop to pick up some magazines before a long journey, only to find my beauty absent, unacknowledged.
Maybe the problem is wider than the magazines. If Grazia wants to show us how to wear the latest nude, and the headline is 'how to do nude on a budget', and there are no affordable brands that stock products that I can use, can I blame them? I mean, it's not like I can walk into Boots and buy Rimmel foundation?
The thing is, I don't understand why, when it comes to beauty, dark skinned black women seem to be left behind. On the high street, in the beauty shops, we're not present. I've never walked into a Superdrug or a Boots and found the right foundation for me. Ok, fair enough. Not every skin tone will be catered to, and not every formulation will be right, but at least give me an option. No, Jourdan Dunn is not dark and neither is Beyonce! What happened to Estelle or even Jamelia? Is their black not beautiful? Rimmel, No7, Revlon, Maybeline, GOSH, 17... I'm looking straight at you. And that list isn't exhaustive.
We want options. My younger sisters want options. And it just doesn't seem fair. It's hard to pin point who exactly is to blame. If you take a look around the problem isn't only is fashion; it's in music, it's in film and it's on TV. Darker skinned women just aren't represented anywhere, especially not in the UK. As a dark skinned model myself, I have become even more aware of the lack of representation. Quite recently, I asked my friends to name five dark skinned celebrities in the UK. They struggled. You try. Go ahead, I'll wait. We'll be here a while. I widened it to the USA. Between us, after an hour we named five. This is shocking. In the US media outlets have started discussing the issue of 'Colourism'; the discrimination endemic within certain communities that results in the preference of lighter skin tones over darker ones. This isn't isolated to the black community. It is also present in the South East Asian communities. This is one of the reasons for the prevalence of highly toxic skin bleaching creams that can be found in any uk high street, even today. But that's another topic for another day.
It isn't hard to see how the lack of representation affects the self esteem of many women world wide. And magazines are so accessible to young women these days that I feel magazines should be particularly aware of their responsibilities when it comes to inclusivity. Much noise has been about size diversity, but not enough about skin tone diversity. It's time for this to change.
Philomena is represented by Models1
This February, HuffPost UK Style is running a month-long focus on our Fashion For All campaign, which aims to highlight moments of colour, size, gender and age diversity and disability inclusivity in the fashion and beauty world.
We will be sharing moments of diversity at London Fashion Week with the hashtag #LFW4All and we'd like to invite you to do the same. If you'd like to blog about diversity or get involved, email us here.
Related