I had the joy of tagging along with Gaz Coombes to Japan, he was in Tokyo to play 2 shows at Billboard Live, one of Japan's premiere music venues. The day of the gig, the Billboard bus collected us from the lobby, Duncan, Mikko and Adam have been at the venue for hours already setting up. Usually crew have to get to a show hours ahead of time to set up and test everything. So when we arrive everyone is ready to soundcheck. As an indie chick I have to say what a luxury it must be to have helpers! Like soundcheck elves that magically do all the fiddly hard work so you can rock up and play, solely needing to concentrate on giving a good show.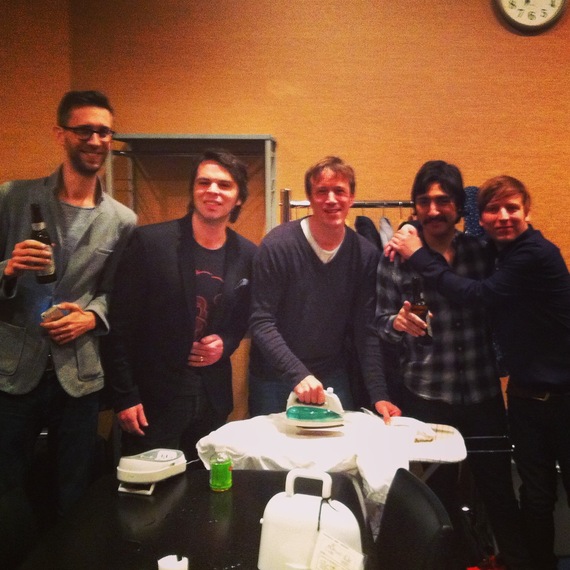 The rider was generous, never-ending in fact, but was heavy on bevvies and light on snacks. Eating on shows days is a funny one anyway because if you eat too close to stage time you feel full and heavy on stage. If you eat hours before-hand you get starving hungry during the gig, which is okay because adrenalin will see you through but after the gig most cafes and restaurants are closed so you end up eating unhealthy late-night food from a kebab shop or something. I'm not sure if Tokyo has kebab shops, perhaps that's a blessing.
After soundcheck we headed to a music shop which was a real destination point for the geek-chic boys in the band and crew who had been to Japan many times and knew exactly where to go. It was certainly not a music shop you would stumble across. It involved a taxi ride and when you got there you walked behind a tea shop and got on a non-descript lift to the 4th floor. There were no signs of what was to come... I mean, there was literally no signage.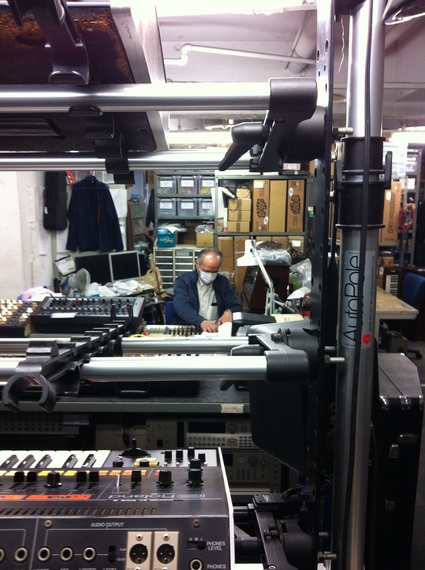 Floor 4 is where you enter synth paradise. Ben, the keyboard player made a beeline for the Farfisa, a rare edition, he said. Gaz went straight for the Solina String Ensemble Synth. As we were leaving a Synclavier arrived. This is a super rare, super expensive, enormous 80's synth responsible for Michael Jackson's Thriller/Bad albums, it's also the sound of Trevor Horn among other things. We spent about an hour in the synth store playing all the Moog, Prophet, Korg, Yamaha, Vox, Oxford Synth Co, Mellotron, Linn we could get our squelchy hands on.
And then back in a taxi for THEE BIG GIG(s)
Gaz and the boys played 2 amazing back-to-back shows! The Tokyo audience is civilised, polite... the fans are eating dinner whilst watching the show. But that's not to say they were passive, they were so into the gig, they chomped the contents of their bento boxes in time with the music, tapping their feet and bobbing along with each tune. The applause roared between songs, but during each number you could hear a pin drop in the audience, all attention was on Gaz and Loz and Garo and Growler and Ben.
In the 2nd encore Garo and Growler emerged from backstage in matching kimonos, sourced from Chicago Thrift in Harajuku the day before. Cue extra applause!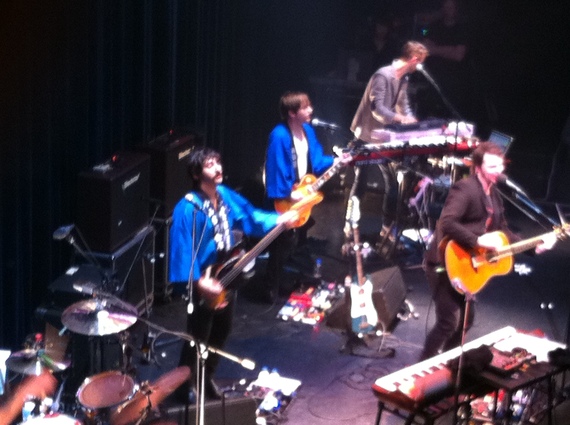 As the boys entered the dressing room, the entire Billboard Live crew were in the hallway, applauding them as they left the stage. To risk sounding like a hippy, there was simply so much love in that room. Love from the band, love from the staff, love from the audience, and THAT is what this trip was all about.