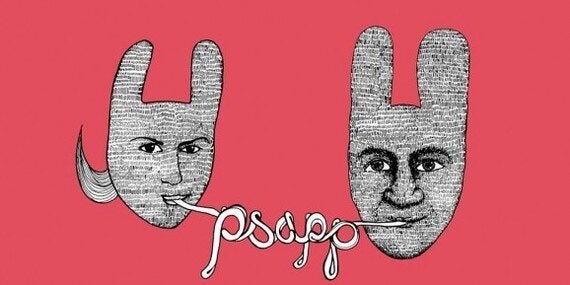 For those of you unfamiliar with the band Psapp, you might know them from their Grey's Anatomy theme song "Cosy In The Rocket" which kinda put them on the map of the mainstream (whether you knew it was Psapp or not).
If you are a bit more alternative, you'll remember them as pioneers of the toytronic genre, manipulating found sounds and turning these everyday sounds into beautiful music, with Carim Clasmann's distinctive production style and Galia Durant's lush vocals, folk-inspired fiddle-playing and heartfelt lyrics.
It just so happens, The Godfather of Counterculture, David Byrne, is a fan... and as he is curating London's Meltdown Festival at the South Bank this year: Psapp got the call, you know that completely validating email where someone says "David Byrne is a fan of your band and would like you to play his Meltdown Festival please."
I asked Galia how it felt to get that email and this is what she said, "Just ridiculously amazing. I had to read the email several times to make sure it wasn't just a vivid daydream. As a long time fan of Mr Byrne it was even more wonderful. I'm still pinching myself and looking forward to putting on a proper show."
And a proper show it will be! I had the joy of attending the cat-themed impromptu *Craft Night that Galia set up in her local pub & she talked me through what it takes to prepare for Meltdown amid piles of pipe cleaners and yarn (and frosty cold glasses of white wine).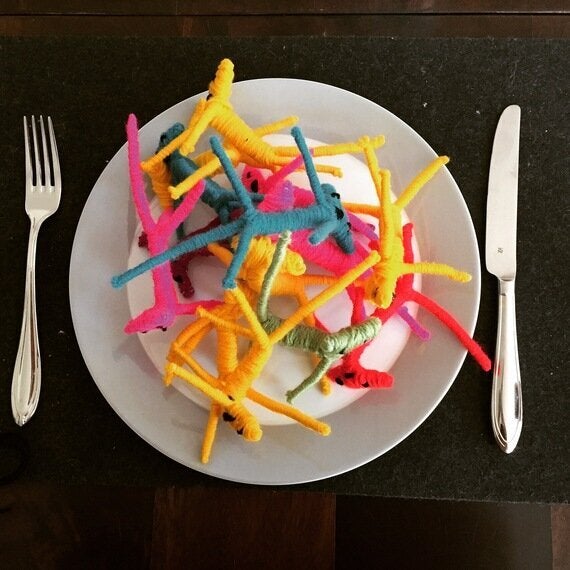 *If you don't remember Craft Night, it was one of the first craft-oriented club nights in the UK, was featured on BBC's Culture Show & was hosted monthly in Notting Hill Arts Club, it was traditionally a sell-out and there were always cool bands and happy hour prosecco fuelling the evening with music, bubbles and imagination... Now back to the present.
Firstly, we were making wire cats covered in yarn, each cat is given a distinct name and each gig attendant will receive a cat made by Galia (or one of the girls/guys at Craft Night that night).
I don't want to spoil the surprise but Galia has some bingo-related plans with these cats whose names are the result of a twisted mad-libs game. Fictional Wasp Pavilion, Pygmy Lunch Disaster are just a couple of our faves and naming them is half the fun of making them.
"So Gals, What are you gonna wear?" is one of the foremost questions on our minds... I mean, what does a girl wear to perform at Meltdown Festival? Galia went to Blackout Vintage - fashionistas know that this is one of London's best kept secrets for high-end vintage clothes. But with all vintage clothes shopping you may hunt through all the rails, but the right dress might not be there for you this time. She ended up going for something high street... when she showed us the changing room photos, she was eager to point out her pronounced pudenda, zooming in on it and passing her phone around. She then explained that she would be wearing Spanx on the night to mask her crotch mound. These are the things you don't think about when you go to a gig... the thought that goes into the small stuff!
Psapp are doing a warm-up show in Cologne, where Clasmann resides, and they have opted to do all their rehearsals in Germany. The rest of the band live in London, so commuting to Germany to rehearse is an added logistic, which I asked Galia about. I mean, why fly to Germany to rehearse? "Rehearsing in London is really expensive - it worked out better for us all to fly over and stay with Carim at his studio for a week. He lives in Germany next to a dairy farm outside Cologne. In between rehearsing sets, we went and did a bit of fishing in the pond and went to look at the cows being milked. It's really magical there. And space for us all to rehearse and think and play. We played lots of weird word games. One of our favourites was to do drawings and caption each other's drawings..."
Okay, so being in Psapp sounds like a lot of fun! But what's really preying on Galia's mind now is, "Will David Byrne give me a cuddle?"