So, here's a question: what's weirder than Tilda Swinton napping in a glass box at New York's Museum of Modern Art? On first thoughts, her conceptual installation, called The Maybe, is perhaps in a league of its own when it comes to unusual statements, especially as it moves to a new location in MOMA each time she performs; she's also staged it in London's Serpentine Gallery (1995) and Rome's Museo Barracco (1996) and it continues to divide public opinion.
In honour of her headline-grabbing work, I've tracked down a few examples of perhaps more unorthodox art that might well be worth travelling to see - if only to use them as a great conversation starter...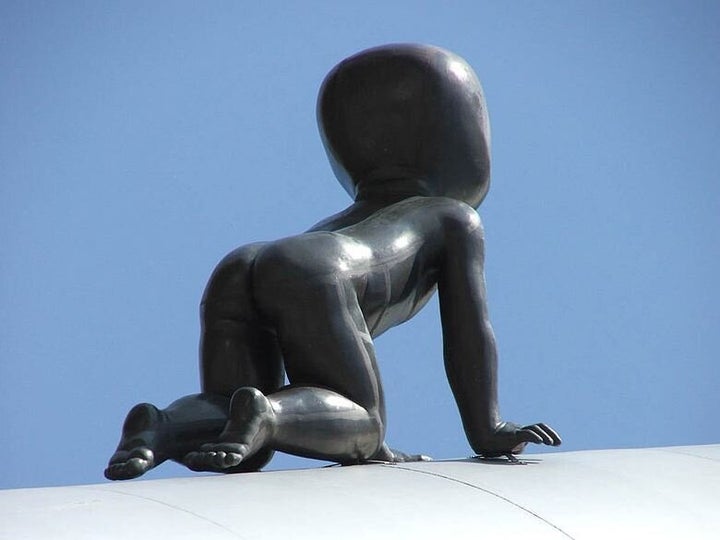 A crawling baby at the Zizkov Tower, by David Černý.
Prague - David Černý's Sculptures
You can barely move for surreal sculptures in Prague, from bronze babies crawling up the Zizkov TV Tower or a mid-Parkour Sigmund Freud on the roof of an Old Town building, and it's all down to one man: sculptor David Černý. Not afraid of a little controversy, he's used the city as one giant open-air gallery for years. Many of his pieces almost manage to blend into the background until you suddenly realise what you're looking at, such as the giant embryo attached to a drainpipe near the Charles Bridge with a strangely reassuring LED glow, or the upside-down horse being ridden by St. Wenceslas as he is suspended in mid-air at Lucerna Palace. One of his most political offerings is Brownnosers, at the Futura Gallery, where visitors climb up a ladder to see an anti-Presidential video through a very, erm, unique viewpoint. Whether you love him or hate him, Černý is an integral part of any visit to Prague.
Berlin - The Weird Street Art Collective
The members of Germany and Austria's Weird art collective are responsible for some of the best graffiti spread across the two countries, most notably in Berlin. Their incredibly group mural found at Haus Schwarzenberg, on Rosenthaler Strasse, is a clever piece social commentary showing what a guided graffiti tour would look like (including irritating tour guide and snap-happy iPhone users) and it firmly has its tongue in its cheek. Members of the collective include Herr Von Bias from Berlin, Dxtr from Düsseldorf, and Frau Isa and Nychos from Vienna. If you want to track down Herr Von Bias' work, look no further than the Friedrichshain district of Berlin and keep an eye out for big blue monsters with tentacles, as seen in Tentacleoverdöse and The Brezelhandboy. So much better than a blank wall.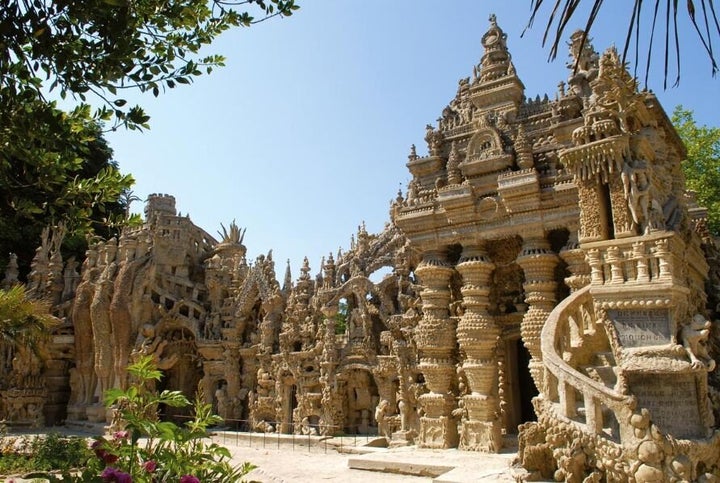 The Palais Ideal. Credit: www.facteurcheval.com
Hauterives, France - Palais Ideal
This perfect example of outsider art is so touching that it's crying out for a Hollywood biopic of the creator, a humble French postman called Ferdinand Cheval, who spent 33 years slowly building a palace made of stones, wire and cement, just because he wanted to, gathering materials in between doing his rounds. Obviously if he'd tried to do this in the UK then he would be struggling to get planning permission from the killjoys at the local council, not to mention raising eyebrows at the Royal Mail, but the French have let his unusual creation stay standing and it now attracts tourists from all over the world. Think Gaudi's Sagrada Familia crossed with an epic Lord of the Rings-inspired sandcastle competition and you're half way there. Mr. Cheval, you rock.
Amsterdam - KattenKabinet
You know those weird old ladies that get obsessive about their cats? Here's a museum that will blow their minds, and it may well blow your mind too. Every piece of art in the KattenKabinet centres on their little feline friends, from Dick Whittington's cat to his less famous peers, in photos, posters and paintings. Founded by the obsessive owner of J.P. Morgan the cat (sadly deceased), it contains a shine area to poor old J.P with a book of limericks and some custom-made dollar bills that help his memory to live on beyond kitty heaven. By the end of your visit, you'll feel as though you've seen enough images of tabbies and tomcats on your Amsterdam break to last a lifetime. Or make that nine lives.
Seattle - The Official Bad Art Museum of Art
Achieving extra brownie points of weirdness for having the acronym O.B.A.M.A, this is Seattle's quirkiest museum, housed in Café Racer. Seeing the questionable exhibits on the café walls is like taking a virtual walk through the worst home-made contributions on Etsy, featuring an unhealthily large dose of Elvis and Jesus portraiture and a smattering of painted dogs, scary children and naff landscapes. The museum has been gradually gathering acclaim since its opening in 2009 and it has even developed a 'Good art inspired by O.B.A.M.A' spin-off exhibition. If you ever end up reluctantly praise someone's terrible painting skills for the sake of being nice, perhaps consider subtly donating their work here and waiting for them to take the hint.
Yes, these examples may not be on everyone's travel wish list, but they'll certainly give you a rounded education when it comes to modern art. If you don't get the chance to catch Ms. Swinton at MOMA on one of her randomly allocated show days, there's always a cat museum or a baby-covered tower just waiting to be admired.