When I was a child, there was a particularly frilly dress that I adored. It had a ruffle that made me look like a cross between an Elizabethan courtier and a dilophosaurus, and it only came out on special occasions. It was also quintessential Laura Ashley.
Ashley's curtains and fabrics played a big feature in my formative years - my mother adored her patterns and florals, while her friend (and also my much-loved babyminder) made voluminous, billowing dresses, whose folds I would retreat into when I wanted to hide from the world.
But as I grew older, I utterly rebelled against this sort of fussy, romantic style by buying black lipstick and wearing fishnets for about six years. Ashley's fabrics once so loved and sought as a source of comfort, became stifling and Really Not My Thing.
Then I grew up. And I found out that Ashley was exactly the sort of woman we'd feature on the HuffPost UK Lifestyle pages. She was part of the Women's Institute. She started her business with her hugely supportive husband Bernard using £10 worth of investment in a wooden frame, dye and some linen. She refused to accept an OBE unless Bernard got one (which he did after she passed). And heck, she even set up a foundation to help rural communities in her native Wales.
Although Ashley passed in 1985, her legacy lives and breathes in the 21st Century.
With news that a second Laura Ashley hotel had opened on the banks of Lake Windermere, I was keen to see whether her interiors had become something someone of my generation could appreciate, not just my mother's who presumably also came for the Beatrix Potter tat.
Some of the staff still remain from its previous incarnation, and it's still owned by Corus, but the revamp is stunning.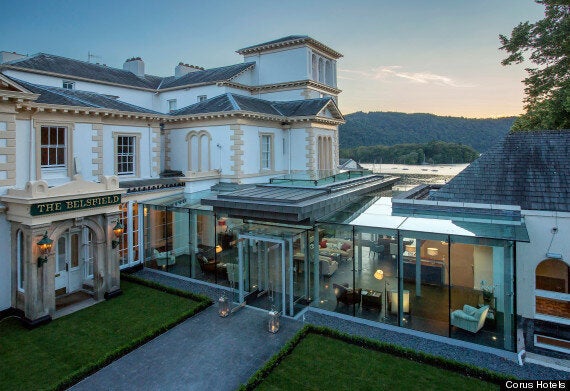 No chintz, no fuss, we arrived to the main entrance, which is a cleverly constructed glass cube that seamlessly melds the rest of the hotel with the reception but crucially provides a peep at the lake.
Sunset is particularly pretty - the light trailing across the flat, blue waters, setting aglow the tiny islands floating on its surface.
Indoors, it is just as stunning. A lot of 'design' hotels tend to have furniture for show - pretty but not comfortable.
Perhaps the trick is to get an interiors specialist to trick it out as Laura Ashley interior designer Kay Cullen has - that way your hotel room will actually feel like your own bedroom - comfortable and welcoming.
From the formal to deconstructed chandeliers wrapped in metal, lamps with glass bases and bouncy armchairs so gorgeous with a mixture of neutral fabrics, wood and leather, you'll want to take some of it home with you.
Our room was no different; dark wood furniture on elegant spindly legs and here was a turn up for the books - a sofa that you actually felt like reclining on.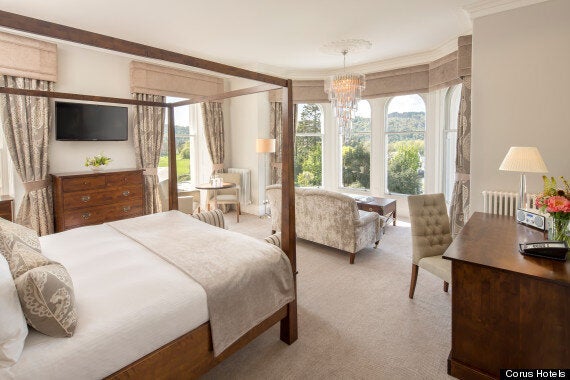 The wallpaper that runs through the hotel's corridor shows incredible attention to detail - Cullen didn't go for fussy prints but used the archive chinoiserie range of wallpapers to reflect the 19th century architecture of the building.
When it comes to flumping around, there are plenty of spots to do so. An elegant duck egg blue library to the left of the building for afternoon tea or my favourite, the brasserie restaurant overlooking the lake. The food at the brasserie is good - a seafood platter features the freshest fish, but I wasn't so enamoured with the 'fine-dining' option.
We had dinner in the Belsfield restaurant, and the room certainly looks the part - dark grey banquettes, fresh flowers and elegant striped chairs, but the menu needs work - our lamb was overdone and Kalamata oil with the chocolate fondant was hard to stomach. For those prices, the execution was not consistent but with work (or a better chef), it could improve.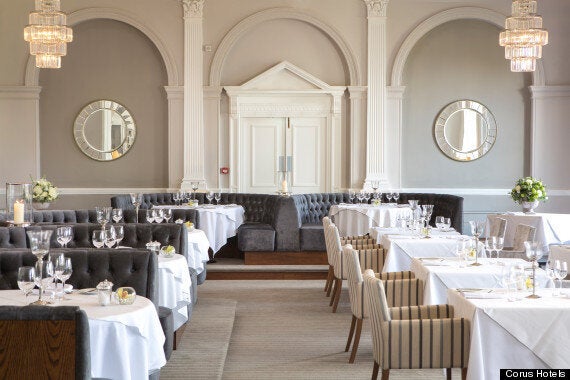 My tip is to get a room with a view of the lake. Despite the good weather, I just did not want to leave our bolthole, and I didn't have to. It had everything - a box of tea, stunning view, comfy chairs and the smell of lavender from stash of beauty products I bought from round the corner.
While the bathroom could have been bigger considering the vast generous splurge of space in the suite, the rest of the room more than makes up for it. This is a place to retreat, watch the sun being doused by the calm, still lake as it sets, and feel like you're in a beautiful, comfortable place.
If you do get cabin fever, Windermere is on the doorstep - so plenty of cafes and cutesy shops - and the garden of the Belsfield rambles down towards the lake front.
So will Laura's legacy endure?
Apparently so - the company has reported profits this year in home furnishings which shows that the brand isn't just beloved of my mother's generation but mine as well.