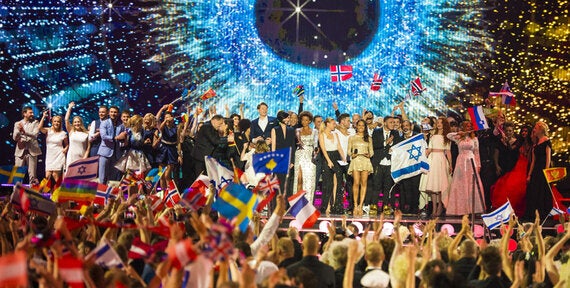 So who is left? And who can we expect to see on the winners podium? Here are the acts to keep an eye out for.
The first half of the show is where all the good stuff is:
1st) Slovenia The bonkers, headphone-wearing Paloma Faith-a-like was gaining a bit of traction this week as a likely underdog, but going on first has practically killed any chance of Maraaya winning.
3rd) Israel Looking like the kind of guy you might have seen cast as one of Jamie Oliver's mates (back in the days when out of work actors would be constantly piling round to Jamie's flat for a cheeky bit of tucker), this is this year's cheesiest entry. Stupid. Will probably do semi-decent business.
5th) United Kingdom Between the racially dubious scatting section and the swing-and-a-miss at trying to replicate an authentic electroswing sound, we have good reason to hang our heads in shame at this Bugsy Malone reboot. But while it's not going to set the leaderboard on fire, it is - at least - the most entertaining we've been in years.
10th) SwedenStarted off as the hot favourite, but is increasingly seeing other challengers nip at his heels. Being placed tenth in the competition will not help his chances either - as you can see from our helpful chart. Winners are overwhelmingly placed in the second half, while those who come dead last often come from the first.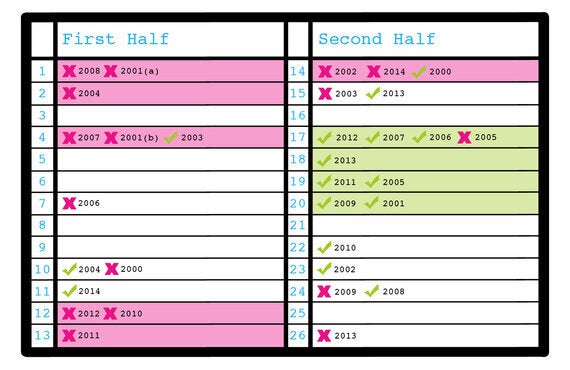 13th) BelgiumCould be in with a chance of a top five finish this kid. Loïc looks and sounds like what might have happened if Jedward had been obsessed with Lorde instead of Britney Spears.
The second half is where most of the forgettable dross is. If your bladder is well-trained enough, you are going to want to hold all of your toilet breaks back until this point, but do try to catch these:
19th) LatviaA surprising, genuinely cool entry. Aminata has a kind of FKA Twigs/AlunaGeorge vibe about her and looks great on stage. Maybe a little too leftfield for the primetime European audience, but the cool kids should see that it doesn't get entirely forgotten.
25th) Russia The second favourite, Polina has been gaining ground on Sweden since rehearsals started. Now she has a plum spot towards the end of the contest (when people at home are a little tipsy, or have just got in from a night out and switched on the telly) the Gary Barlow stadium filling stylings are going to beast a bunch of 12 points from people.
27th) ItalyDesperately courting the mum vote, Italy's little opera belters are treading the mainstream-classical path beaten out for them by acts like G4, Il Divo and Russell Watson. Operatic stylings have, as a rule, fared pretty badly in previous contests (why only last year a big-lunged type sang a song of love to his mum - which was, predictably, doomed) but then very few of the acts have been as gosh-darned adorable as those three tykes.