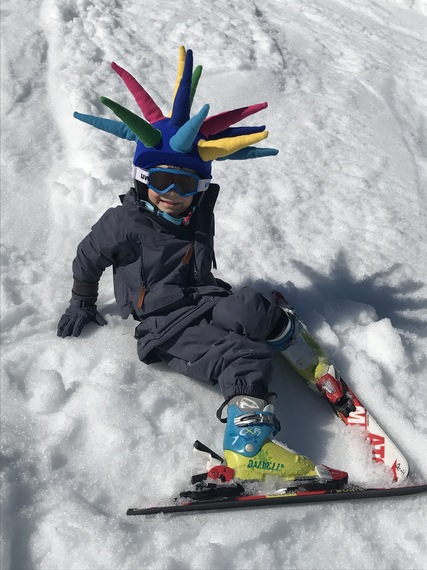 Spring skiing with family is always some of the best skiing. Bright sunshine, lots of eating out on terraces and the best of both worlds with warm temperatures and good snow if you choose wisely.

We are just back from Flachau. A great, small resort, fifty minutes from Salzburg, it forms part of the much bigger and easily accessible area of the Ski Amade; 684 kilometres of pistes, high altitudes and a glacier. It's as snow-sure as you get for April. We skied the last week of the season and saw some wonderful snow (morning skiing is best) and good weather to boot. The biggest worry- making sure that you wear high-factor sunscreen!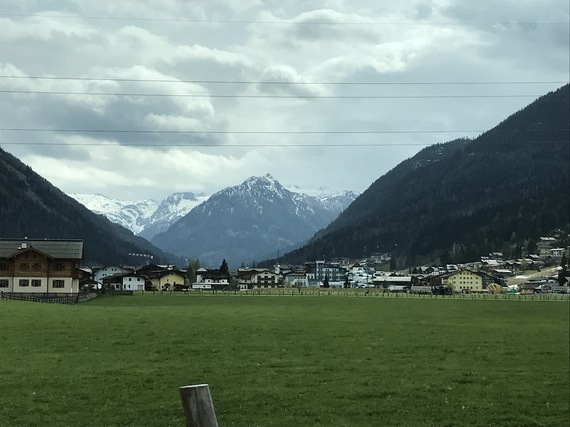 The Family Hotel Felsenhof sits just outside Flachau. Run by the charming Kohlmayr family, it's a haven for families both in winter and summer. In the hotel, top-notch childcare for age 1 and upwards from 8.30-5, six days a week and two kids' dinners, all included in the price. The hotel is welcoming, cosy and relaxed but also modern and luxurious in an understated way. A stunning new swimming complex - small but perfectly formed and designed by the owner's architect sister, it houses both a pool for adults with water jets and waterfall and one for kids with a separate family sauna too. Focusing on wellness for all the family - there are numerous treatments for the younger guests too.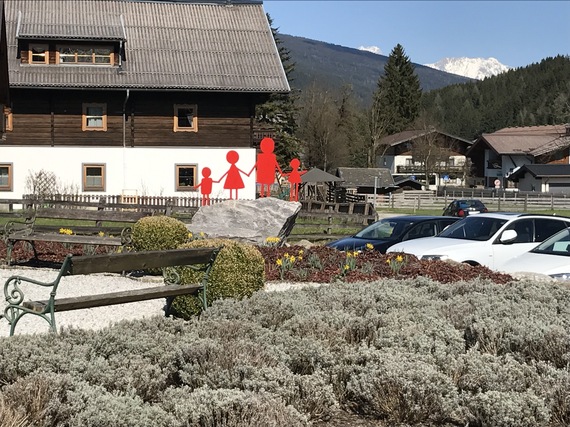 In the winter, leave the older kids to be picked up and dropped off at the end of the day by the Ski School Flachau. Alexander took to his group and teacher immediately. For the adults, just jump on the ski bus directly outside the hotel. All just makes things easy for the parents. It's is what they do best here.
For the youngsters left at the hotel, there's a funky 200m2 kids arena, complete with baby lounge and ball pit which my 18 month-old adored. Then, there's a climbing wall, table football, air hockey and more. It's a kid's dream come true! A playroom beside the restaurant is just another cleverly thought out addition. Every night the kids' buffet opens early and offers healthy, yet appealing choices along with a free baby bar offering baby food and milk and everything needed to prepare 24/7 for the smallest guests. All the equipment is there for you, including buggies, baby baths, changing mats and bottle warmers. Outside the hotel, a massive enclosed playground with trikes and cycles, a trampoline, I couldn't get my children out of there and luckily in the great spring weather, I happily soaked up the rays and got some much-needed vitamin D. If only more hotels in more countries could really cater to families!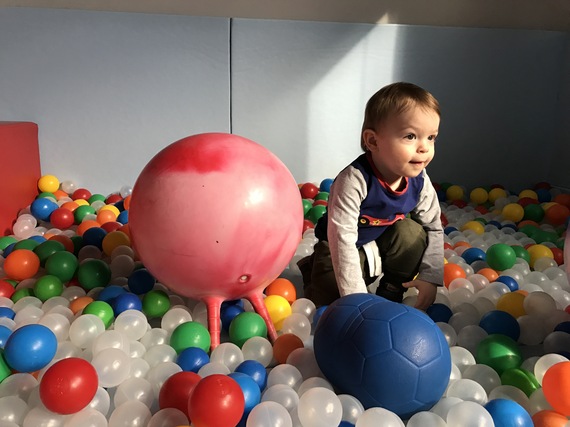 At the hotel, as with all these family hotels, there's accommodation to suit every family with rooms big enough to bring three generations. We were in a modern family apartment. With a separate bedroom for the kids; big balcony, great views! A holiday isn't a holiday for me without good food. The 3/4 board option represents value for families. Think groaning buffet breakfasts with choices of cold meat and cheese, eggs, hot food, cereals and lots more. Also, dietary requirements and allergies always seem to be catered for a second nature in Austria. Hot and cold drinks available all day for free, another afternoon buffet complete with a hot dish, cakes and salads for late lunches and a table service at dinner with mouthwatering choices from the daily changing four/course menu. Foodies are spoilt for choice.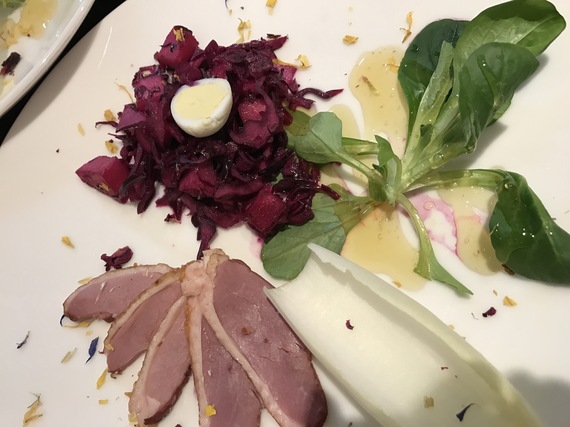 The week flew by. Mornings skiing whilst baby Gabriel was content in kids club, out for walk in the sunshine (suncream always applied!) fed at lunchtime, his sleep, then a snack and lots of play, he really took to it. It's the thoughtful touches that really sets this hotel apart. We were genuinely sad to leave. Family hotels need to exist more throughout Europe but until they do, I suggest doing your research well, sticking to the ones with the facilities and getting some well-earned relaxation and fun all round. This is even more important for the skiers where you simply can't be in two places at once. It's your holiday too, you know! You do't need to wait until your children are 18 to go. Spring is a perfect time for everyone to get something out of a ski holiday.