The Park Hotel Cala di Lepre in Capo d'Orso really does offer the full package and is a real fave for me. On the North East coast of Sardinia, gorgeous views over the Costa Smeralda, this 4* hotel is another of my top picks as a family option. For those hoping to get the children interested in anything other than their iPads, nature plays a big part here. It's set in a massive park, on a hill that gently slopes towards the sea, you will find the park full of little animals - wild grouse, tortoises, turtle doves and hares. Children are enthralled. This is wildlife up close and personal. Not only do they get their own age appropriate kids clubs but a natural playground too.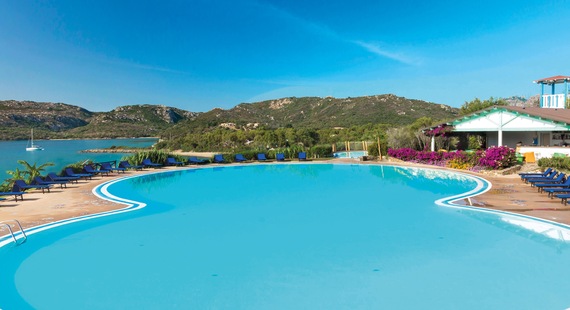 Credit : Cala di Lepre
You will find it impossible not to relax here. Again, another staple from this hotel group, the wellness offering is top notch. The d'Ea Marina SPA centre is a destination in itself. Again created 'in harmony' with nature, try the heated seawater thalasso pools or the Turkish bath. Seaweed and marine treatments feature here. They make use of their surroundings to really heighten and make the experience authentic.
Whilst Mummy and Daddy relax, children are looked after by an eager team of young childminders. This hotel offers some of the most extensive free facilities and leisure activities for the young that I've come across in Sardina. Leprottoland, a world for kids between 3 and 14 is open 7 days a week from 9.30 until 11pm! Offering indoor play and of course loads of sporting activities in the junior club from football to tennis, archery and even dance lessons (a big winner for my 6 year old!)- you won't be able to tear them away; a good thing, I hear many frazzled parents say!
For 8-14 year olds, the hotel stables even offers group riding lessons for free! You get the option for children to eat lunch and/or dinner with kids club in their own section of the restaurant too. Something of a joy for at least a couple of meals - fighting over what and what not to eat is not my idea of a holiday! For parents with babies, the Cala di Lepre again proves itself one step ahead of the others. A free bottle and feeding facility open 24 hours a day gives you a place to warm and sterilise bottles and change your baby as well as highchairs and facilities to prepare baby and toddler food. They even have a free supply of fruit, pasta, yogurt, milk and other staples always on hand. You couldn't ask for more. It just makes taking a baby away on holiday easy and pleasurable. No need to worry about what to pack- everything is there on hand. Lastly, you can hire a pushchair too. Bliss. Next year, luckily, I am free of this facility though. My baby now a toddler!
This place is all about facilities. If you happen to be a keen fisherman or sailor, look no further. Delphina owns luxury boats that come with a skipper ready to sail around the beautiful coves of the coast of Sardinia. How about catching your tuna and eating it for dinner? Food doesn't get fresher than that. One day I might actually find the energy to actually try. However as a foodie, fishing or not, that box gets ticked. The hotels puts great emphasis on fresh local ingredients, often grown on site or otherwise from the region (Gallura) which is a foodie heaven.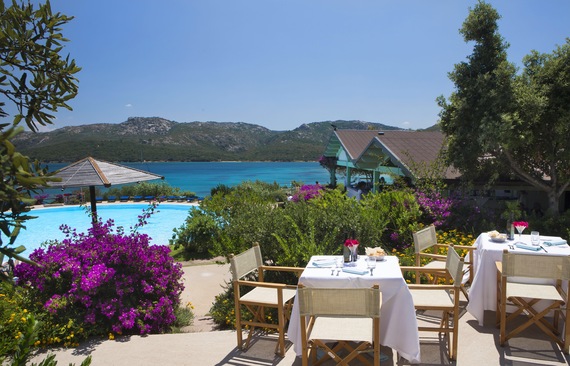 Credit:Cala di Lepre
There are two restaurants in Park Hotel Cala di Lepre; L'Archipelago, open for glorious buffet brunch and mouthwatering Mediterranean dinners with views looking out to the Golfo delle Saline and La Terrazze, a romantic, candlelit affair for dinner facing the Costa Smeralda. This one is best when leaving the kids in Leprottoland! Of course, if you feel like lounging by the pool all day, yummy sandwiches, really fresh salads, healthy grilled meats and fish can be eaten there too at the Grill and Snack Bar. Lazing in the sunshine just got easier! It's hard not to overeat here. So beware, healthy or not, it's a lot to digest.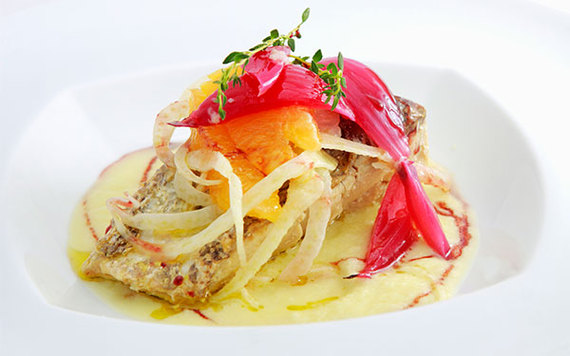 Credit: Cala di Lepre
Venturing out, there are lots of options. You aren't stuck in the middle of nowhere. Whether to visit the beautiful beaches at Arzachena or Palau, minutes away by car or for a change of scenery a trip on the hotel's very own motor boat to take a swim at a different beach every day. Exploring the Costa Smeralda or even nearby Corsica is easy and feels like you are truly in paradise. Shopping isn't too far either. I needed that little bit of retail therapy!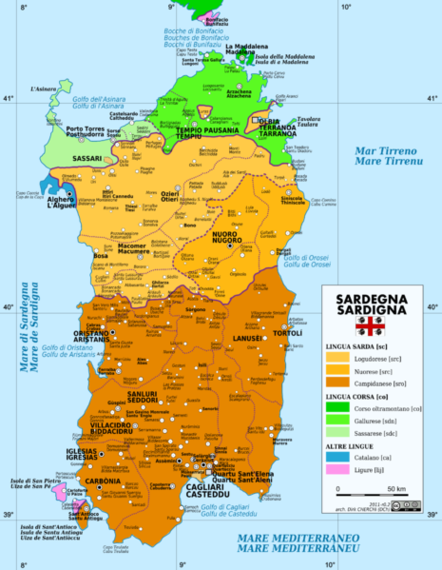 Source: Wiki Commons
I love this hotel for both its proximity to places to visit as well as the facilities. Add it to your 'to stay' list!