When we think of our childhood I am sure most of us think of time spent playing outside or taking part in games with classmates at playtime.
There are many benefits for young people from participating in physical activity and being active. It improves their heart health and bone strength, and it reduces their risk of developing long term conditions such as diabetes - which can fundamentally alter the way they live their lives as adults. Research also shows that physical activity through games and working with other children can boost children's' self-confidence and help them to develop crucial social skills.
Yet how many of us know how much physical activity that children and young people should be doing?
Some time ago I and the other UK chief medical officers published Start Active, Stay Active, setting out guidelines on how much physical activity people should do to reap the benefits for their health. That report informed us that children and young people should undertake at least 60 minutes of moderate to vigorous physical activity per day - and this should include activity that uses resistance to strengthen muscles and bone, for example hopping and skipping or gymnastics.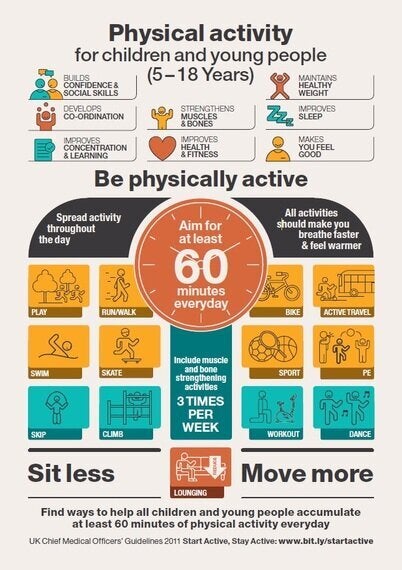 The latest figures we have from 2012 show that children are becoming less active, with only 21% of boys and 16% girls meeting current guidelines of at least one hour of moderately intensive physical activity per day. This needs to change, because less active and healthy children generally go on to become less active and healthy adults, at greater risk of developing diseases and spending their later years with ill-health.
We must recognise consider physical inactivity as a fundamental risk factor for children's health, alongside other concerns such as such as obesity. We all have a role in supporting the physical activity needs of children.
We know that managing the physical activity needs of children and young people can be demanding.
So today I am launching the second infographic resource to simplify the UK CMO guidelines in order to help health professionals, parents, and teachers, to support the physical activity needs of the children and young people entrusted into their care. It is up to all of us to provide children with the opportunities and motivation they need to be active and get moving - children today do not have the same opportunities we had for exercise and play - and their health is suffering as a result. It is up to all of us to change that, we can and we must do it, and I hope this infographic goes some way to helping that.