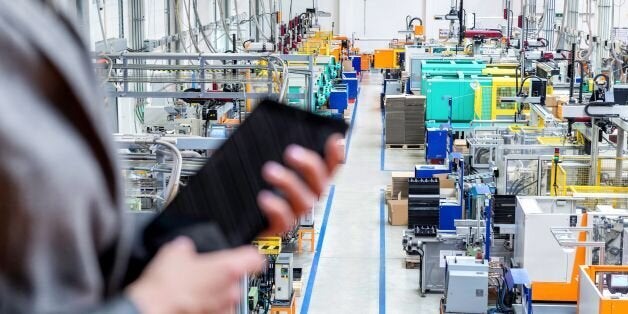 There were two key moments in the Autumn Statement that should make the ears of UK business leaders burn.
First was the announcement that the National Living Wage would rise by 30p to £7.50 by next April.
However, Chancellor Philip Hammond was also on the verge of scathing when he stated that Britain lags behind the US and Germany by some 30% when it comes to productivity.
As Britain prepares to borrow more than £215bn in the next five years, and with the economy is flux as the consequences of the Brexit vote unfold, can UK businesses afford to raise the National Living Wage?
Simple maths says that if we produce more, we sell more, and the country as a whole will make more money. Here's five reasons why, if we can figure out the productivity problem, I say yes.
1. There are opportunities to change the mindset
For too long, big businesses have run scared of the tricky financial landscape and put too much focus on paying people less to do more. While there may be short term savings to be made, minimising costs has left Britain's workforce fed up and drained. Whether a supporter or not of the chancellor, businesses must make the most of the opportunities given by Hammond - the £13m productivity training funds, lowering of corporation tax or the investment going elsewhere in the economy - and use them to help provoke a more enthusiastic workforce.
2. The engine exists, it just needs fine-tuning
The UK machine is packed full of hard-working, knowledgeable, able people who are driven to do a good job. However, after a while, a machine can become laboured. Get it firing on all cylinders and get those cylinders running in time, and the workforce will close that gap on our friends in the US and Germany.
Rather than a problem, lower productivity is an opportunity. If we're all JAM (the current watchword 'just about managing'), then imagine what the country could be if we all released our productivity potential.
3. Human resources have much more to offer
There is a lot of chatter about employee engagement and the development of good quality human resources. But no one is asking 'how can I get 20% more from this person?'. Think of Sir Dave Brailsford's marginal gains at British Cycling - if people make small improvements in certain areas, the end result can be incredible. It may be just a way of working, a process, a tweak, but it all pushed the UK machine in the right direction.
4. Tech has its part to play
One of the problems for new technology, such as automation, is that it can be seen as the bringer of redundancy. Flip that around, and see tech as an enabler for new opportunity, giving businesses a chance to enter new markets or try new things. The UK has long been surfing on the crest of the technology tidal wave, let's not lose our balance and fall of the surfboard.
5. Believe in people power
There is a huge untapped resource and it's hidden behind structure and rigidity. While many businesses are moving towards flexible working, unlimited holidays and praise-led management, there's still a way to go before this is adopted across the board. Employees with a sense of wellbeing will sleep better, eat better and be much more motivated.
'Productivity' was one of the major themes to come out of the Autumn Statement but, rather than focus on the UK's failings, there's a huge chance to tackle the opportunity head on and make sure that a more productive country delivers a sustainable National Living Wage.
Co-authored by Cary Cooper and Jeremy Stafford
Cary is the 50th Anniversary Professor of Organizational Psychology and Health at Manchester Business School and President of the CIPD and the British Academy of Management.
Jeremy is an experienced CEO having run two listed companies in the UK and held senior leadership positions in two other FTSE 100 companies.