When MP Caroline Dinenage was named as the new Parliamentary Under Secretary for Women, Equalities and Early Years, there was a frisson of disenchanted mutterings.
It didn't help that there appeared to be a vacuum within the DfE as the sector held its breath, waiting for an announcement of who would take over the reins from familiar face Sam Gyimah.
Before we found out who the new childcare minister would be, we heard that rural childcare would be part of a new brief for Defra minister Therese Coffey.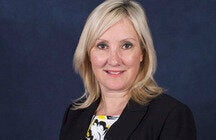 Then we saw Mrs Dinenage's existing education brief extended to include delivering the flagship election promise of 30 hours free childcare.
'Is such a crucial area as Early Years being tagged onto Mrs Dinenage's responsibilities as an after-thought', commentators grumbled? And at such an important time when doubling free childcare will begin to be tested in eight pilots taking place from next month!
It is unfortunate that the minister's five-bullet brief listed early years and childcare last - but that should never mean least.
Looking at the bigger picture, Mrs Dinenage brings with her a wealth of experience as the Women and Equalities minister. She has been working hard to reduce the pay gap. With women still making up 98% of the early years workforce, surely being armed with this experience and knowledge will be a boost to the industry?
Rather than being an afterthought, this seems to me to be a decisive step.
And far from watering down her brief, this should boost the childcare agenda.
More new responsibilities have been brought into the Department for Education, including apprenticeships, skills and universities. I hope these will help to swell the numbers of early years apprentices and Early Years Educators candidates which in turn will start to address the all-pervading recruitment crisis facing the sector.
Then we look at the new role being created over at Defra where Dr Coffey will be addressing the issue of childcare provision in rural areas.
Our members tell us that this is an enormous challenge for rural communities, with lack of public transport, lower employment opportunities, lower pay and isolation all adding to the burden of other universal issues of funding shortfalls and recruitment facing the whole sector.
It's not just in the countryside that additional problems exist. Our new London Mayor Sadiq Khan has also been airing his concerns about the specific childcare problems that are upsetting the balance of life in the capital.
These include the long waiting lists for some nurseries, scarcity of flexible childcare, spiralling costs and problems with recruitment and retention. One of his solutions is to designate early years practitioners in London as keyworkers so they can benefit from schemes for cheaper accommodation. If he succeeds, it will put the sector firmly where it should be, alongside teachers and health workers.
So, far from being "watered down", the childcare brief is steadily being strengthened across Government departments and at regional level. Its influence will be felt far and wide.
And this is as it should be. Childcare underpins all aspects of life, especially employment, education and social mobility.
For new sustainable business to grow and thrive as part of a sustainable community, there needs to be high-quality, flexible childcare which parents can rely on.
And for the 30 hours free childcare to be a success for parents and children as well as the sector, changing the childcare landscape of this country forever, it now needs to be one of the Government's top priorities.