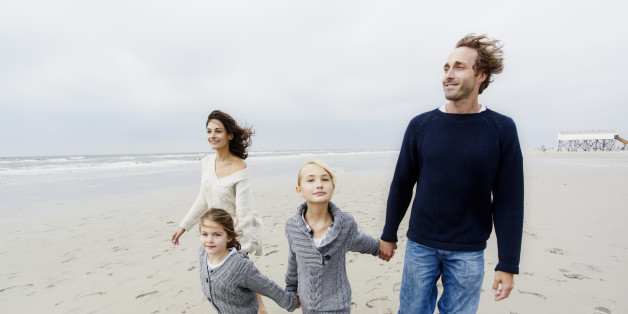 Oliver Rossi via Getty Images
If the recent uptick in outdoor temperatures has alerted you to the fact that summer's on its way and you have no holiday plans, don't you fear! You can still whisk your family away to a sunny beach or cultural hotspot without going broke in the process. Last minute deals may be your friend, but so is a bit of planning.
Book in Advance
Booking tickets is all about timing, whether it's for attractions or accommodation. Fares can change drastically even within the space of a week, so try to buy tickets for attractions like amusement parks as early as possible. On the other hand, you can also score some great last-minute deals, particularly if you're travelling midweek.
Rent a House or Apartment
Renting an apartment, cabin, or condo not only saves you money, but it also gives your family more room to sprawl out. This can cut down on sibling bickering and ensure that everyone has a better time on your stay. Booking a weekly house rental usually breaks down to a lower rate than nightly hotel costs, and it has the added bonus of allowing you to cook your own meals rather than splashing out on restaurants three times a day. Think about travelling with another family to split the cost of a large holiday rental. Get started by taking a look at sites like AirBnB or HomeAway to see what's out there.
Compare Transportation Options Carefully
In addition to accommodation, transportation costs are another big chunk of a holiday budget. If you're travelling close to home, driving will usually be more cost-effective than flying. Exploring the UK could save you hundreds of pounds in airfare. Yet with the prevalence of budget airlines following the RyanAir or Easyjet model, you may be able to travel further abroad for less. Be sure to check airfares online by using aggregator sites like Skyscanner or Kayak before you commit to anything, and keep your dates flexible for greater savings.
Eat Like the Locals
Food costs can add up, even if you're cooking your own meals. Pack your own snacks for the flight or car ride to avoid steep mark-ups at rest areas and airports. At your destination, tourist-oriented restaurants can be appealing as they're usually child-friendly. However, you'll pay for this in both atmosphere and price. Try getting off the beaten path and eating where the locals eat, whether it's food markets or small cafes. You can ask for recommendations at your hotel, the local tourism office, or even from a friendly face on the street.
Don't Overschedule your Trip
As this guide to saving money on holiday points out, there are free things to do in any destination including churches, markets, and areas of natural beauty. Put these at the top of your itinerary. Don't feel like you have to jam-pack your day with costly attractions either. It will drain both your budget and your kids' energy levels in no time. See the main sights, but give yourself time to relax. You're on holiday, remember?
Look for Family-Centric Deals
From one standpoint, travelling with the whole family can be costly and stressful. But from another, it can be a great way to take advantage of special deals to keep everyone entertained. Many resorts, hotels, and tourist destinations offer family-only deals. Spend some quality time with the internet before you go to check for daily deals, coupon codes, or vouchers designed for children. Many hotels and resorts will allow you to stay free for one night if you book two nights in a row, and restaurants often offer free kids' meals when parents are dining at full prices.
Even if it's fairly last-minute, a couple of hours of research should yield some great savings that will allow you to sit back and relax with your family this summer.