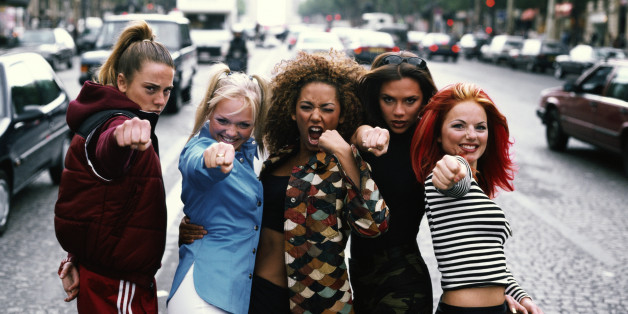 Tim Roney via Getty Images
It seems preposterous that it's been 20 years since the Spice Girls blew my tiny child mind with Wannabe, but sadly, calendars don't lie.
It's no exaggeration to say that I grew up on the Spice Girls, and I doubt that I'd be an entertainment journalist now, if it weren't for the introduction to all things pop - and heady dose of girl power - that they gave me.
I can't remember the *exact* moment when I first saw the five women causing havoc in the halls of the St. Pancras Hotel, but I do know that everything must have shifted slightly when I did. Quite soon after laying eyes (and ears) on the group, unapologetically trashing the posh gathering and generally having a fabulous time, I knew that was exactly what I wanted to be one day.
Granted, my pop career is still yet to flourish (there's still time, ok?), but the lessons I learnt as a Spice Girls devotee have stayed with me. As we celebrate 20 years since the birth of one of British pop culture's greatest phenomenons, here's what the ladies themselves taught me over the years...
It pays to be sure of yourself
Literally, same.
Patent leather is timeless
Sadly, the same can't be said for the blue gloves Emma sports in this video.
You can never be sure who'll break your heart
It's fine though, everyone. I'm totally over the fact Geri didn't turn up for that National Lottery Show now. Completely. 100%. Don't care.
And you might not get over it when they do
WHY, GERI, WHY????
Offering advice on contraception mid-ballad is totally cool
Y'know the line: "Baby, get it on, get it on." Yeah, they meant get a condom on.
Don't be afraid to say 'NOPE' to what everyone else is doing and do you own thing instead
If you're ever feeling a bit 'meh', just channel Victoria at the 2012 Closing Ceremony.
Buses are actually a great way to travel
"Hold on to your knickers, girls!"
Unless there's a taxi you can climb atop
Obviously.
You can do anything if you put your mind to it
"Strength and courage and a Wonderbra."
The main room at any party is always a snoozefest
The stairs or the kitchen, ftw.
Friendship *can* end
It's no secret that the ladies didn't get on at times, but it's all water on under the bridge now. Well. Sort of.
But doing cool things is way better with your mates there
When I win a Brit Award, my pals will definitely be on stage with me.
And don't forget: Girl Power will never go out of fashion
Amen.