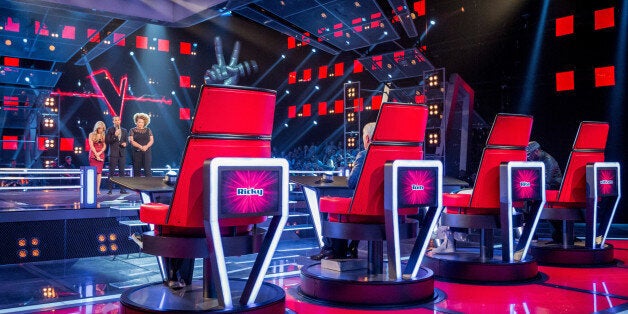 I really enjoy The Voice. There, I said it. The X Factor, with all its grandeur, sob stories and egos bigger than the studio itself has never quite done it for me, but there's something about The Voice and those super cool spinning chairs that I just can't turn away from.
It's tough to pin down why, but one of the key factors is that fundamentally, The Voice has kindness at its heart. But let's be honest, it isn't exactly a hit, is it? I've watched a fair amount of each series since it began in 2012 and I can't name one previous contestant. Was there are a Jermaine, maybe? Or Jahmene? Honestly, I don't know.
This 2016 series is the last one with the BBC, and with a move to ITV on the horizon, there's a chance for The Voice to fulfil its potential. By keeping the show's best bits, and implementing a handful of small but much-needed changes, a truly fantastic show could be (re)born. Seriously. And here's how...
1. Do. Not. Mess. With. The. Blind. Auditions.
The format of The Voice's early stages is genuinely lovely, and the idea behind the blind auditions - namely that you're never too old or alternative to fulfill your dreams - is one that even someone with the hardest of hearts (aka me) can get behind. Emma Willis always seems personally invested in the outcome of each audition, and it's nice not to have a parade of not-so-great wannabes. Laughing at other people doesn't make me feel better about myself, and if you disagree, please turn off the television and sit on the Naughty Step to think about your actions. It's not nice. Don't do it. Moving on...
2. Get a really good judging panel
The problem with talent show judges is that being a fantastic critique isn't enough, and fitting together as a group is more important. This is especially true for The Voice, thanks to the whole 'coaches' set-up. The UK version of the show peaked with series three, when following the departure of Danny O'Donoghue, bosses threw viewers a curveball, recruiting indie favourite Ricky Wilson to sit alongside Tom Jones (the loveable legend), will.i.am (the zany eccentric) and Kylie Minogue (Kylie. Minogue.).
Each judge was suitably huge in their own market, with something unique to offer, as they sought out the singers most-suited to their respective teams. Crucially, no star thought they were bigger than the show, and the series ended with newbie Ricky triumphing over the music world heavyweights. Ditching Sir Tom was a huge mistake, and if ITV have any sense, they'll have already agreed a deal for him to return.
3. Keep the show relatively short
Things that should be nearly three hours long: Peter Jackson films, weekend naps, boozy brunches. Things that should not: Talent shows.
4. Simplify the other rounds, PLEASE
It's already been established that I would marry the blind audition stages if I could, but the second half of each series? It deserves to be ghosted. Nobody understands what's going on, and anybody who says they do is either outright lying or works on the show. It's like that episode of 'Friends' when Joey auditions to host the quiz show, and the BBC - and the broadcasters who make each other country's version of The Voice - are Ross and Chandler, who become convinced that it's easy to understand.
Why, after weeks of battling for singers to pick them, do the coaches have to ditch hopefuls, only to steal others, who previously opted not to work with them? That is a coherent sentence, to any The Voice devotees, but it's complicated nature is also an indicator of how downright ridiculous the latter stages of the show are.
5. Don't give it the X Factor treatment
This means: no huge sob stories, no grand entrances for the judges, no gigantic stadium audience and, this is important, no Dermot O'Leary.
6. Give it the promotion (and scheduling) it deserves
Due to the way the BBC is funded, there are limits on the promotional boost it can give the show. Hence why there's no recording contract prize, or blockbuster ads popping up on every TV, bus stop and billboard in the UK.
If there's one thing ITV have got right X Factor, it's the the advertising campaigns. The X Factor is also proper event television, and scheduling it for the weekends ahead of Christmas is perfect. Meanwhile, the 2016 The Voice final is clashing with the first episode 'Britain's Got Talent'. Come on, gang. *shakes head*
Let's end with some important words from Ru Paul:
Popular in the Community