Every week I talk Fashion for BBC Radio Kent. The topic for this week fashion slot comes from an ongoing conversation on Twitter about #redtrousers.
A member of the Tunbridge Wells Twitterati (MrCRTW) loves his red trousers. I tend to disagree with his penchant for them. It's not because they don't suit him, he wears them well. It's more about my general aversion to the colour red. I never wear it, I just don't think it suits me.
I won't get into the ins and outs of the ongoing conversation surrounding said pair of trousers and their source (Next) but MrCRTW's love of these particular trousers comes from the inspiring London 2012's Team GB. From the Olympic Village casual wear. Fair enough, he can get away with wearing them, styling them with a tan mac or dark blue jumper and chunky scarf, but others are less brave.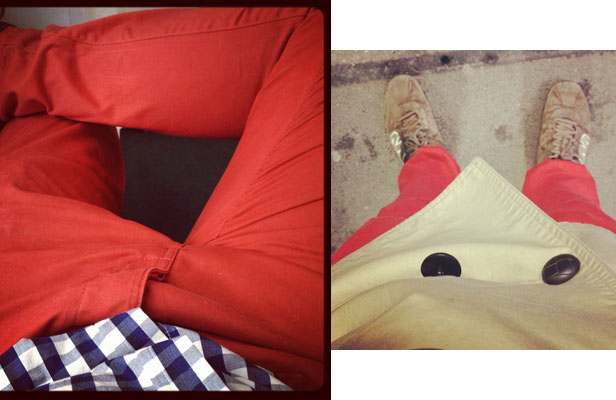 Coloured trousers appear to be everywhere. Chinos, Jeans, Cords. But there is a fine line when it comes to breaking away from the standard stonewash denim, what do you wear with them to complete your look. Somewhere it well, others don't. Are dark red cords just the outfit choice of the over 55 country gents? Can women get away with wearing electric blue jeans to the shops? It can be hard to know what to wear with coloured trousers so have no fear, we'll show you the way.
Womens Styling
Women suit lighter, pastel coloured trousers and jeans. Think back to the summer ice cream hues that were everywhere. But we can also get away with the darker colours too and khaki greens and cobalt blues work well for winter (check out my very own pairs below!).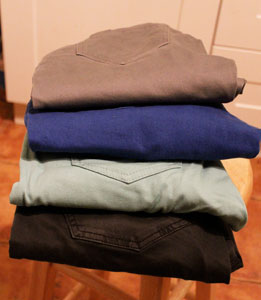 Wear your coloured jeans or trousers with a printed tee shirt and chunky knit and layer under comfy boots to keep warm this season. Of course, really women can get away with any colour really, we have more options available to us and we're more creative with our looks.
Mens Style
Men favour the darker colours in jeans and trousers but primary colours are making headway now. Check out these guys on a stag do meeting at London Waterloo (Brave? Crazy?).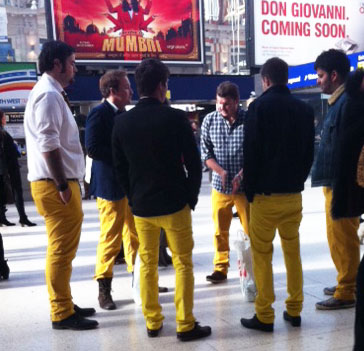 If Canary yellow isn't your style why not try reds, blues or purples that are available on the high street. I spotted these in H&M Menswear department.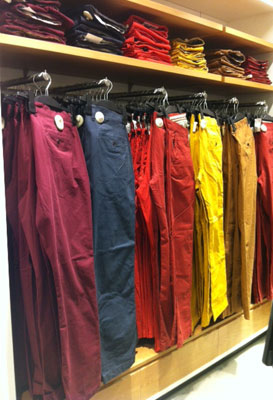 It can be hard to know what to match with the darker coloured jeans for men. So think lighter colours, the basics of the wardrobe. Grey Marl teeshirts, white or black long sleeved tops. A checked shirt can add a layer, but watch out for clashing colours with your trousers. And of course, as MrCRTW knows, a good tan/beige mac can look fabulous in contrast to your coloured jeans.
Zara do a nice tan jean that you can style up. We see this entry to the "coloured jeans" sector quite often around town. Again, team with a chunky knit and a dark teeshirt for a chilled out weekend look. Choose light canvas shoes or navy boat shoes to team with the look rather than black or brown which can be too harsh.
Of course United Colours of Benetton have been pushing coloured jeans and trousers for years. But only recently have they been seen more and more on the streets. Be confident in how you wear them. Style your look classically, nothing too OTT and walk down the street with a smile - you'll be able to carry them off.