After the joy and madness that was New Zealand Fashion Week, I headed back home just in time for the ultimate fashion week of September's Fashion Month - London Fashion Week. But with lack of time and a decision to focus on NZFW this season, I was only taking my place at two shows. But what better shows than PPQ and DAKS showcasing their Spring/Summer 13 collections.
PPQ
First up a trip to Goldsmiths Hall for the PPQ show organised by My Beautiful Fashion. The show was spectacular, it felt like a 1960′s trip to the French Riviera. Sleek high ponytails led to a sophisticated summer tale. Think cocktails and card games at the villa in Provence, a trip to St Tropez for shopping and coffee and a stop at Cap d'Antibes in the yacht.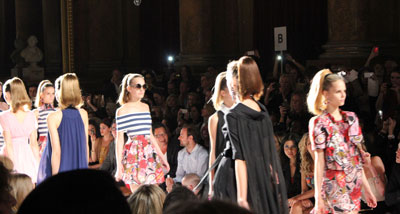 Stripes remain with us for Spring/Summer 2013 but not the thin breton stripes, instead strong chunky ones, team with a big hat and cool sunglasses and you will ooze class. There was a lot of paisley psychedelic patterns occurring in reds and pink clashes. Which I must admit aren't really my style cup of tea. But thrown in some beautiful flowing chiffon day dresses and I was taken! An olive green mixed in with the stripes of the collection to give a pop of colour. A lushness like the olive groves of Provence. Cobalt blue, my favourite colour for SS13 was prevalent in beautiful flowing dresses as well as a dash of hot red and of course obligatory eveningwear black.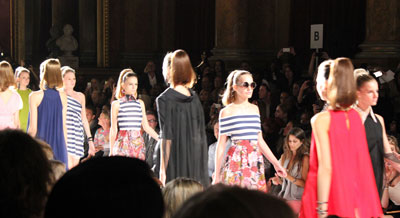 Throughout the shows we've seen at LFW SS13 so far there have been a cacophony of necklines. Here there were halternecks, plunging v neck lines and off the shoulder styles I felt like we should be sipping a café au lait and nibbling a croissant, watching the models walk down La Croisette in Cannes. It was superb, but alas from the back the photos I have are not amazing!
DAKS
This is the second season I have seen DAKS and the designer Sheila McKain-Ward never disappoints. As a guest of LG I had a great seat, just behind Sheila's beaming family and this collection was all about inspiration of the free form handwork of Abstract Expressionist painters such as Robert Motherwell and Jasper Johns.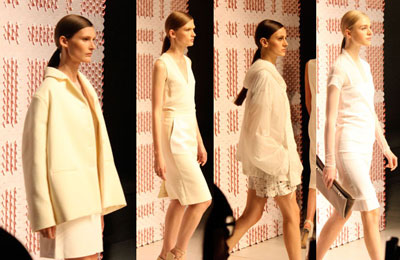 The collection opened with a breezy entrance into a light and playful summer. Clean cut lines in chalky shades, layering of luxury textiles and natural tints. The heritage of DAKS is its print. I am not leaving fashion week without having put the DAKS checked cape on my shopping list. Wow. It is just fabulous. It looks so soft, so rich, so inviting. DAKS are all about outerwear and the trench coat and the jackets shown in the collection weren't cumbersome or heavy, but perfect for a summer in Britain.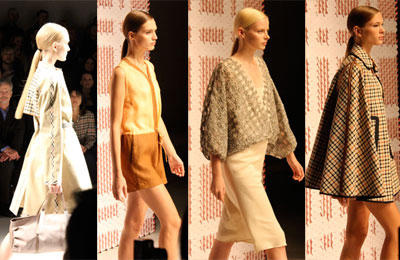 There were no strong colours in the collection - this I like, you can add that injection of colour in accessories and shoes. The only nod to a colour palette were hues of peach and tobacco in shirts and shorts.  The evening wear was exquisite, layered and sparkly, subtle and sophisticated.
Two fabulous shows for my favourite season Spring/Summer. There were so many other great shows from British and International designers at London Fashion Week this season.
For more coverage of London Fashion Week from the rest of the LadyM Presents team visit the site here
All images are copyright of LadyM Presents.