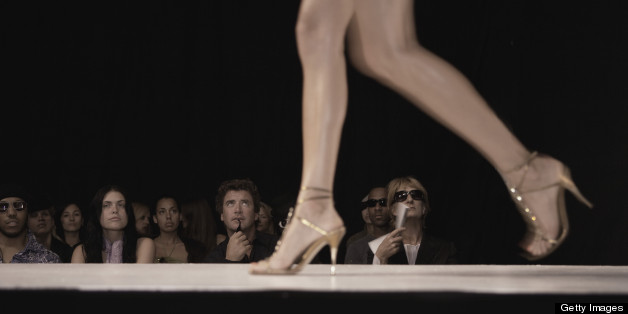 Getty Images
Opening the Autumn/Winter season of New Zealand Fashion Week was Twenty-Seven Names.  From designers Rachel Easting and Anjali Stewart, I've always loved this label, and it has a cult following across New Zealand, Australia, Japan, the United States and also now in the UK.
Twenty-seven names
The collection featured wearable winter pieces which are far  away from the over-masculine trend we will see in the UK this season.  Taking inspiration from from Belgian surrealist artist René Magritte.  Following a visit to the museum in Belgium that hosts the artists collection with famed symbols; the bowler hat, green apple, and beating heart - the collections signature print.   The collection is named "I'm lost" from Magritte's painting "The Lost Jockey".  Rachel and Anjali combine their love of fashion and art in this collection and as ever present a highly wearable collection. 
The Autumn-Winter collection featured a colour palette of black, navy blue, cappuccino and a lot of print.  What I loved is the prints that were seen throughout; were also worn in cute ankle socks worn with patent black flats, it finished off the look perfectly.  A print that featured heavily was the bowler man, on flowing day dresses teamed with chunky cable knits and the occasional bowler hat.  Also worn was the beating heart print on navy, in jacquard of tiny golden hearts. The collection featured great tailoring, with floaty soft paisley silks, and some amazing outerwear.
For more images and a detailed review check out LadyM Presents twenty-seven names feature here.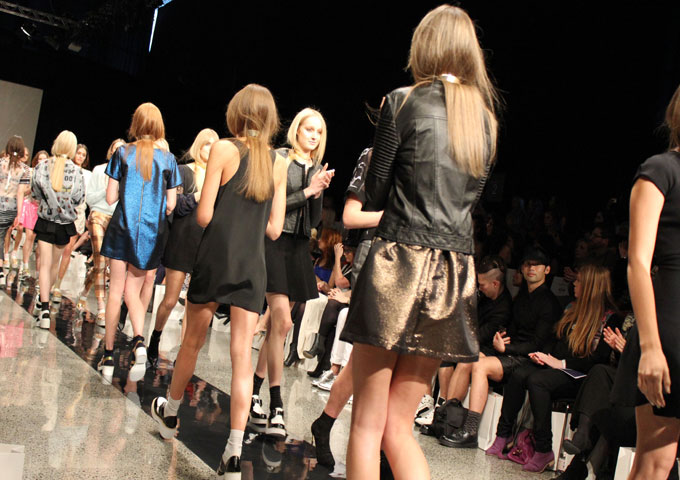 COOP by Trelise Cooper 
One of my favourite heritage designers of New Zealand fashion, Trelise Cooper will be showing three core fashion labels at Fashion Week.  Trelise Cooper - high end glamour; diffusion range Cooper - effortless luxe; and COOP - nonchalant sophistication for the 'look at me' girl about town.  COOP was the second show at NZFW day one.  
Labelled as "style with a sense of humour", this A/W collection was certainly fun.  A twenty first century version of Holly Golightly.  Why not team a cropped bright fluffy jacket with holographic lurex shorts?! COOP is a youthful brand and the mixed colour palette for A/W showed this off.  Candy pink, mixed with burnt orange, grass greens with petrol blues, blacks with metallics. Skirt lengths were all about the skater and let's hope it's a warm winter with sparkly shorts in a range of metallics.  The aim of this collection is to bring "much needed sparkle to the darkest of winter days" and it certainly does that! 
This is an established brand, hence being in the Westpac Shed, the biggest catwalk for the event as well as having a large amount of looks per collection compared to other designers showing. 
For more images and a detailed review check out LadyM Presents COOP feature here. 
Hailwood
think we've found the new LadyM favourite designer.  As a fan of denim, teaming it with chilled out cotton and silk sweaters, grey tshirts and then a print every now and again the Hailwood Winter 2014 collection is one  I could wear to the office during the week and then into the weekend.  Day in, day out - it is my style.  
Established in 2001, the Hailwood label is renowned for superbly original t-shirts showcasing unique prints hand drawn by the designer who is graphically trained in illustration.  This is the style i can be seen sporting most weekends with a blazer thrown over the top.  Adrian Hailwood's collections have grown into their own chic and wearable style. From urban street wear, through to impeccably elegant evening wear, Hailwood's graphic design background leads him to create themed fabrics and prints which often carry a strong graphic central symbol, such as this seasons bird of choice, the falcon.
I could go on for days about Hailwood's show so you best check out the full review here
Andrea Moore
Andrea Moore is known for impeccably tailored fashion, bold colour palettes and custom-designed prints with a confident point of view. She designs to bring out the inner confidence in women with an aesthetic and craft that are uncompromising on colour, tailoring and fit. This season was not exception. Having just seen a darker collection come out from a new designer, this show was a breath of fresh air and fabulous colour.
Magenta's, hot pinks were the main focus but with a fabulous print inspired by a Scandinavian tale of snow, moose hunts, swans and yachts.
In the coming days there will be a full review on LadyM Presents and head over there for more coverage of New Zealand Fashion Week